NEW YORK ― Former Fox News host Andrea Tantaros claims in an explosive new lawsuit that disgraced ex-network chairman Roger Ailes sexually harassed her and that high-ranking executives fostered a newsroom culture in which abusive behavior flourished.
"Fox News masquerades as defender of traditional family values, but behind the scenes, it operates like a sex-fueled, Playboy Mansion-like cult, steeped in intimidation, indecency and misogyny," the suit reads.
Ailes was "the primary culprit," according to the suit, but "his actions were condoned by his most senior lieutenants who engaged in a concerted effort to silence Tantaros by threats, humiliation, and retaliation."
Tantaros' suit is the second leveled against Ailes, but the first to name the network itself and several current executives as co-defendants ― recently promoted co-president Bill Shine, general counsel Dianne Brandi, media relations chief Irena Briganti and executive vice president Suzanne Scott.
Less than two weeks after Carlson made her claims, Ailes stepped down as Fox News chairman amid widespread accusations about his behavior toward women throughout his careers in media and politics. At least 20 women ― including star anchor Megyn Kelly and a former Fox booker who described a harrowing two decades of harassment ― have reportedly come forward as part of an ongoing investigation launched by 21st Century Fox, the Murdoch-led parent company of Fox News.
Tantaros first leveled accusations against Ailes two weeks ago in an interview with New York magazine. She expanded on those claims in the suit filed Monday in New York State Supreme Court, detailing what she believes to be internal payback for rebuffing the network chief's advances. Tantaros is represented by attorney Judd Berstein, who previously represented Brian Lewis, the network's former media relations chief.
In the suit, Tantaros described Ailes as a "sexual predator" who made inappropriate comments about her body and asked her to twirl for him in his office ― a request similar to those described by other women at Fox News. "I bet you look good in a bikini," she claims Ailes said in one conversation.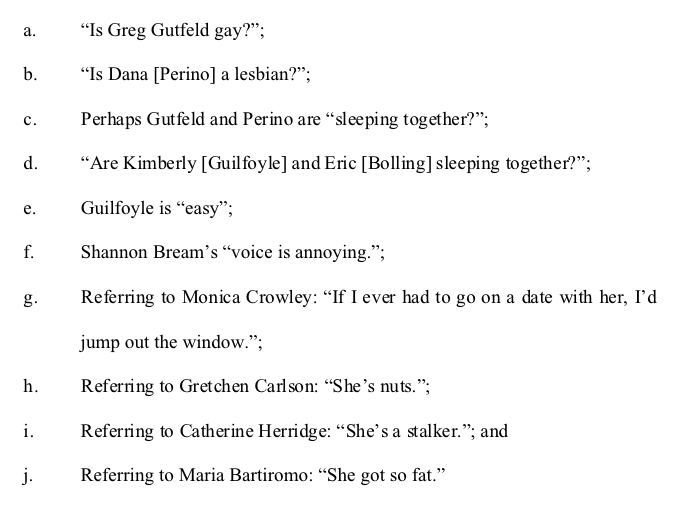 Tantaros alleged that she was reassigned from her job on "The Five," which aired at a more coveted 5 p.m. time slot, to noon program "Outnumbered" because she turned down Ailes' advances.
Fox News has claimed Tantaros, who has been off the air for several months, breached her contract by not receiving necessary approval to work on a book.
A Fox News spokeswoman said on Tuesday that the network would not comment on pending litigation.
In the suit, Tantaros claimed that Fox News' notoriously combative public relations department leaked unflattering information about her, didn't adequately promote her, refused legitimate media requests, and used "sock puppet" social media accounts to post or direct negative comments about her.
The public relations department, under previous chief Lewis, reportedly posted pro-Fox comments on news articles using dummy accounts. Ailes also reportedly orchestrated his own anonymous media pushback operation through The Cable Game, a blog that hyped the network (and himself) while smearing rival hosts and media reporters deemed critical of Fox.
Tantaros alleged in the suit that Briganti had a "retaliatory media vendetta against her" and that Shine, ignoring her complaints, once described the PR chief as "like a rabid dog on a chain that we can't control." The former Fox host labeled Shine as Ailes' "co-conspirator" in overseeing a toxic workplace culture.
In the suit, Tantaros also described host Bill O'Reilly ― who, in 2004, settled a high-profile sexual harassment suit leveled by a former producer ― as once asking her to stay with him at a "very private" place in Long Island and expressing a desire to see her "as a wild girl."
And former Massachusetts senator and Fox News contributor Scott Brown made "sexually inappropriate comments" about Tantaros, according to the suit, and once grabbed her waist while she was buying lunch.
Brown denied the accusations on Twitter. "As a survivor of sexual abuse, I would never perpetuate language or actions as described in FOX complaint," he wrote. "Actions referenced are fabricated."
Read the full lawsuit below:
This article has been updated with Scott Brown's response to the lawsuit.
Popular in the Community