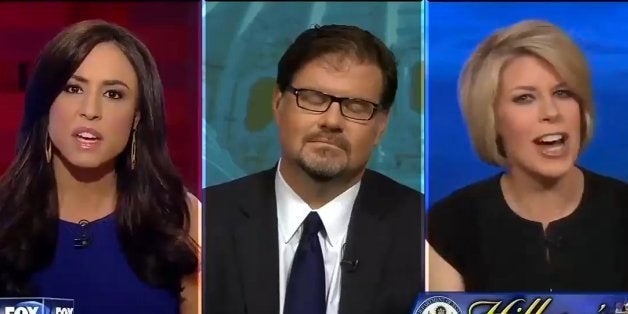 And by tense battle, we really just mean a lot of yelling over one another.
Tantaros was speaking with Democratic strategist Penny Lee about a set of emails published Thursday by The New York Times. The emails exposed that the 2016 presidential candidate had received information from longtime friend Sidney Blumenthal that the group behind the Sept. 11, 2012, attacks had ties to Al Qaeda and had planned the attacks for a month.
Tantaros wondered why, if Clinton knew this information, she did not "speak up."
"Why did she let the administration continue on with this [other] narrative?" she asked.
Lee said that it was President Barack Obama and his entire team, not just Clinton, in charge of piecing together the events of that day.
Tantaros then brought up the hearing from 2013, during which she said the former secretary of state was "hysterical."
"Hysterical? Hysterical?" Lee interrupted. "Andrea, what are you talking about?"
What followed was approximately two full minutes, as noted by Mediaite's Andrew Kirell, of Tantaros and Lee talking over each other so that nothing that either two women said could really be understood.
REAL LIFE. REAL NEWS. REAL VOICES.
Help us tell more of the stories that matter from voices that too often remain unheard.