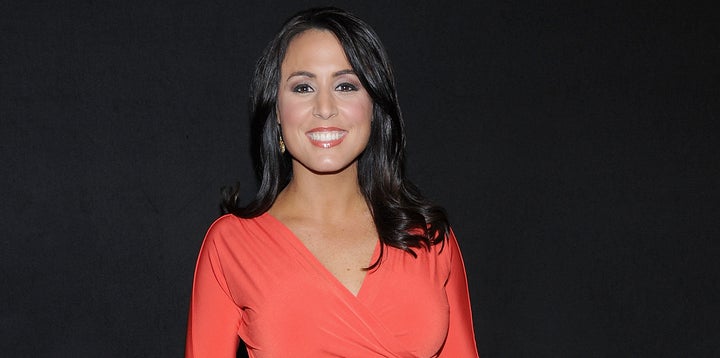 Former Fox News host Andrea Tantaros is challenging the network executives mentioned in an explosive sexual harassment lawsuit she brought forth last week to take a lie detector test.
Her lawyer, Judd Burstein, wrote an email to The Huffington Post calling out Fox News for ignoring Tantaros' claims and detailing the questions he'd like the executives to answer.  
"In the time since Andrea Tantaros filed her complaint, no one from Fox News has come forward to deny that she was sexually harassed by, among others, [ex-network chairman] Roger Ailes," Burstein wrote. 
"The silence from Fox has been deafening," Burstein added. "The time has come, therefore, either to let this case play out in the courtroom or to conduct an even-handed trial in the court of public opinion."
He suggested that everyone named in the suit take a lie detector test. It would be administered by an agreed-upon polygrapher formerly employed by the FBI or the CIA, he said, and the responses would be made public. 
Tantaros has said she is willing to take a lie detector test and answer questions from Fox News.

Burstein's proposed test includes 12 questions for Ailes, most of which refer to specific allegations Tantaros has lodged at him.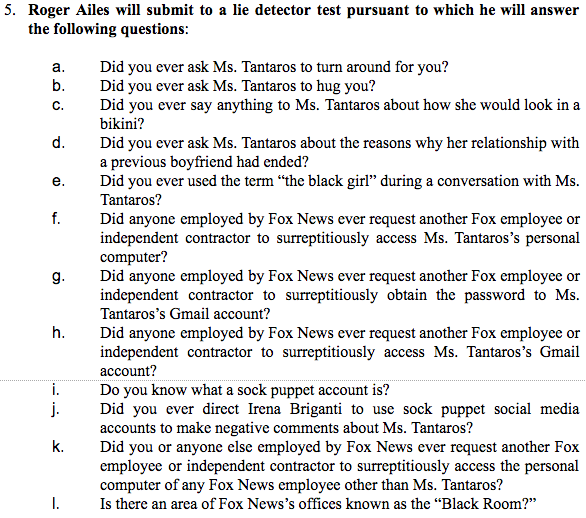 Ten questions on the potential test are for Bill Shine, the network's newly appointed co-president. They mainly focus on how Shine may have reacted to Tantaros' complaints about Ailes and other executives.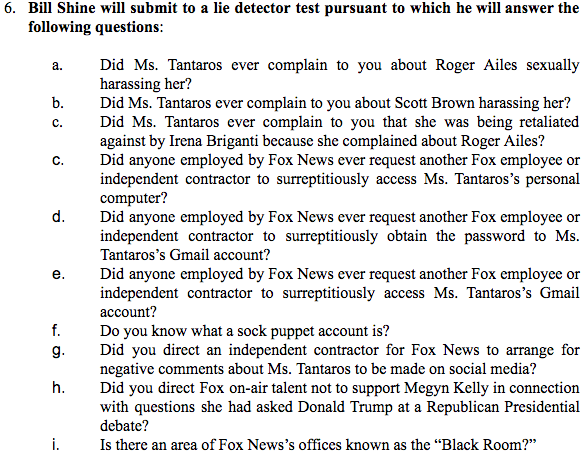 Tantaros' team has similar questions for Dianne Brandi, Fox News' executive vice president for business and legal affairs.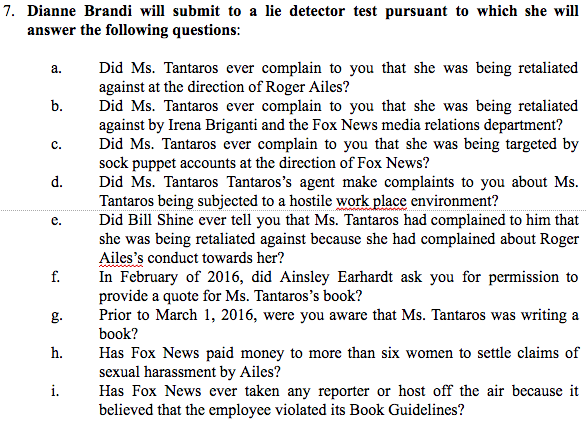 Questions for Irena Briganti, the head of the network's public relations department, focus on whether she angled to disgrace Tantaros' public image.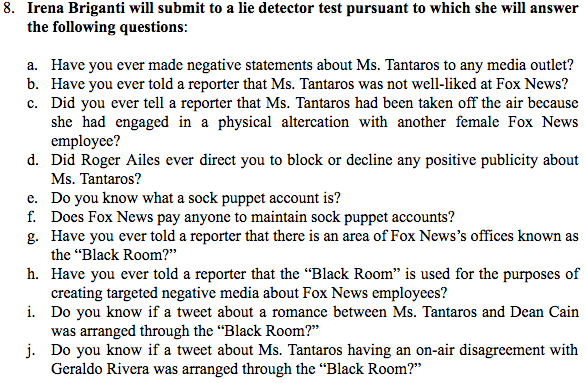 Lastly, questions for Fox News host Bill O'Reilly center around whether he made sexual advances toward Tantaros. 

Fox News did not immediately respond to requests to comment.
"An innocent person would jump at the chance for this kind of vindication, and if Ms. Tantaros were not telling the truth, she would not risk offering this proposal," Burstein wrote.
Calling all HuffPost superfans!
Sign up for membership to become a founding member and help shape HuffPost's next chapter
BEFORE YOU GO
PHOTO GALLERY
Roger Ailes' Accusers