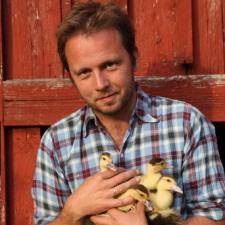 Andreas Viestad is not a trained chef, but you would never know it. This Norwegian superstar is the host of the TV show New Scandinavian Cooking, author of two cookbooks and also a popular contributor for The Washington Times.
His love for molecular gastronomy shines through in his unique cooking style. Dubbed "Norway's most exciting food writer," Andreas' many talents keep him very busy. culture correspondent Alexandra Howard went on a mission to find out about cheese's role in Viestad's life:
You say your TV show is a "peculiar hobby", why?
Because I consider myself a writer, so I always think that going on a TV shoot means a few days off from work. Even after a hundred episodes.
What is your favorite cheese to work with?
For construction work, few cheeses beat St Felicien. For hand to hand combat I enjoy the support from Cabrales. Oh, do you mean cooking? I like to use goat and sheep cheese a lot, in everything from salads to pastas. But my favorite is when I have no idea what I want and I use cheese scraps -- whatever is left -- to make a gratin or any dish, really, where every mouthful tastes different.
If I were to look in your refrigerator right now, what would I find?
You'd find a rabbit. That's dinner tonight. And lots of bottles of condiments that I never use that are taking up most of the space on the top shelf. A few bottles of wine, white and red -- I am currently in South Africa and we are experiencing a heat wave. And I bet you'd be interested in the cheese? I have a few local cheeses, including a local Epoisses that I'll try tonight. Are they allowed to call it Epoisses? If some Frenchman reads this, the people to sue are to be found at Fairview Farm.
What is your response to people who dislike Norwegian cheese?
I am not sure it is famous enough for many people to dislike it. Jarlsberg is quite well known, of course, and I like it, to the extent that I like Emmerthaler style cheeses. And you know the brown Norwegian fudge cheese, Ski Queen is the only brand available outside Norway. Technically it isn't a cheese. But the best fudge cheeses can be really good.
Have you come across any interesting ways to eat or serve cheese during your travels?
I think the most absurd was from Madison, Wisconsin, where I was served a "very special" cheeseburger. "What is so special about it?" I asked.
"It contains all four cheeses."
"All four?"
"Yes, White cheese, yellow cheese, cheddar cheese and American cheese."
Can you tell us a funny story that happened while you were filming one of your shows?
Since the kitchen is outside, we are always facing an assault from nature, things get blown away, dogs eat our props. Once a falcon -- or possibly a seagull -- stole the fish I was going to cook.
Was there anyone in your childhood that inspired you to cook?
The Swedish chef on the Muppets. He has the right spirit.
Calling all HuffPost superfans!
Sign up for membership to become a founding member and help shape HuffPost's next chapter