Blond. James Blond. That's who hit the runway at Jean Paul Gaultier's menswear show in Paris on Thursday. Headlining the collection was androgynous model Andrej Pejic, who walked first in an impeccably tailored suit, and then in a belted fur dress and high heels.
"James Bond is an icon of masculinity, so much so that he's become a sort of sex object -- just like the Bond girls he's seducing," Gaultier said in an interview after the show.

At first, Gaultier's Bond cut a dashing figure in a microfiber tuxedo, a long silken scarf draped lazily round his neck and a Walther PPK glinting menacingly from its holster.

But as the models strutted their stuff, the Bonds started dropping not-so-subtle hints they were perhaps more sexually ambiguous than the movies let on. Fishnet tights peeked out from under their slacks, and the back of their tails were a sexy web of peekaboo cutouts. Monte Carlo-ready tuxedo jackets were paired with scuba leggings made from neoprene that was perhaps a tad too clingy.

Then emerged "James Blond" in high-wattage glamour, with long platinum hair a cascade of loose curls, in vertiginous heels and a black trench, cinched at the waist with revealing nonchalance. As the "Goldfinger" theme song pulsed over the soundtrack, the blond Bond appeared again, an 18-karat icon in a revealing fur vest, packing a pistol of pure gold.

Gender-bending has long been Gaultier's calling card, but it's been a while since he's dealt such a good hand, with bravado tempered by seduction and a hefty helping of humor.
Check out the men on the runway and tell us what you think.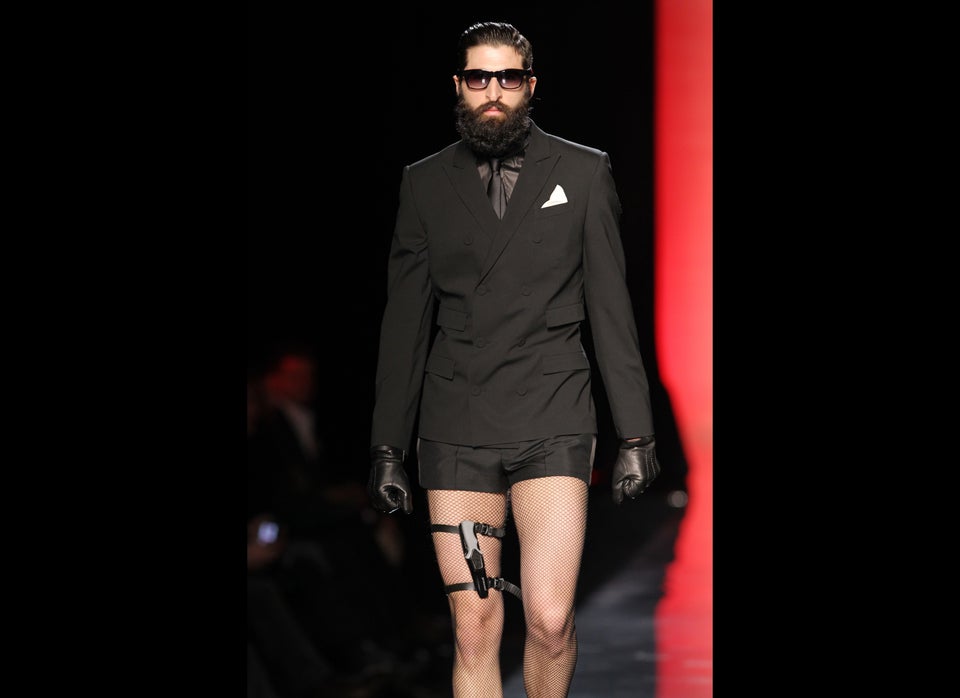 Popular in the Community