NBA fans might not know Andrew Bernstein's name, but they almost certainly know his work. The longest tenured photographer in the NBA, Bernstein is responsible for a staggering number of the most iconic photos in basketball history.
For the past three-plus decades, Bernstein has been everywhere. He was in Barcelona with the 1992 Dream Team. He with the U.S. Olympic basketball team in Beijing in 2008 and in London in 2012. He has covered over 30 NBA finals and 30 All-Star games through the years. He has photographed Magic and Bird, Kobe and Shaq, LeBron and Wade. He was there when Jordan leaped from the free throw line during the 1988 dunk content. He was there when Jordan cried while holding his first championship trophy, his father by his side.
Today, he's the director of photography at the Staples Center, and the official photographer for both the Los Angeles Lakers and Los Angeles Clippers (as well as the Los Angeles Kings). Over an extended conversation with The Huffington Post, Bernstein shared some of his favorite anecdotes from his time covering the league and talked about the people he met along the way.
The 2009 Lakers had to trick Phil Jackson into celebrating in the locker room.
"Phil is actually a pretty shy guy," Bernstein told HuffPost. "It sounds weird, but it's true, and many times he has to be coerced into the locker room to celebrate with the guys."
"I remember specifically when he won his 10th championship [with the Los Angeles Lakers in 2009], and we were in Orlando and he was just happy to be in the coaches locker room with his kids and his coaches, and the guys wanted him in their locker room whooping it up."
"Somehow they forced him out of there. I think Kobe told him that he wanted him in there to do the Lord's Prayer, which they do after every game, win or lose. I was standing right there, and he went in reluctantly and the second he got in, they nailed him with champagne."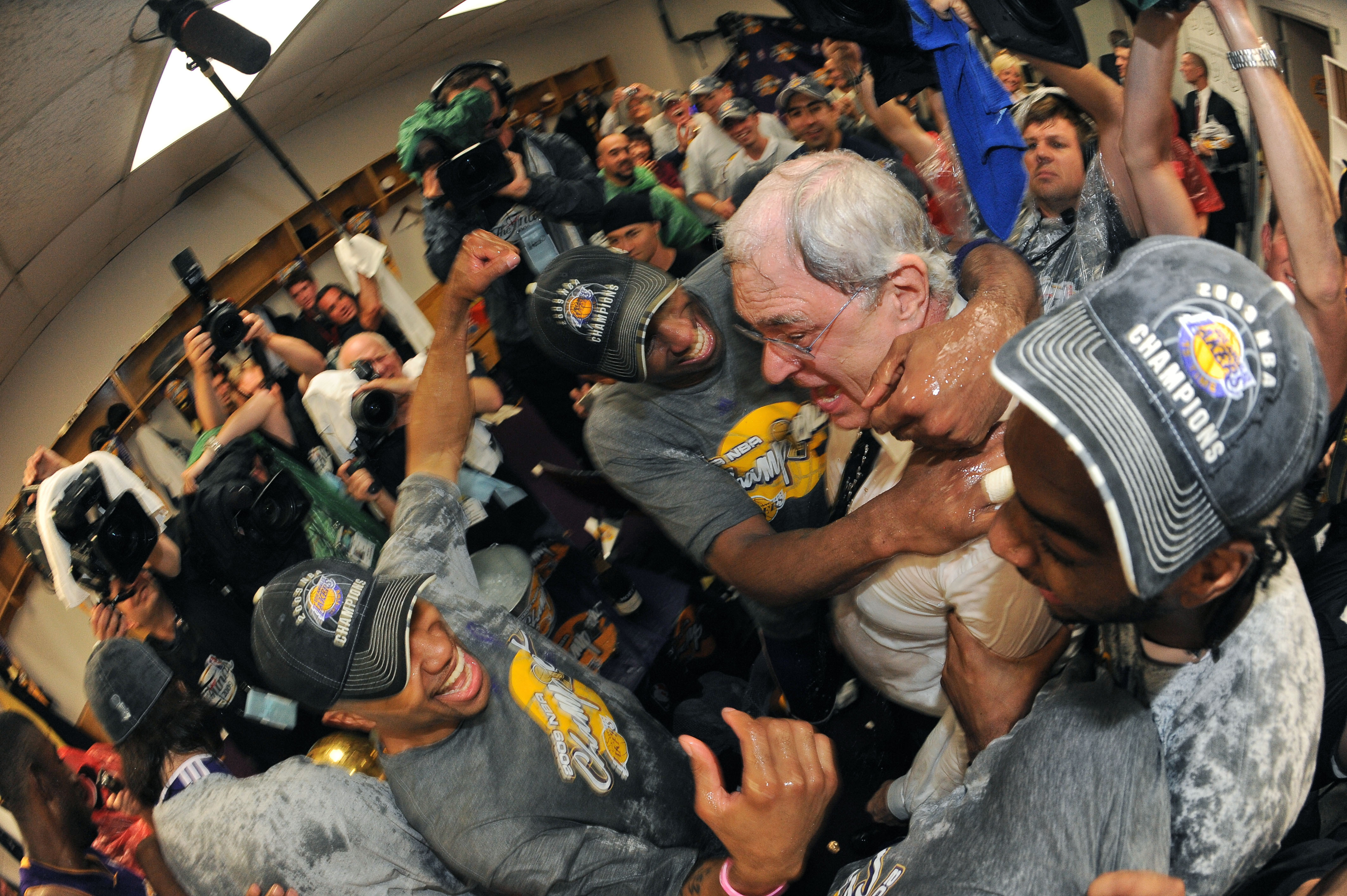 Phil Jackson and the Los Angeles Lakers celebrate their 2009 championship. (Credit: Andrew D. Bernstein/NBAE)
Kobe Bryant's obsessive knowledge of the NBA was obvious on day one. Literally.
"Media day is sort of a crazy factory of photo sessions and interviews and promos and headshots," Bernstein said, before launching into a story about the first time he met Kobe the rookie at his first media day.
"So i have a couple stations set up to do headshots and portraits, and [Kobe] makes his way over to me, and I go to introduce myself, and say 'Kobe, I'm Andy. I'm the Lakers' NBA photographer." And he's shaking my hand and he says 'Oh, so you're Andy Bernstein?' And I say, 'Yeah ...' and he says, 'I had all your posters hanging in my room growing up.' And I'm like, 'Really?'"
"Here is a kid with the presence of mind in this crazy media situation to recognize ..." he said as he trailed off, "Who reads the photo credit on a poster? It just tells me what kind of guy this is."
Kobe asked Andrew for photos of NBA legends for motivation while out with injuries.
"He has a habit of asking for photos of his muses ... of Magic and Jordan and Bird and guys [in which] he always admired something about their game, that he's taken from each of those guys and applied to himself," he said.
"I am kind of continually giving him pictures of those guys from back in the day," he added. "I think it was more helpful to him while he was sort of recovering and rehabbing from his injuries to keep his motivation level going."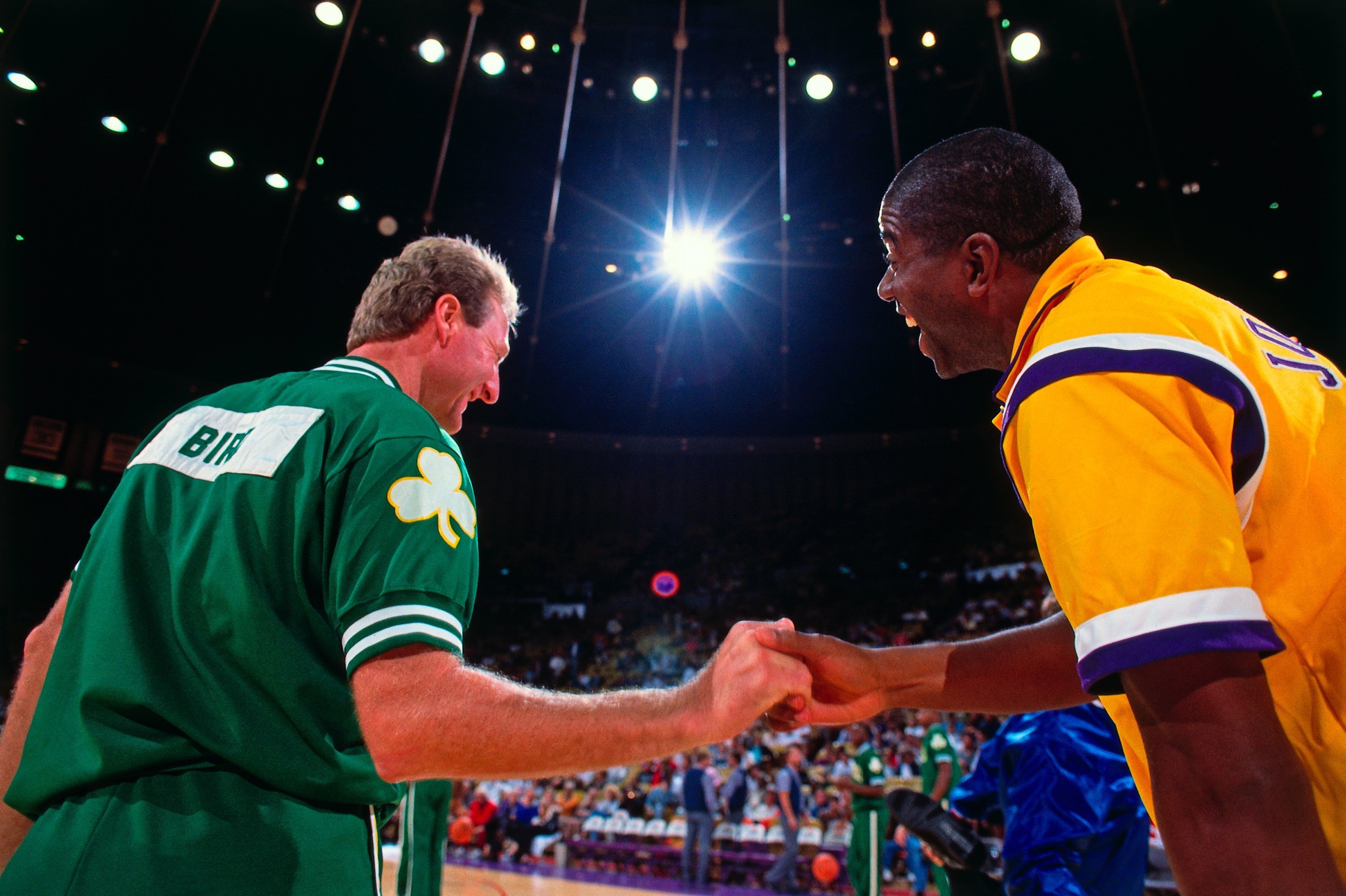 Larry Bird and Magic Johnson, two of Kobe Bryant's idols. (Credit: Andrew D. Bernstein/NBAE)
The famously competitive Dream Team practices weren't actually as antagonistic as you might have thought.
"If you could imagine any two guys at any level, you know, [Pete] Sampras and [Andre] Agassi, or [Sugar Ray] Leonard and [Thomas] Hearns -- take that times ten and that was what the competition was with the Dream Team guys," he said. "They weren't getting any actual competition in the actual Olympics ... so the practice was really the place to say what these guys were made of."
"Magic was one captain and Jordan was the other captain ... There was so much competitive energy in the gym, but nothing really negative. You just could have taken those guys out to the playground in any city and they would have been happy, because it was back to their roots. Back to what got them playing as kids."
And some friendships, like that between Larry Bird and Patrick Ewing, were born there.
"Bird and Patrick Ewing became great friends during the whole Olympic experience, and they were buddies and they loved hanging out together joking, practical jokes and all that stuff," Bernstein said.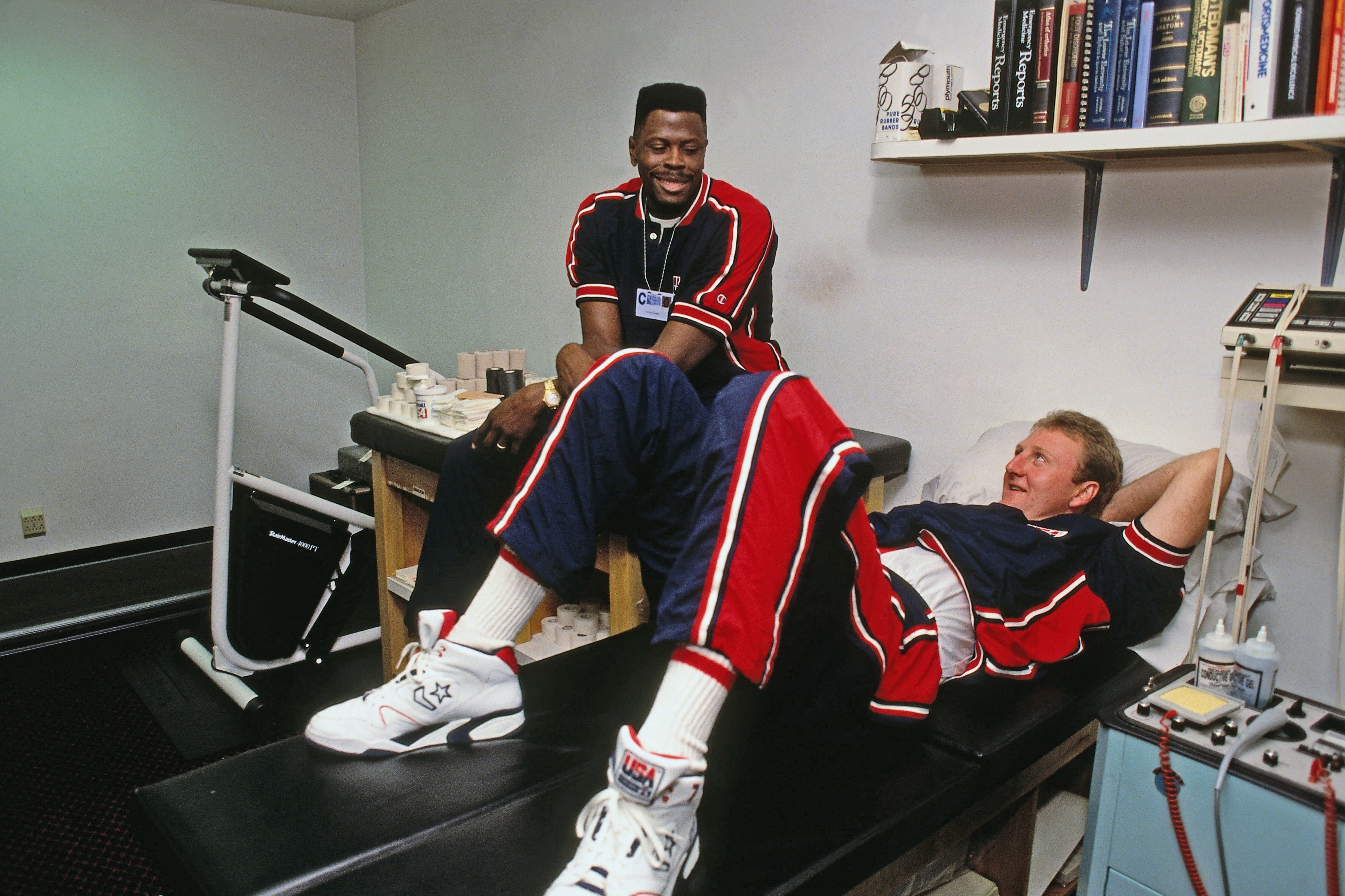 Patrick Ewing and Larry Bird, just hanging out. (Credit: Andrew D. Bernstein/NBAE)
One of the most famous photos in NBA history was an accident.
"I'd have to pick Jordan hugging the trophy -- his first championship trophy in '91 in the locker room with his dad next to him," Bernstein said when asked which of his photos was his favorite.
"Photographically how it all came together was a miracle," he said. "I wasn't even aware where Michael was [at the time] and then just happened to turn to my left and there he was just in the locker crying with the trophy when he was supposed to be on live TV."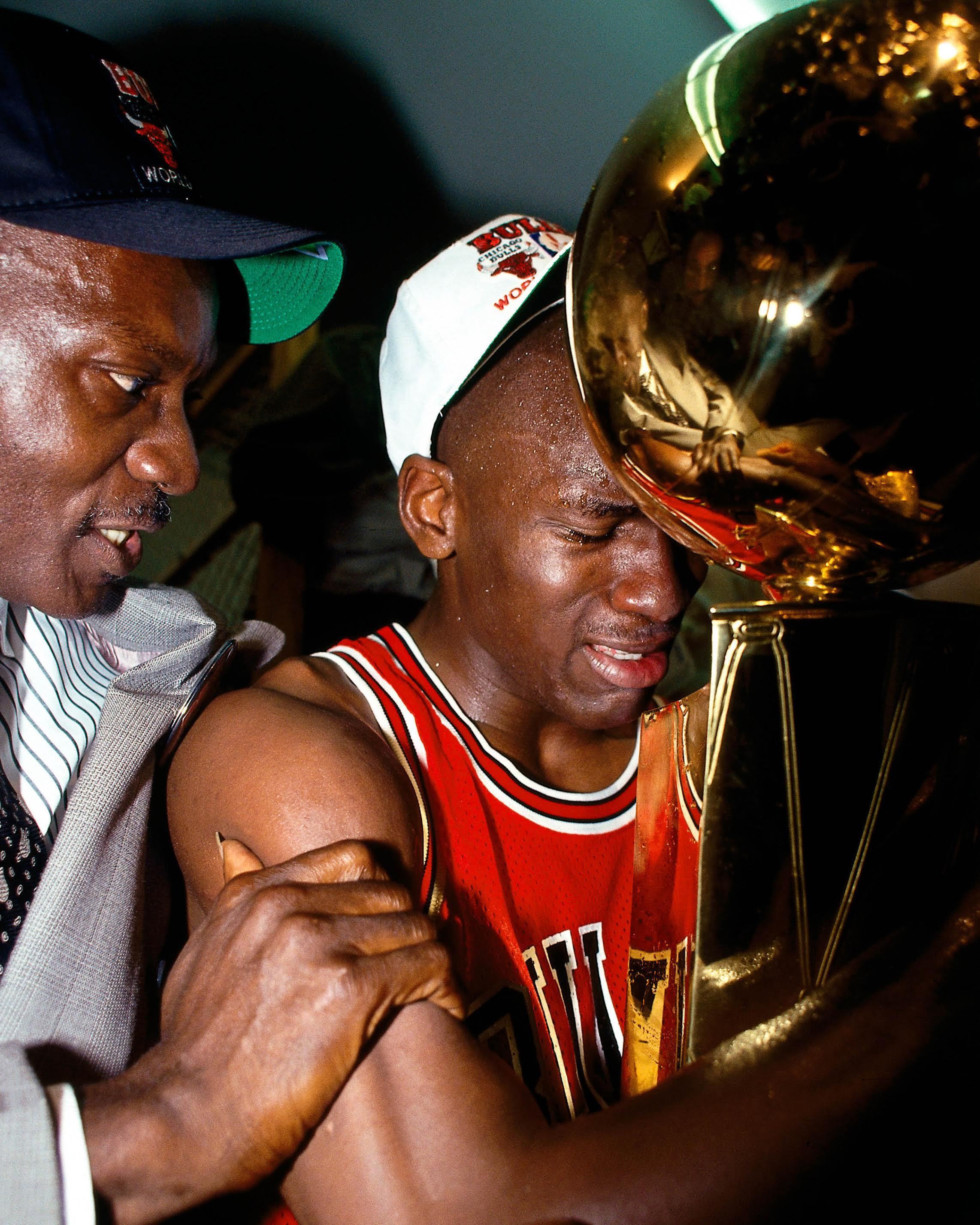 Michael Jordan holds the championship trophy with his late father by his side. (Credit: Andrew D. Bernstein/NBAE)

Calling all HuffPost superfans!
Sign up for membership to become a founding member and help shape HuffPost's next chapter
BEFORE YOU GO
PHOTO GALLERY
Some Cool 2015 NBA Finals Photos