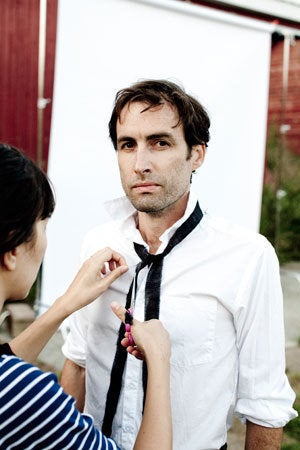 Chicago's Andrew Bird is known for creating sounds worthy of a full ensemble using just a violin, his voice, his lips (he whistles like a lower-case bird) and a delay pedal. So it's only natural that, for his latest release, he should tackle a song most famously recorded as a duet by Emmylou Harris and Don Williams. Their 1981 version of "If I Needed You," originally written and performed by Townes Van Zandt, peaked at No. 3 on Billboard's Hot Country Singles chart and helped establish the tune as a modern classic.
This time, however, Bird, who has been playing "If I Needed You" live for much of this year, isn't making all those sounds himself. He recorded this cover of "If I Needed You" live, with a band, on one microphone, in the barn on Bird's property in Western Illinois. (The drummer had to play on the back porch. "I hated to exile Martin [Dosh] like that," Bird said, "but it just sounded better.") That was the set-up for most of the tracks on Bird's upcoming release "Hands of Glory," an all-acoustic companion piece to his critically acclaimed 2012 album "Break It Yourself."
"If I Needed You" captures that delicate moment in a blossoming love affair when attraction evolves into attachment. The "if" in the opening line is something of a smokescreen. If the narrator didn't need the subject of this song, he (or she) wouldn't be singing it. Nor would he (or she) promise "to swim the seas for to ease your pain."
Bird's version has an old-timey feel that neither Harris and Williams nor Van Zandt consciously aimed for in their signature versions. Something about Van Zandt's version makes you feel that this relationship probably isn't going to work out, whereas Harris and Williams sound as tight as Kenny Rogers and Dolly Parton would two years later on "Islands in the Stream." Bird is always cool, ever elusive. His voice is the purest of the bunch, but his intentions are less transparent. You get the sense he might not bother swimming those seas unless it's a serious emergency.
Mom + Pop Music will release "Hands of Glory" on October 30. In addition to Bird and the aforementioned Dosh, the eight-song album features Alan Hampton on bass and vocals and Jeremy Ylvisaker on guitar and vocals. The complete track listing is as follows:
1. Three White Horses
2. When That Helicopter Comes
3. Spirograph
4. Railroad Bill
5. Something Biblical
6. If I Needed You
7. Orpheo
8. Beyond the Valley of the Three White Horses
Listen to "If I Needed You" below:
Calling all HuffPost superfans!
Sign up for membership to become a founding member and help shape HuffPost's next chapter