I met Andrew Brandmeyer at a gallery exhibition in St. Louis, in 2009. Brandmeyer was attending Fontbonne University for his MFA, and he was working that night at the gallery. Something in his demeanor -- or perhaps a tell-tale stain on his shirt -- prompted my suspicion that he was a fellow painter, and I struck up a friendly conversation that proved my guess correct. I visited his studio later that week.
When I first saw the large paintings completed for his undergraduate thesis, I remember noting his skill and ambition. It's now, though, after seeing his work develop over the past 4 and a half years, that I can appreciate the promising foundations of this emerging artist's career. With admirable guts and flexibility, Brandmeyer has experimented with numerous ideas and formats for a painting. For me, his most impactful and thought-provoking work is that which revolves around his devotions: devotion to place -- to St. Louis, and to his circle of friends.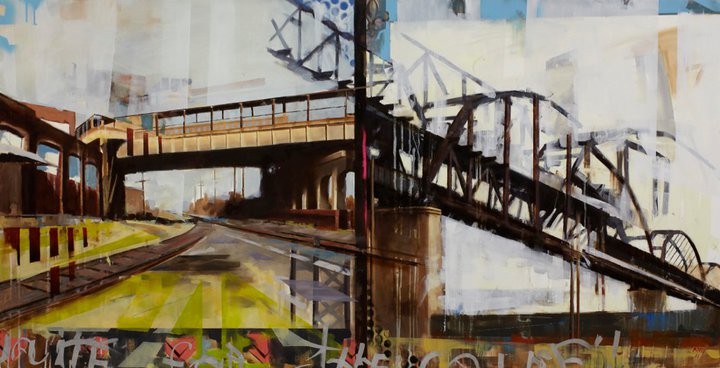 Disappeared Bridges, oil, enamel, and ink on canvas, 36 x 72
In the late 19th and early 20th centuries, St. Louis was ranked the 4th largest city in the nation. The city boasted extraordinary examples of 19th century architecture and a booming industrial economy. It hosted the 1904 World's Fair and Summer Olympics. Throughout the 1900s, as modern technology rendered its factories increasingly obsolete, St. Louis faced declining population, upticks in crime and, by many figures, an overall loss of "greatness."
Brandmeyer follows a lineage of St. Louis artists like Bob Cassilly and Cindy Tower who embrace the whole history of their city -- the glory and the aftermath -- and forge new greatness out of the decay. Cassilly's one of a kind City Museum, housed in an abandoned shoe factory, salvages and reframes the local by-waste of halted industries as meaningful artifacts of the city. Cassilly offers the scrap metal, tile, wire and construction cranes back to the people, re-fashioned into fantastical sculptures and immersive playgrounds. Cindy Tower enters the abandoned factories of East St. Louis with a body guard and interprets their disintegration into giant works on canvas, teeming with the energy of fast, direct brush strokes.
In the spirit of Tower and Cassilly, Brandmeyer celebrates an ugly-beautiful richness embedded visually in the city and born of its history. Imagine a patch of wall, or a city light post, caked with decades of peeling paint, graffiti and pasted-up fliers: the surfaces of Brandmeyer's landscapes, and some abstract paintings, evoke these chaotic city surfaces. The paintings' formal harmonies, and the seductive, tactile quality of the surfaces themselves, reinforce a message that beauty is defined by a build-up of experience and, ultimately, by survival.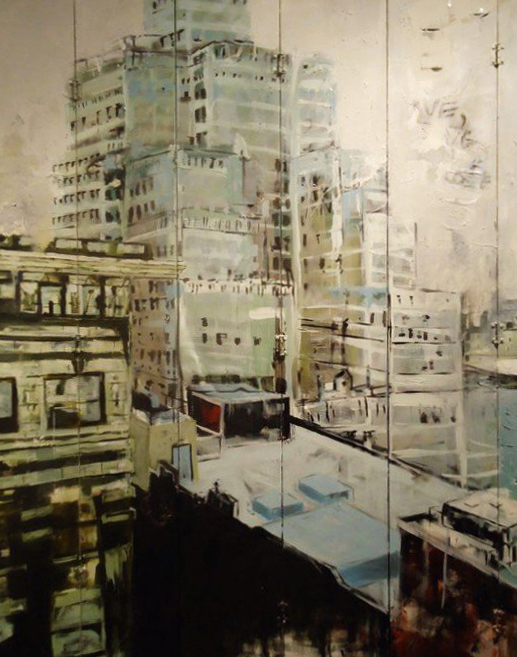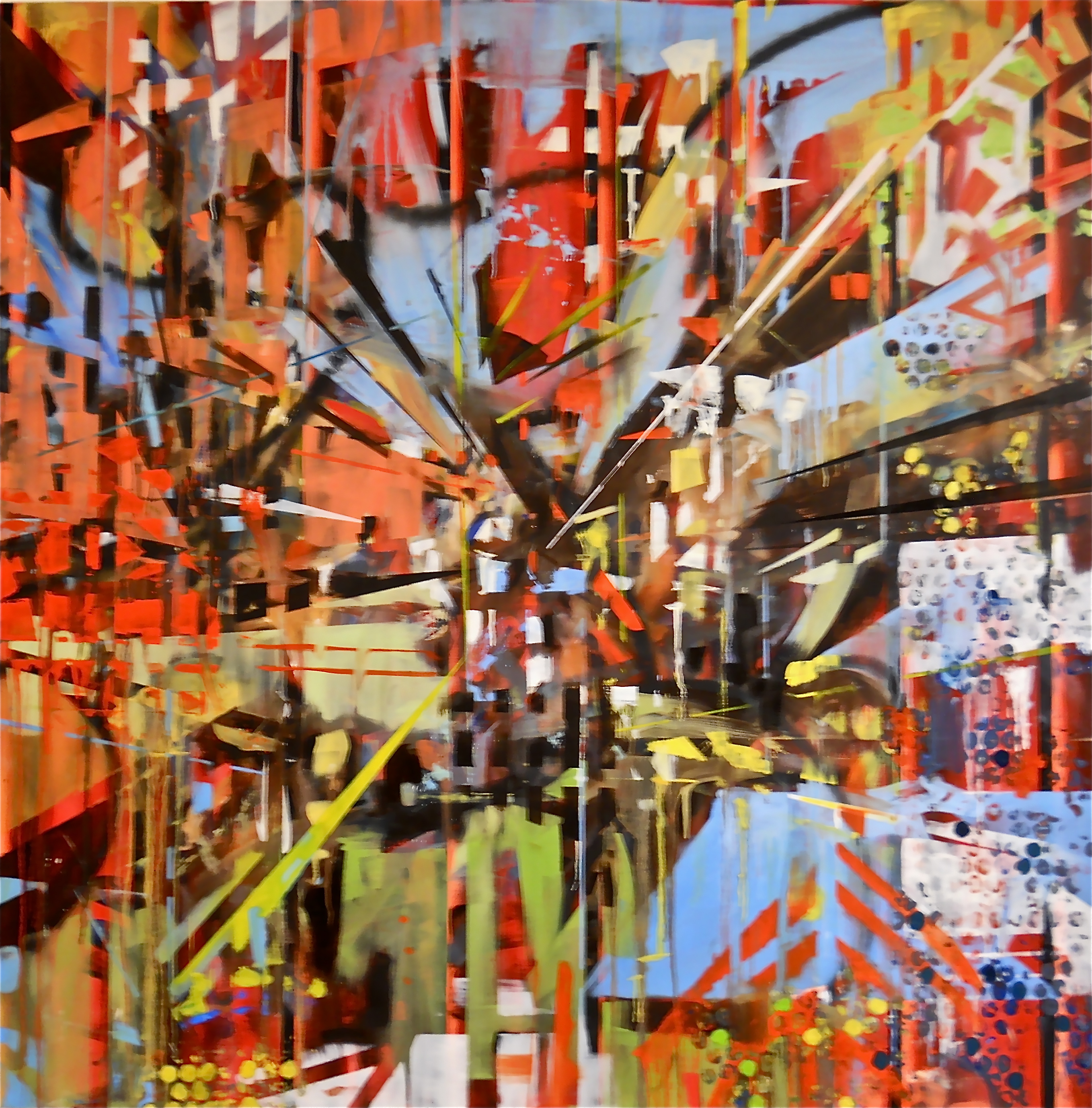 left: Downtown Stl # 3, mixed media on panels, 72 x 80
right: untitled, oil and acrylic on canvas, 60 x 60
The message carries over into his paintings of friends. Across the board, Brandmeyer portrays his subjects as badass and sexy, even heroic. In his most successful portraits, like Sara, the subject achieves that status idiosyncratically -- not through the flesh or an obvious confrontational gesture, but rather through the natural confidence in her posture. At ease in their ordinary dress, Brandmeyer's subjects exude strong personalities and personal styles. For Sara, the hammer held casually in her left hand symbolically empowers her as some one who gets things done. Her introspective, downturned gaze offers a glimpse into the complexity of her interior life but, ultimately, such secrets are barred from the viewer. Crossed arms and a determined, tight-set mouth signal her tough, exterior guard.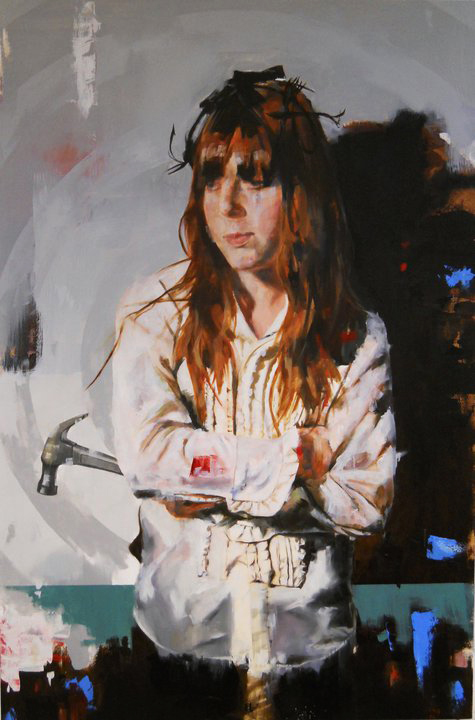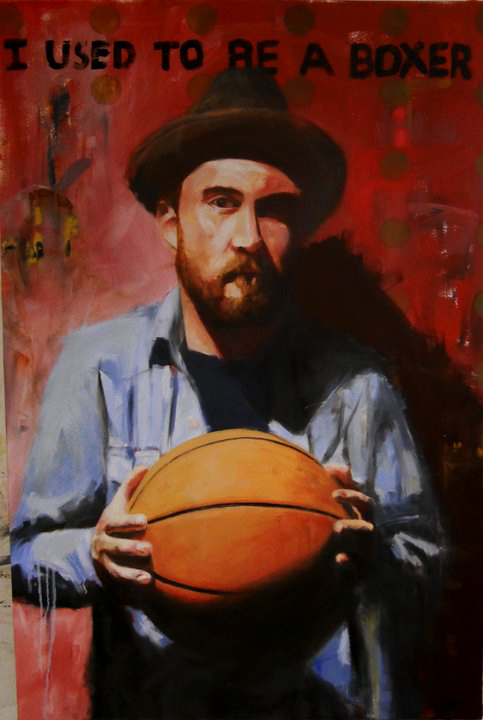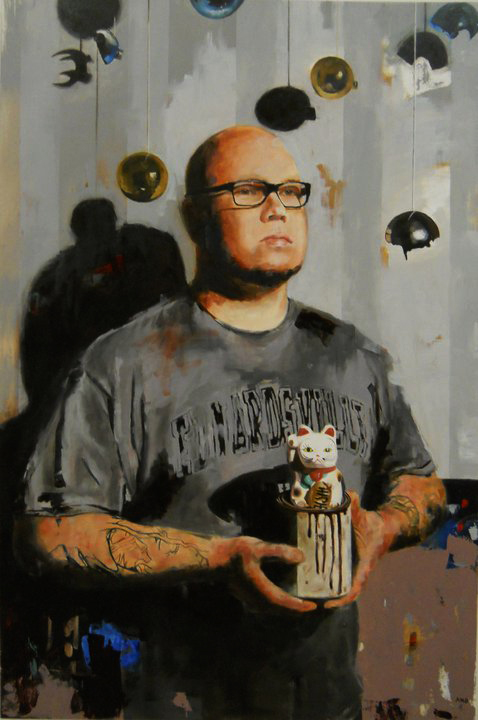 left: Sara, oil on canvas, 54 x 36
middle: ?, oil on canvas, 54 x 36
right: Justin with Cat, oil on canvas, 54 x 36
Paintings like Sara express the compelling force of perceived inner strength; Brandmeyer's clear admiration for his friends' toughness is on par with his admiration for the city's gritty vitality. Often, as in Justin with Cat, the drama of such dignity is cut with a quirky humor rooted in irony and randomness. The comedy functions as a shared language between the artist and his friends, as if the paintings contained inside jokes between them, adding an extra layer of intimacy to each homage.
Andrew Brandmeyer is currently an adjunct professor at Maryville University, in St. Louis, and at Southwestern Illinois College. His work will be on view at Concrete Ocean Gallery in St. Louis throughout the month of October, opening October 4.
REAL LIFE. REAL NEWS. REAL VOICES.
Help us tell more of the stories that matter from voices that too often remain unheard.