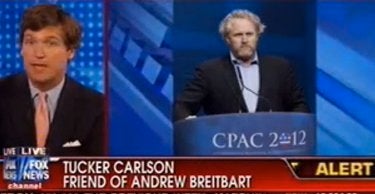 After the news of Andrew Breitbart's death broke Thursday morning, friends and colleagues weighed in on the conservative journalist's life and legacy.
Editor and pundit Tucker Carlson appeared on Fox News and candidly reacted to the news. "It's hard to believe it's actually true," he said. "I talked to him last night. He seemed totally exuberant as he always does."
Breitbart died suddenly of natural causes in Los Angeles shortly after midnight. His father-in-law told the Associated Press that Breitbart was walking by his home when he collapsed. He was 43 years old.
"There were many people who didn't like Andrew," Carlson said. "He was a pugnacious guy, but anyone who knew him in person knew he was one of the more cheerful people ever...just truly one of the funniest people I've ever known." Carlson and Breitbart came to know each other in Washington D.C. as they were both the same age and in the same business.
"He is—was—a really compelling person with a great capacity for friendship. I hope that doesn't get lost in the...intense discussions about his politics and his political activism. He was just a great guy," Carlson said of his friend. He also described Breitbart as one of the most "generous people he has known" and "fearless."
Carlson said Breitbart celebrated his birthday just last month. "I just can't even believe this is true...This is just too bizarre, honestly," he said.
Related
Popular in the Community