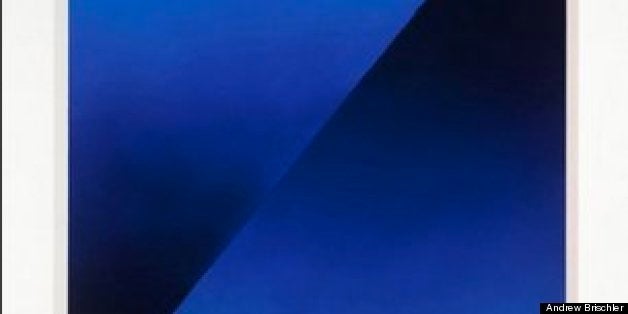 Last weekend I had the extreme pleasure of visiting the studios of two painters whose work I love.
On Saturday, I visited Andrew Brischler in his Sunset Park studio. Brischler is a young artist who just got his MFA from SVA last year, but he is wise and talented beyond his years. The work is conceptually tight and well-thought out, but not in that annoying just-got-my-MFA way. Brischler makes really good paintings. He has the magic. At the studio, we focused on the two paintings he's made for Gavlak Gallery's booth at NADA in New York this weekend.
I know that a painting is great when I want to manipulate the artist into giving it to me. That's how I felt about I Am Your Worst Fear, I Am Your Best Fantasy (Red). At first glance, I thought I was looking at a found dirty piece of fabric that had been crookedly stretched. I liked it enough like that, but it only took a second for me to realize that it was paint on canvas and the stripes had all been painted using a painstaking (but not anal) taping process over which Brischler applied strategic stains and doodles. But it doesn't look designed to be clever, and that is what Brischler is so good at. These are very conceptual paintings, but they aren't coy and are truly painterly.
Next to it hung I Am Your Worst Fear, I Am Your Best Fantasy (Blue). It too has its share of debasement. The completely blue canvas is split diagonally into two triangular gradients that run from dark to a medium blue. The key to this painting is the edge between the two halves -- because even though Brischler is a skilled-enough painter to have made a perfect edge, he's left it messy and kind of fucked up. It functions like the purposeful, accidental-looking marks do on (Red) and that is this: they act as markers indicating that though these paintings speak of human failure and futility, they themselves are not failures but speak rather to a sort of redemption.
Seriously, if you get a chance to stand in front of these paintings, you'll see what I mean.
Andrew Brischler's next solo show with Gavlak Gallery is in November 2013 with several new large scale pieces all exploring notions of futility, shame, and loss through abstraction.
On Sunday I headed to Williamsburg to visit David Kramer. For years I've loved seeing Kramer's work at art fairs, its humor being a welcome respite amidst the usual chaos. At this year's Amory, I had the pleasure of meeting him at Galerie Laurent Godin's booth where we quickly discovered that while we both use text in our work, we hate being forced to read most text-based art, though I make a strong exception for Kramer.
Both his paintings and works on paper feature text hovering over images, both abstract and representational. They have a boozy, 1970s, suburban cocktail party feel. One paper work in the studio featured what looks like a 70s vintage porn image of a man seducing a woman with the text "I Have Very Big And Specific Plans...For Someone Who Has No idea What he is doing." Another painting, and this is the one I covet, has a white, Polaroid picture frame and an intense orange, yellow, and brown sunset. In a very Baldessarian font, it says "...I WANT ALL MY MEMORIES TO BE EPIC MEMORIES.", a sentiment I am also weighed down with.
Kramer also builds what he terms Rustic Modernist furniture, a perfect description for his Paul Bunyon meets Mid-Century meets Playboy Club tables, chairs, and cocktail carts made from wood, cardboard and silver tape. Often used to enhance his painting installations, the total effect is a kind of humorous yearning for times past and a kind of hopeful, fucked up attempt to re-create it. And I mean that in the very best way.
David Kramer will have a fall 2013 show at Galerie Tanit in Beirut.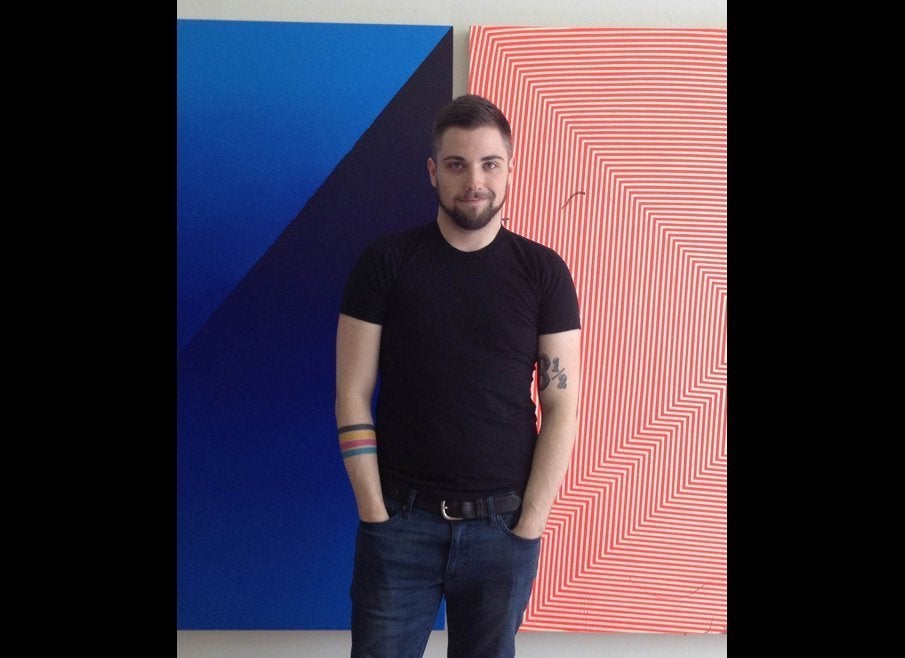 Andrew Brischler and David Kramer: Studio visits
Popular in the Community