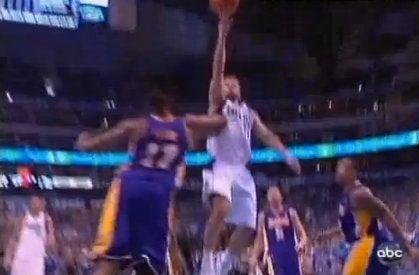 Lakers center Andrew Bynum was ejected in the fourth quarter of Game 4 of the Western Conference Semifinals after a dirty foul on Dallas Mavericks reserve guard J.J. Barea.
With the Mavericks winning 98-68, Barea drove to the basket and put up a floater. Bynum entered the lane and delivered a hard elbow to Barea's ribs as the ball fell through the basket. Barea landed hard on the ground as the referee immediately called a flagrant foul and threw Bynum out of the game.
"And that is one of the biggest bush league things I've ever seen! That is terrible!" ESPN announcer Mike Tirico said.
The 22-year-old took his jersey off and was escorted off the court by team staff and teammate Ron Artest.
Scroll down to watch the video.
Popular in the Community