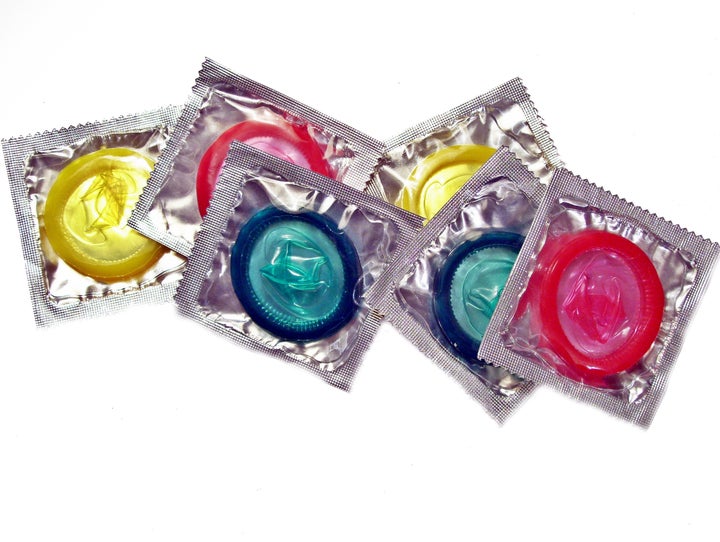 If you know anything about Andrew Christian underwear, you know that their promotional videos are risqué, their models are hot, and the brand is synonymous with sex. Having proven with their continued success that sex really does sell, the Los Angeles-based brand is now trying to prove that safer sex sells, too, in a promotion aimed at engaging men in a "new sexual revolution."
The underwear company has teamed up with WET, a well-known lube company, and the largest global AIDS organization, AIDS Healthcare Foundation (AHF), to promote safe sex for National Condom Day, which is today, Feb. 14. According to a press release, as part of a three-month safer sex promotion, "WET provided condoms and lubricant to be included in all Andrew Christian underwear orders. AHF provided messaging on a small card that will also be included in the orders, encouraging people to join in the New Sexual Revolution by protecting themselves and their partners with condom use."
AHF-brand condoms will also be distributed for free by AHF "through its websites, mobile testing units, at testing events, and through the innovative nationwide condom distribution initiative Condom Nation, which features an 18-wheel big rig that drives cross-country distributing condoms and sharing information about safer sex."

Andrew Christian, a hypersexualized brand by modest accounts, might be ahead of its own game by producing this promotion. Proving that sex is fun comes easily to the brand; proving that it can be fun and safe is no doubt more difficult, but definitely something that they would have had to tackle eventually. With a trove of customers OK with their fusion of sex and underwear, they're in an ideal position to make a statement.
"Using that sexual attention to our advantage, we feel like now is the perfect time to reinforce the importance of safer sex to our fans and community," said head designer Andrew Christian.
AHF president Michael Weinstein dubbed this (new?) sexy and responsible approach to sex "The New Sexual Revolution." Weinstein says:
Fifty years ago, the term Sexual Revolution meant sexual freedom, and that revolutionary acceptance of sexual liberation brought about important cultural changes that helped shape the world we live in today. We believe that in the 21st Century, the New Sexual Revolution needs to also be about respecting yourself and your partner enough to use protection and prevent the spread of HIV and other STDs. We hope this new outlook will also bring the much-needed cultural normalization of safer sex practices.
Calling all HuffPost superfans!
Sign up for membership to become a founding member and help shape HuffPost's next chapter