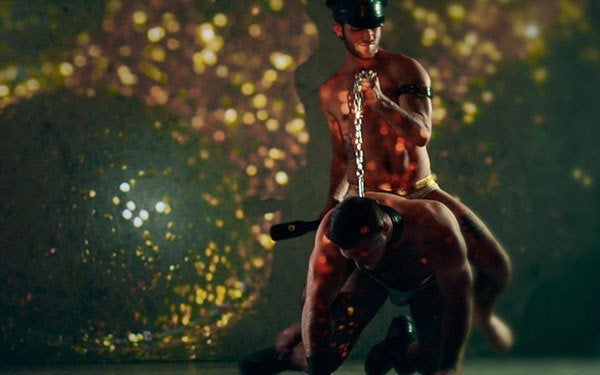 Andrew Christian is no stranger to controversy. Their videos are often "NSFW" and have even resulted in a ban from YouTube (thank goodness for Vimeo!). They don't let negative feedback deter them from continuing to push the envelope, however. No, instead it seems that whatever negative feedback they receive from their videos only drives them forward and further into the sexual abyss.
"People are becoming more open about their sexuality; gay men especially like to see the envelope pushed," Andrew Christian, the brand's designer and owner, told The Underwear Expert. "Lights Out," an S&M fantasy brought to life, is the newest video from the Los Angeles brand. It exemplifies their progressive approach to marketing utilizing the darkest form of sexual desire (albeit through a watered-down lens). "We wanted to approach the concept of an S&M video with a more commercial feel. I think the video is edgy enough to get the point across, but light enough for most people to enjoy," Brad Hammer, global marketing manager for Andrew Christian, told The Underwear Expert.
But does their sexual exploitation of men and women alike in their promotional videos actually generate concrete sales? "Our digital video marketing, together with our social media marketing campaign, has created a huge cult like following for our brand," Jeff White, owner of Andrew Christian told The Underwear Expert. "As these videos become more and more popular, we continue to sell record amounts of underwear." The answer, then, is yes.
It's no surprise that sex sells, but as the men's underwear brand continues to evolve and grow, moving more mainstream with every off-kilter and sexually explosive video, it's important to consider that they're proving sex doesn't just sell when marketing women to men. As they continue to tap into the sexually liberated homosexual psyche, it'll be interesting to see just how far it gets them.