New York Gov. Andrew Cuomo (D) plans to investigate the uptick in hate crimes that have occurred in the state since the presidential election, he announced Sunday.
"Fliers promoting the KKK were found on parked cars in Patchogue, Long Island. A swastika was discovered on the B Train in Manhattan," he said. "In Wellsville, outside of Buffalo, someone painted a swastika surrounded by the words 'Make America White Again.'"
Verbally condemning such acts isn't enough, the governor said.
"It is also a time for action," he said. "And the action will start in New York."
The governor announced a series of initiatives aimed at protecting civil rights and stopping "the explosion of hate crimes" in the state. In addition to ordering state police to create a special investigative unit, Cuomo also announced the creation of a legal defense fund for immigrants who cannot afford legal assistance on their own.
"As long as you are here, you are New Yorkers. You are members of our community, and we will stand up for you," he wrote.
The governor has won praise in recent weeks for speaking out against the rhetoric and proposed policies of President-elect Donald Trump.
"If anyone feels that they are under attack I want them to know that the State of New York ― the state that has the Statue of Liberty in its harbor ― is their refuge," Cuomo wrote in an email to members of New York's Democratic Party just after the election.
"We won't allow a federal government that attacks immigrants to do so in our state," he added.
Last week, the governor launched a state-wide hotline for residents to report incidents of bias and discrimination. He also stopped by New York City's Union Square subway station to participate in "Subway Therapy," a display of messages on Post-It notes that New Yorkers have used to share their thoughts and feelings after the election.
"Give me your tired, your poor, your huddled masses yearning to breathe free," Cuomo wrote ― the beginning of the Emma Lazarus quote that appears on the plaque at the base of the Statue of Liberty.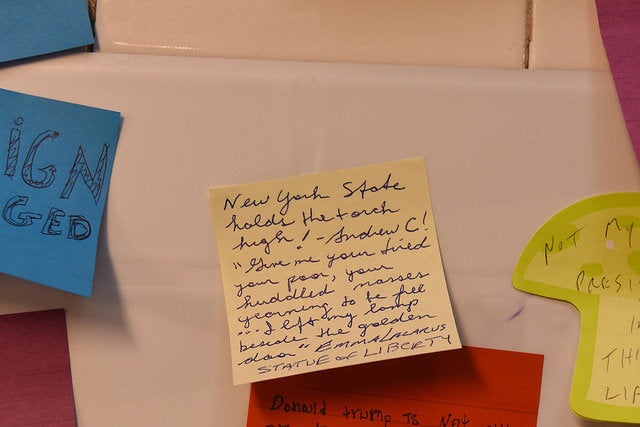 Watch Cuomo's full speech on Sunday: