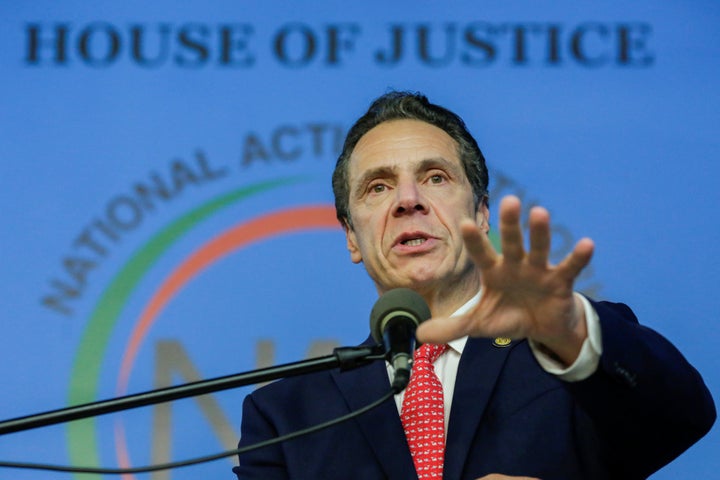 New York Gov. Andrew Cuomo (D) signed an executive order on Wednesday to restore voting rights to New York felons on parole.
New York and 47 other states strip people of the right to vote when they're convicted of a felony. In the Empire State, felons can vote again once they've completed their sentence, which previously included any time on parole.
The governor's office notes that there are currently about 35,000 people in New York who have been barred from voting while on parole following a felony conviction.
The governor announced the executive order during a speech at the National Action Network's annual convention. Standing next to him was former U.S. Attorney General Eric Holder, who leads the National Democratic Redistricting Committee, a group focused on voting rights issues.
Cuomo said the state legislature had failed to make the change, so he would act alone.
"I'm unwilling to take no for an answer, I'm gonna make it law by executive order and I announce that here today," the governor said to a standing ovation.
The executive order will apply to those currently on parole and those who will become eligible for it in the future. The state's Department of Corrections and Community Supervision will begin by submitting a list of those now on parole to the governor's office. Starting May 1, the department will produce a monthly list of those newly on parole. Those individuals will be reviewed to determine whether they will receive a conditional pardon restoring voting rights.
In the United States overall, there were more than 6.1 million people in 2016 who had been disenfranchised due to felony convictions, according to the Sentencing Project. The idea of stripping the right to vote from criminals dates back to ancient Greece and Rome. Several U.S. states began to adopt felon disenfranchisement laws around the Civil War as a way of targeting black voters. In 2016, 1 in every 13 African-Americans were disenfranchised, four times the rate of other Americans.
Cuomo's decision comes as he faces a primary challenge from actress-activist Cynthia Nixon, who has positioned herself as more progressive than the governor. Some have criticized Cuomo for not doing enough to expand voting rights in New York.
Nixon issued a dismissive statement Wednesday afternoon, saying Cuomo's executive order was long overdue.
"For eight years, Cuomo governed like a Republican ― handing control of our state to his ultra-rich donors and the party of Trump. Now he's scared of communities all across New York who want to replace him with a real Democrat. We don't buy the Governor's new song-and-dance routine. Voter suppression in New York should have ended eight years ago, from the rights of parolees to access to early voting and automatic registration," she said.
On Thursday, Cuomo spokeswoman Hazel Crampton-Hays said the governor's office would immediately begin assessing the eligibility of people on parole for conditional pardons based on a "set of basic criteria." Those individuals don't have to apply to have their voting rights restored, she said, and those deemed eligible would automatically receive their pardons.
The story has been updated with statements from Cynthia Nixon and a Cuomo spokeswoman.
Support HuffPost
The Stakes Have Never Been Higher
Popular in the Community