New York Gov. Andrew Cuomo (D) came out punching during a news conference Tuesday afternoon in response to the state attorney general's investigation that found he sexually harassed at least 11 women during his time as governor.
Cuomo outright denied all of the allegations against him in a 15-minute monologue during which members of the media were not able to ask questions. The governor blamed the investigation's outcome on biased reporting by the lead investigators tapped by state Attorney General Letitia James. Cuomo said the allegations against him "sought to unfairly characterize and weaponize everyday actions" he's had with those accusing him of harassment.
"I want you to know directly from me that I never touched anyone inappropriately or made inappropriate sexual advances," Cuomo said. "I am 63 years old. I've lived my entire adult life in public view. That is just not who I am and that's not who I have ever been."
In a weird turn of events, Cuomo also brought up that someone in his family is a survivor of sexual assault. He said he tried to use his experience with his family member to get closer to Charlotte Bennett, one of his accusers who had disclosed to him that she was a survivor of sexual assault.
"The truth is that her story resonated deeply with me," Cuomo said of Bennett's story of sexual assault. "I had heard the same story before with the same ugliness, the same injustice, the same damage. Not only had I heard the story before, I had lived the story before. My family member is a survivor of sexual assault in high school. I have watched her live and suffer with the trauma. I would do anything to make it go away for her, but it never really goes away."
The governor said he was "truly and deeply sorry" for sharing his personal experiences at work and acknowledged that it wasn't helpful.
Bennett responded to the investigation and Cuomo's press conference in a tweet, writing, "We have the facts. @NYGovCuomo broke federal & state law when he sexually harassed me & other current & former staff. I do not want an apology — I want accountability and an end to victim-blaming."
Bennett tagged New York state Assembly Speaker Carl Heastie (D) and implored him to "do the right thing" and impeach Cuomo.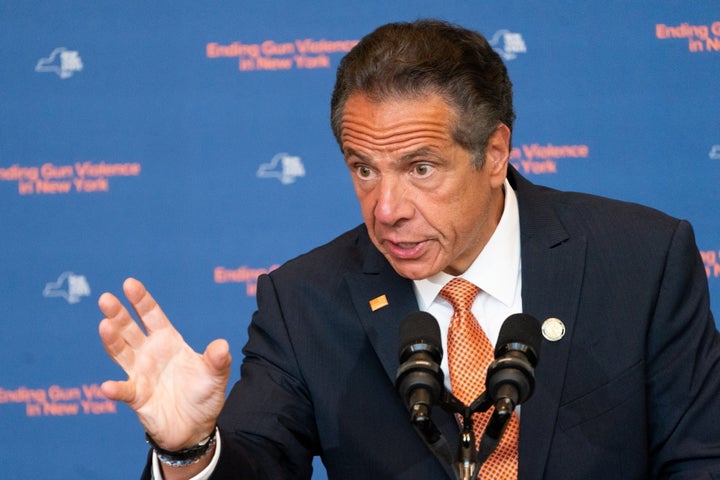 The governor remained defiant throughout his speech and even went so far as to display a slideshow of him kissing people's cheeks in order to show how his alleged interactions with certain women are not inappropriate. The slideshow included a photo of Cuomo's mother kissing him and another image of his father kissing him to show that he learned this interaction from his parents and it's "meant to convey warmth, nothing more," the governor said.
"I do it with everyone: Black and white, young and old, straight and LGBTQ, powerful people, friends, strangers, people who I meet on the street," Cuomo said of kissing.
Cuomo went on to suggest that some people are using "this moment" for politics, publicity and personal gain, and accused them of discrediting other sexual harassment victims.
James said in a Tuesday news conference that Cuomo "sexually harassed current and former New York State employees by engaging in unwelcome and non-consensual touching and making numerous offensive comments of a suggestive and sexual nature that created a hostile work environment for women."
The attorney general's office spoke with 179 people for the investigation and reviewed more than 74,000 pieces of evidence, including emails, texts, photos and audio files. The evidence painted a "deeply disturbing yet clear picture" that Cuomo sexually harassed female employees, many of whom were young women, James said.
Several lawmakers have already called for Cuomo's resignation in the wake of the attorney general's findings. New York state Senate Majority Leader Andrea Stewart-Cousins (D) said that "the Governor must resign for the good of the state." Congresswoman Elise Stefanik (R-N.Y.) urged Cuomo to resign and called for his arrest, adding that Biden must immediately call for the governor's resignation.
U.S. Senate Majority Leader Chuck Schumer (D-N.Y.) and Sen. Kirsten Gillibrand (D-N.Y.) released a joint statement following Cuomo's news conference calling for the governor to step down.
"The New York State Attorney General has conducted an independent, thorough and professional investigation that found the Governor violated state and federal law, had a pattern of sexually harassing current and former employees, retaliated against at least one of the accusers and created a hostile work environment," the senators said. "No elected official is above the law. The people of New York deserve better leadership in the governor's office. We continue to believe that the Governor should resign."
In March, President Joe Biden said Cuomo should resign if the sexual harassment allegations against the governor were confirmed. Biden said Tuesday during a news conference that he stands by his original statement: "I think that he should resign."
Support HuffPost
The Stakes Have Never Been Higher
Popular in the Community