The Outsider Art Fair is coming to New York on January 29, bringing 50 international galleries of folk, self-taught, and outsider art to Center 548 for four glorious days. The fair offers the rare opportunity for artists operating far outside the regulations of the art world -- whether marginalized, isolated, incarcerated, institutionalized or psychologically compromised -- a space to show the vibrant and singular artworks that don't just reflect their worlds, but constitute them. In anticipation of one of our favorite art events of the year, we're spotlighting a different outsider artist every day.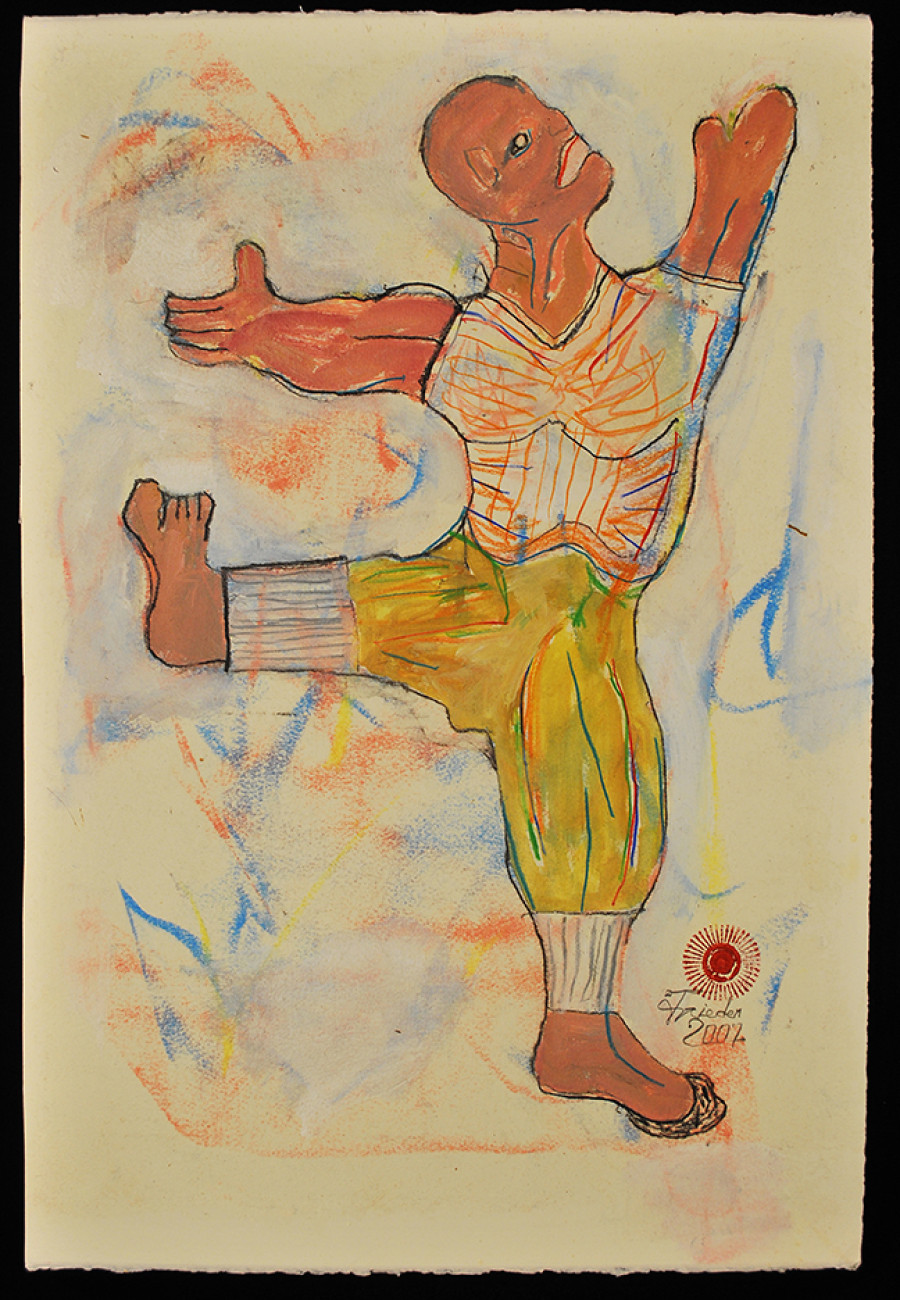 Untitled (Dancing Man with Mustard Pants) 2007 mixed media on paper 22.25X15"
"It is strange to think one is a candidate for immaculate conception. But I sit and wait for some spirit to combine with me and lead to product." Although this impassioned statement sounds like the words of an artist working perhaps centuries ago, they're actually from outsider artist Andrew Frieder, born and raised in Lancaster, California, on the western edge of the Mojave Desert, who passed away only last year.
The artist often weaved details of his own life with material from the most classic and universal narratives of them all, from the tales of Greek Mythology to the Old Testament. Beasts, serpents, skeletons and hybrid creatures populate his mixed media canvases, many of which were made by whitewashing acrylic gesso on charcoal drawings and machine-stitching the paper together. The images combine soft pastels and muted tones with sharp-edged textural intrusions like piercings and perforations, driving the works into what Good Luck Gallery calls "aesthetic submission."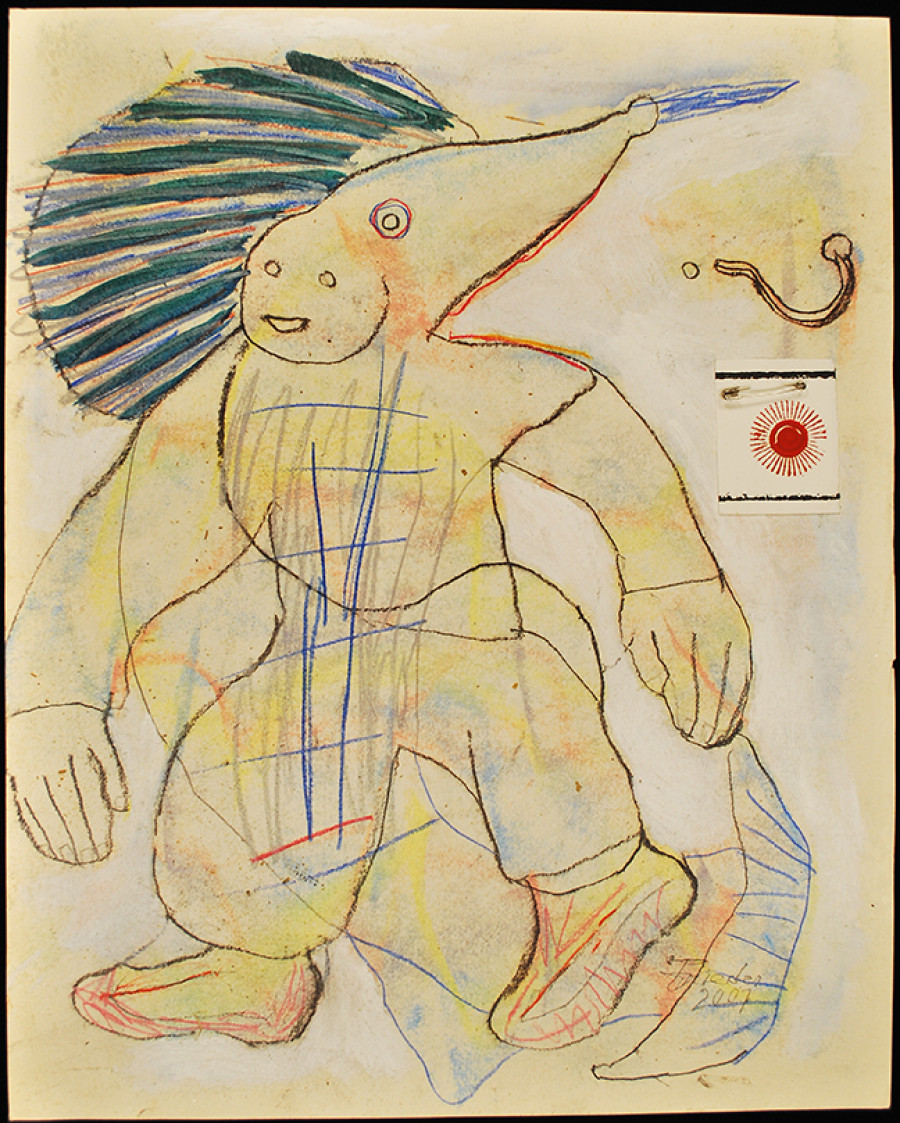 Untitled (Fishman) 2007 mixed media on paper 20X16"
Frieder grew up fluent in French and proficient at fencing; he was a ranked tournament player. After suffering a fencing injury, however, he turned his attention to art. During his education at art school, Frieder experienced a mental breakdown, and continued to live with symptoms of schizophrenia for much of his adult life. Frieder was open about his experiences, channeling many of his observations regarding his condition into his work, splicing together his own story with those of Greek, Roman and Biblical lore to craft visual hybrids at once personal and universal.
"It's naive, there's a lot of figure in it," Andi Campognone, Museum Manager and Curator at Lancaster's Museum of Art and History explained to The Huffington Post. "There was a lot of printmaking involved. And then he would go in and rework pieces with paint and stitching. He was really drawn to the texture that stitches made. For him it was a security thing because his grandparents were in the garment district, so it was something familiar to him."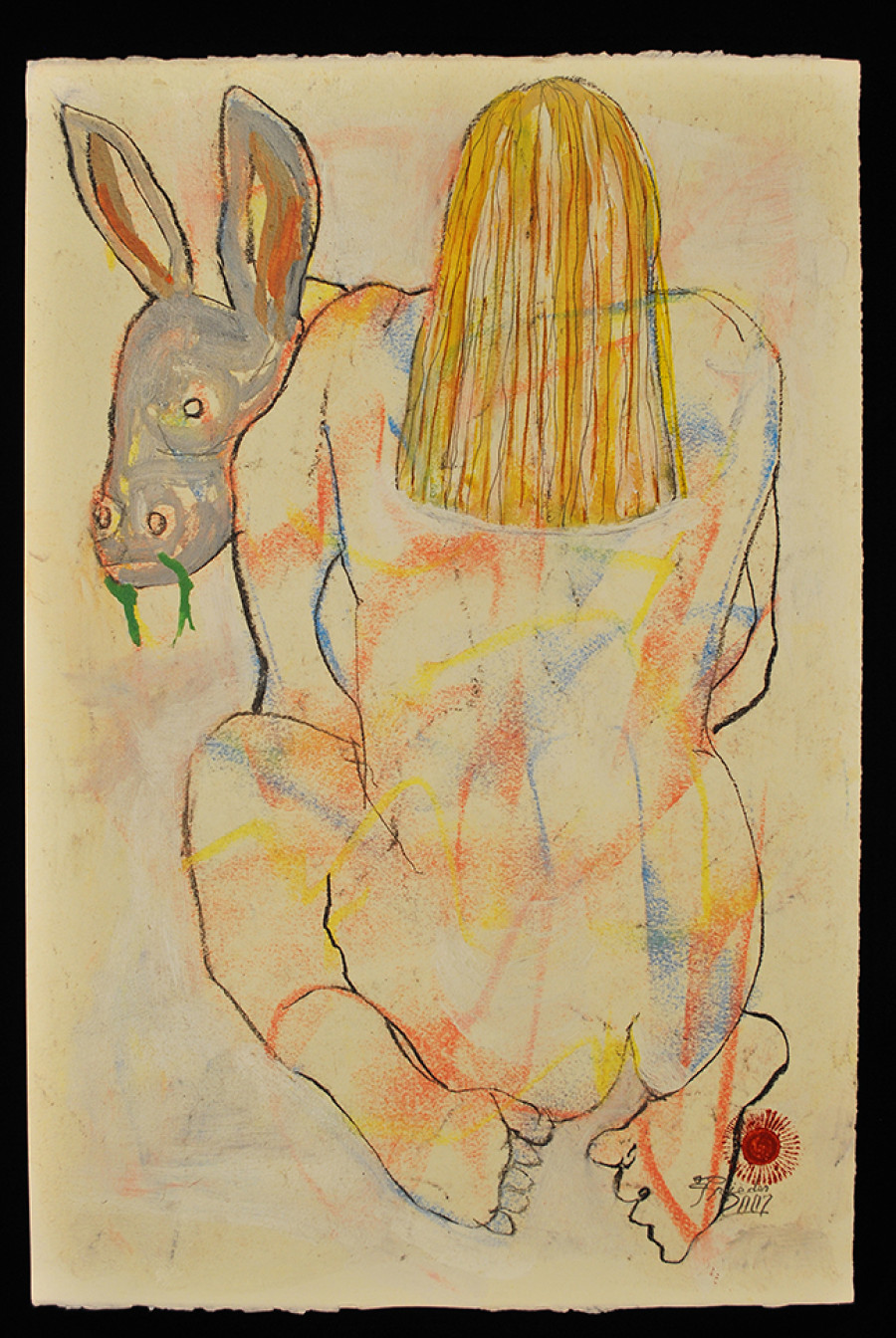 Untitled (Nude with Donkey) 2007 mixed media on paper 22.25X14.75"
Not only were Frieder's final products artworks worthy of attention, his various tools, mostly handmade, were just as astounding. "He hand-made about every tool he used," said Campognone. "His house was an installation in itself. There wasn't a bedroom and dining room and a living room, but a sewing room and a tool room and a printmaking room. He would go to thrift stores and garage sales and turn these found objects into tools he would use. He built his own presses from scratch, all made from things discarded from other people. He felt every tool could be used a second time."
Aside from being a fine artist, Frieder fancied himself a barber and cobbler too. He was a tireless thinker and proponent of self-taught art. Although private and reclusive when making art, Frieder was a regular at his local art museum, Lancaster's Museum of Art and History, and often shared his opinions on art history and theory to museum goers and staff. Although his schizophrenia caused him great pain for years -- he destroyed his entire body of work three times over as a result -- for the final two decades of his life Frieder experienced peace of mind, a healing transformation he attributed largely to art-making.
"He was very generous with his time and his materials," Campognone summarized. "He donated a lot of his work that he hand-framed to our museum store and modestly priced them so people could afford them. We value the work because it is so raw and it was so sincere. He really dealt with the human situations that others in his situation wouldn't have dealt with."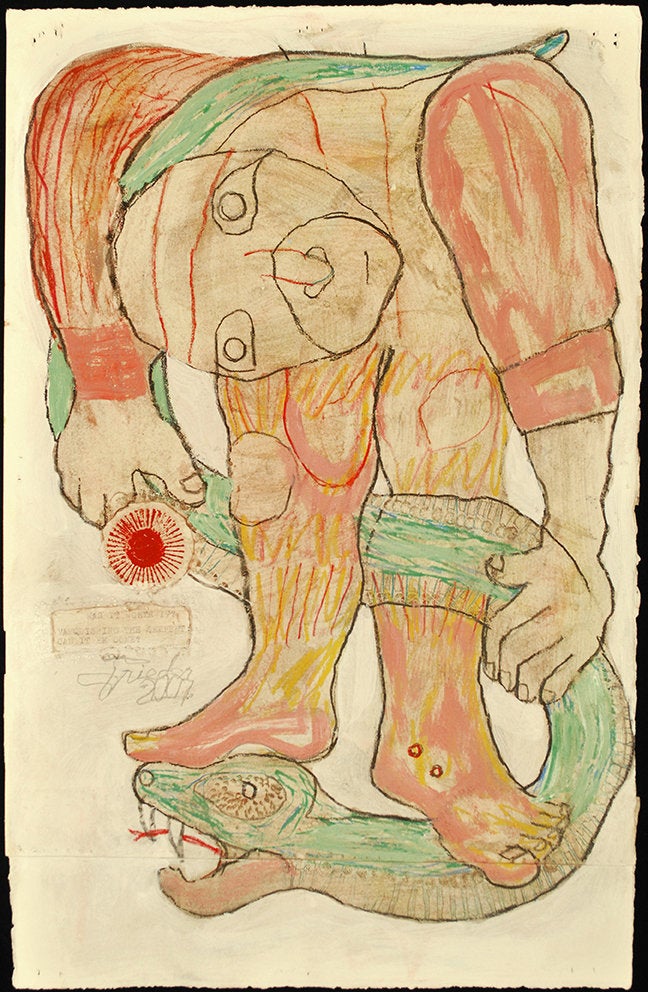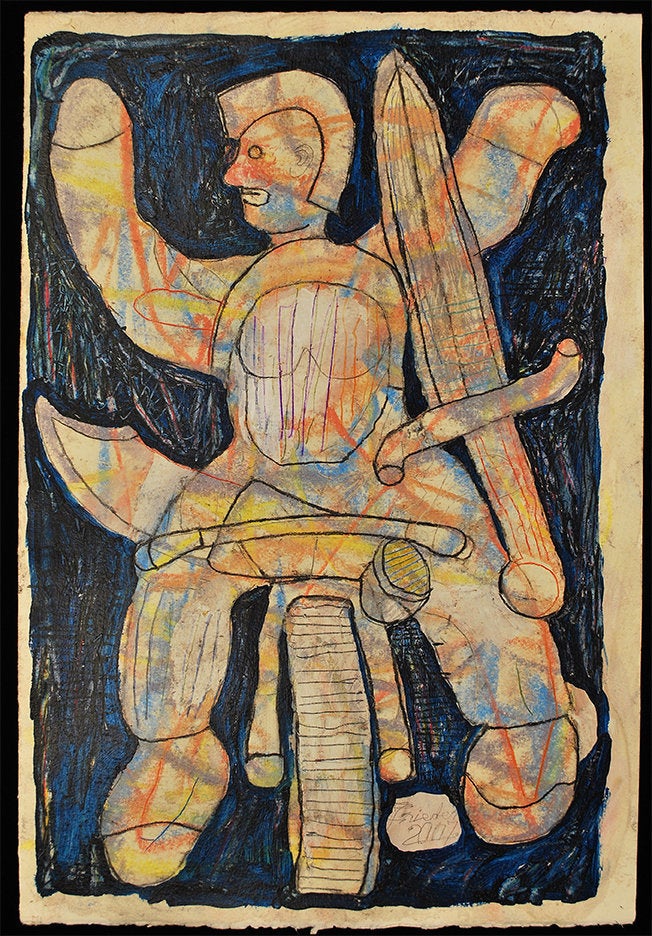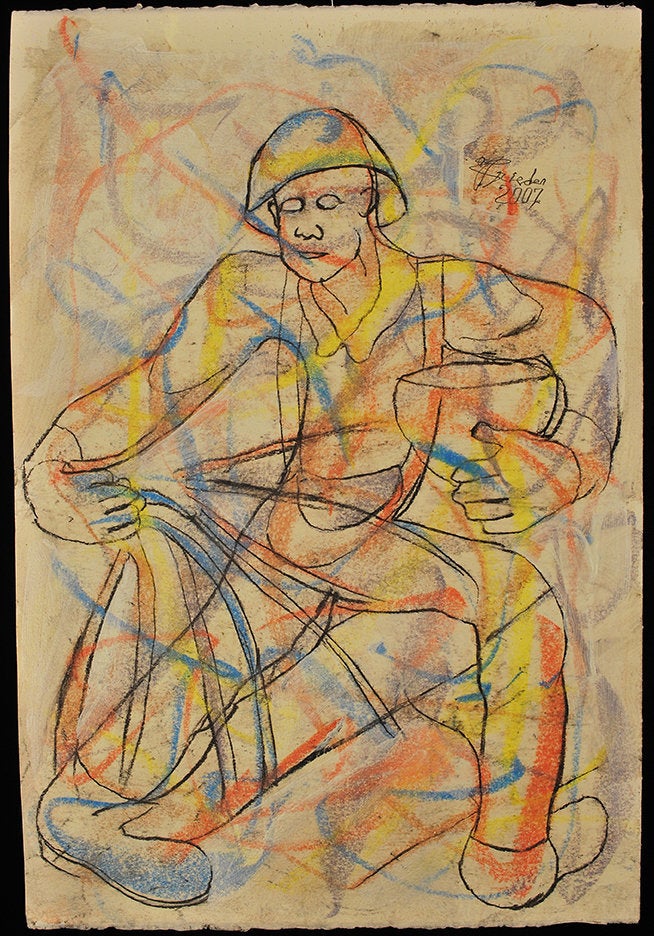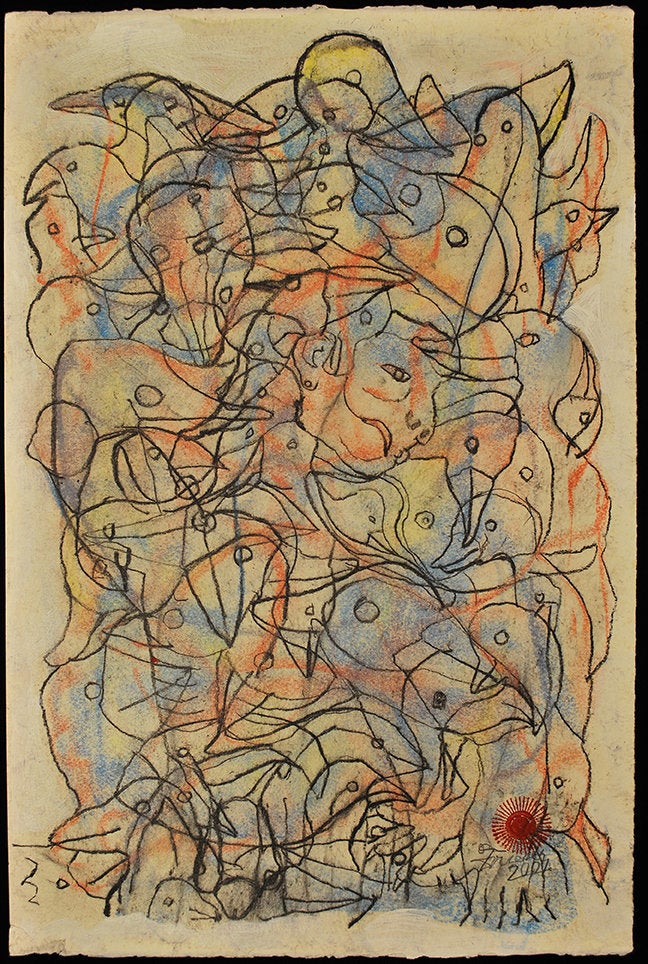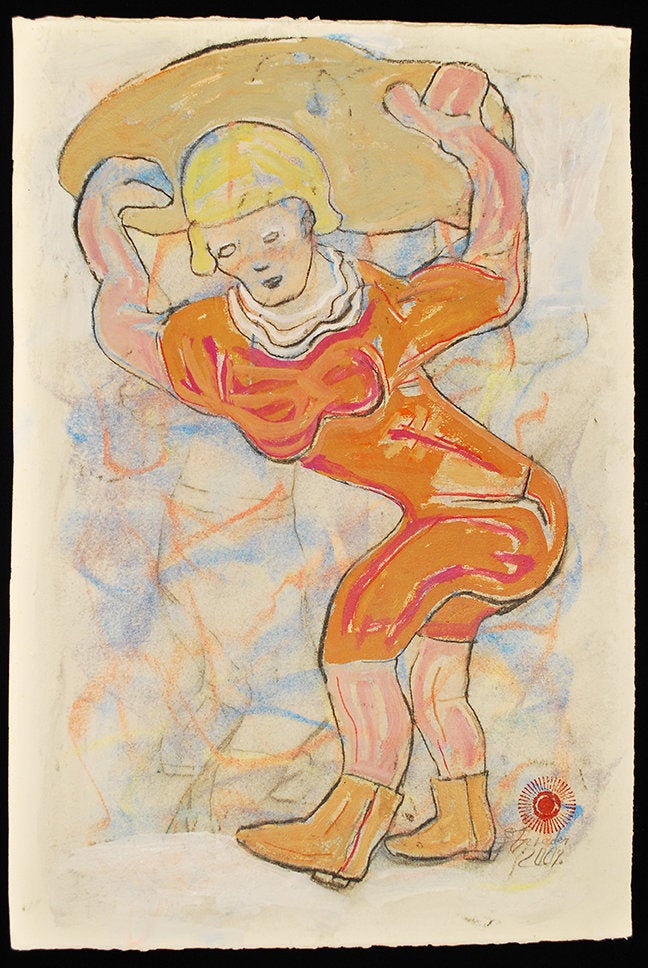 Outside the Lines" is an ongoing series addressing the prickly genre sometimes referred to as outsider art.
Related
Before You Go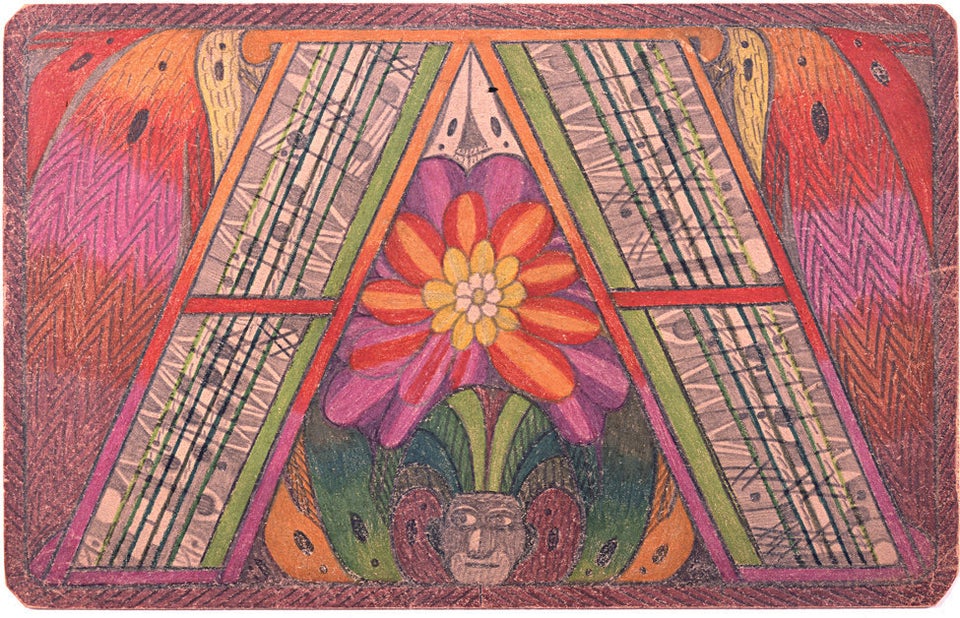 Outsider Art Fair Preview
Popular in the Community