Andrew Gillum, the Democratic mayor of Tallahassee, needs the support of black voters to become Florida's first black governor. But he faces a major obstacle: A provision of the Florida Constitution with Jim Crow–era roots prevents more than 1.5 million Floridians — a disproportionate number of whom are black — from voting at all.
Like three other states, Florida permanently blocks people with felony convictions from voting. But the state's process for restoring voting rights to people who have served their time is uniquely harsh: Felons can win back their voting rights only by appealing directly to the governor and other state officials. It can take years to win a hearing. Because of this, Florida is home to more disenfranchised felons than any other state. In 2016 the policy blocked more than 10 percent of the voting-age population and more than 20 percent of African-Americans from casting a ballot.
But this fall, organizers see a rare opportunity to overcome that barrier. Voters in November will weigh in on a proposed constitutional amendment to automatically restore voting rights to most people who complete their sentences for felony convictions. (People convicted of murder and sexual offenses would be excluded.) Observers think the proposal could benefit Gillum by encouraging unlikely voters to go to the polls because they know someone disenfranchised because of a felony conviction.
Groups supporting the proposal, known as Amendment 4, have emphasized the personal stories of disenfranchised people to motivate people to go to the polls.
"We definitely know that family members, friends, colleagues — people who are familiar with the pain somebody else might be going through — are willing to show up and be their voices," said Neil Volz, the political director for the Florida Rights Restoration Coalition, the main group pushing the amendment. "Bloodlines are a really powerful connector, and people who know somebody who's directly impacted have a real personal reason to get out and vote." He cannot vote in the state because of a felony conviction.
"We definitely know that family members, friends, colleagues – people who are familiar with the pain somebody else might be going through – are willing to show up and be their voices."
Florida's policy of disenfranchising felons dates back to the state's first Constitution in 1838 and was reinforced after the Civil War as a way to keep black Americans from the polls.
Then-Govs. Charlie Crist (a Republican at the time) and Jeb Bush (R) tweaked the rules to make it easier to get voting rights restored, but Gov. Rick Scott (R) changed the rules when he arrived in office to make it more difficult. Now people have to wait five or seven years, depending on their offense, from the time they complete their sentence to apply to have their voting rights restored. Those convicted of more serious offenses have to appear in person before Scott, who is running for a U.S. Senate seat, and other top state officials and ask for their rights to be restored. The board meets only four times per year, and the backlog is so great that it can take years to get an appearance date.
Thomas Kennedy, the political director of the Florida immigrant coalition, said it was "very frustrating" to go into communities of color for a campaign and meet people who support a candidate or issue but can't vote.
"We meet people all the time, like when we're talking to voters, for whatever the campaign, they say, 'Oh, I actually can't vote. I'm a felon,'" he said. He added that even though only felons are blocked from voting, people with misdemeanors and other criminal histories who are eligible to vote can be confused and think they're ineligible.
Daniel Smith, a political science professor at the University of Florida, said disenfranchised voters are in a Catch-22 because they can't participate in the political process until their rights are restored. Still, he predicted the measure would benefit Democratic candidates.
"People know that Republicans have made this incredibly difficult," he said. "It'd be hard to make the case that you support the measure and that you also support the Republican candidate because the Republican candidate for governor [Ron DeSantis] is going to oppose this measure, even if it passes."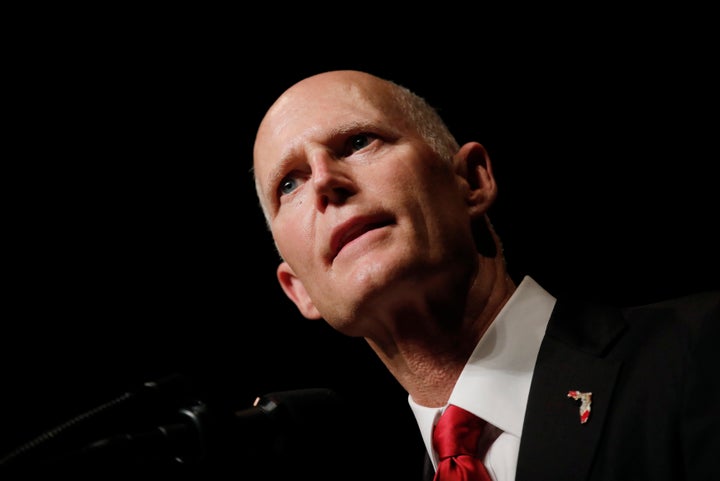 A spokesperson for DeSantis did not return a request for comment on his stance on the amendment. (DeSantis said in January he would "look at it.") Gillum has said he strongly supports the amendment.
Smith pointed to some polling from this year that showed more than 70 percent of Florida voters supported passing the amendment, and he said it was a sign that support for the measure extended beyond Democrats.
"There are Republicans and [unaffiliated voters] who are strongly in favor of Amendment 4, and that's where I think the real interesting dynamic is," he said. The ballot question, he added, could sway voters to support candidates on the ballot, like Gillum, who support the measure.
Steve Schale, a Democratic political operative who ran Barack Obama's Florida campaign in 2008, said that from a campaign's perspective, voting restrictions mean spending more money to educate people about what they need to do to cast a ballot. He predicted that enthusiasm for Amendment 4 would help Democrats.
Volz said Amendment 4 would have broad support because people understand the larger concept of why it is important to restore voting rights to felons who have served their time.
"When I think about where we are, I think about going all over the state and talking about the concept when a debt is paid, it's paid," he said. "Anywhere you go, anybody you talk to, deep, deep, deep, deep down, most people can connect with that simple concept."