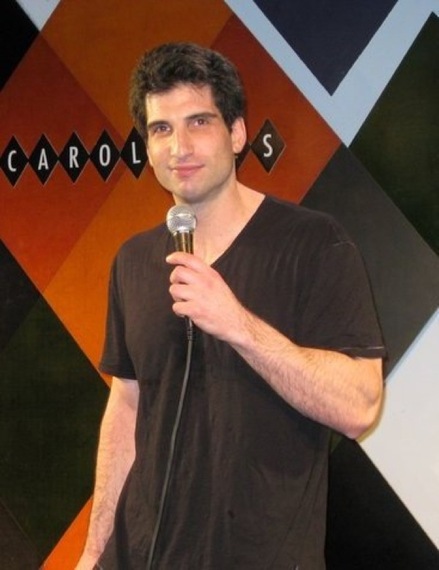 In the time-honored tradition of stand-up comics before him, Andrew Ginsburg works the stage at Caroline's on Broadway in Midtown Manhattan. Caroline Hirsch's famed comedy club has been host to the best comedians (Paul Reubens, Jerry Seinfeld, Jay Leno, Andrew Dice Clay, Gilbert Gottfried, Joy Behar, Jon Stewart, Robin Williams, Colin Quinn, Chris Rock, Norm Macdonald, Elayne Boosler, Michael Richards, Richard Belzer, Dave Chappelle and Paul Mooney) in show business. Andrew remembers,
My comedic inspirations are George Carlin, Sam Kinison and David Brenner (rest his soul). They were all prolific and provided insightful and entertaining comedy to their audiences. I wrote David Brenner a letter when I was just starting out in comedy. He wrote me back and gave me some great advice that I still use to this day. He told me that life is a series of 'nexts.' 'Next show, next meal, next hotel, next joke, next day, next week and next Super Bowl.'
Andrew has earned the valued last set where he riffs on family, dating, terrorists or yoga. There are no scared cows in his standup comedy act. He proudly proclaims,
I have been headlining at Carolines on Broadway since 2008, and it's my favorite place in all of New York City. With each show, my act has improved and the audience has grown larger. I'm very lucky to perform there.

His angst shtick is wrapped around a handsome, six-foot-tall, three-time world-winning bodybuilding physique. Andrew is a smashup of Jerry Seinfeld and Superman. His day job as a personal trainer gives him plenty of material for his observational comedy.
Being a trainer has helped me develop material from my experiences with clients
and other trainers. For example, every gym has an overweight trainer. That's like going to a suicidal life coach. If I had a fat trainer, I wouldn't believe one word he said. He'd be like, 'Do 10 push-ups!' and I would ask him, 'That's not going to make me fat, is it?'
He utilizes social media with comedy albums, Pumping Irony and Eat the Yolk on iTunes, his Twitter account @GinsburgComedy and YouTube.
Engaging with people on social media has helped me build both my comedy audience and training clientele.The main three social networks I use are Facebook, Twitter and Tumblr. I also communicate with fans on my email list using updates, exclusive content and a blog on my website. I have a new album coming out on April Fool's Day called Eat the Yolk, so my social media activity is geared toward that right now. We are going to be having a lot of fun with egg yolks in the next few weeks.
Andrew's acting resume includes roles on All My Children, One Life to Live, The View and Saturday Night Live. He says,
My ultimate goal as a comedian is to be prolific and create insightful comedy that provokes laughter and promotes health and fitness. I would love to be able to do this on stage, television, film and in print. He's ready for his next career move. The world is yours.
Support HuffPost
The Stakes Have Never Been Higher
Popular in the Community