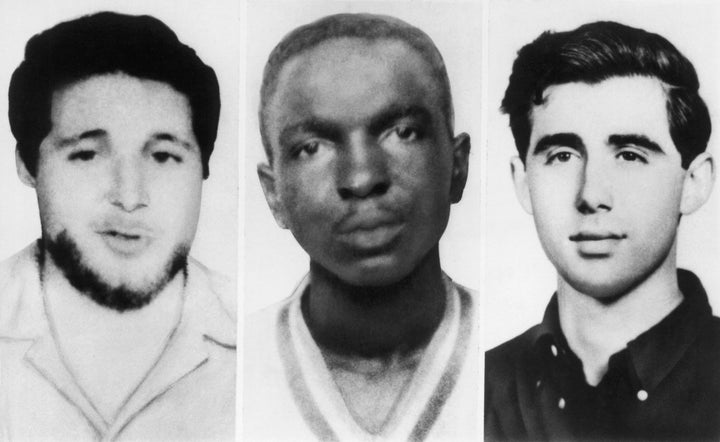 Tuesday is the 52nd anniversary of the infamous abduction and murder of three young civil rights workers, James Chaney, Michael Schwerner and Andrew Goodman, in Neshoba County, Mississippi. The idealistic young men were there to register local black citizens to vote during Mississippi Freedom Summer. The attention their murder received provided momentum to the campaign to pass the 1965 Voting Rights Act.
Andrew's wonderful mother, Carolyn Goodman, was a committed activist who dedicated the rest of her life -- she survived her son by 43 years -- to perpetuating his legacy and that of his colleagues, and instilling in subsequent generations of young people a devotion to justice and idealism. She was a neighbor in Manhattan and I knew her well. For the 25th anniversary in 1989 she organized a bus trip to the south and brought young people along to absorb some of the lessons of the past so they could apply them to the future. Afterwards she asked me to help organize some of the tapes, which were to be used for a documentary.
At another point, no doubt as a result of her efforts, an avenue in Manhattan, which runs from 66th street to 70th street one block west of West End Avenue, was renamed Freedom Place, in honor of the three civil rights workers. During a well-attended ceremony, a commemorative plaque was placed in the grass there, near the corner of 70th street.  
Later on came the construction of residential towers on the west side of the street. During the time when Donald Trump had control of the project, large signs saying "Trump Place" went up on the facades, as if it was the name not only of the buildings but of the street itself. He doesn't own the buildings anymore, but the signs remain.
I think about how Trump was of the same generation as these three men, but how there was a world of difference between their outlook and values. And how his putting his name on their street was typical of his narcissism and sense of entitlement.
Now more than ever, local elected officials love to denigrate Trump. But whenever I ask one of them to try to get the buildings to take the signs down and put an end to this insult, I'm greeted with a shrug of the shoulders.
I wish they would show the commitment and dedication Carolyn did, and do what it takes to get this straightened out.
Calling all HuffPost superfans!
Sign up for membership to become a founding member and help shape HuffPost's next chapter