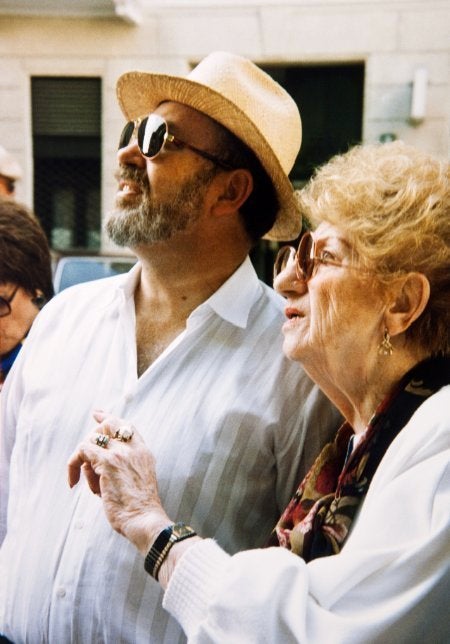 Writer and Holocaust survivor Elie Weisel once said, "I swore never to be silent whenever and wherever human beings endure suffering and humiliation. We must always take sides."
It's a position Andrew C. Hall took to heart. The Holocaust survivor and longtime Miamian has become a well-known advocate for victims of terror since founding law firm Hall, Lamb and Hall in 1975. He has represented the sailors of USS Cole bombing in a suit against Sudan, as well as victims of kidnapping and torture at the hands of Libya, Cuba, Iraq and Iran.
"I have a profound commitment -- always have had -- to oppose the abusive power," he explained.
Hall was born in a coal cellar in 1944 while his parents and brother were hiding during the Warsaw Uprising, an unsuccessful attempt by the Polish to liberate the city from Nazis. After the uprising, they left for Krakau.
"My father and mother and older brother were in hiding, and literally escaping one near gas experience after another from 1939 all the way to the end," he said.
Though just an infant during the horror, the Holocaust is never far from his mind. With a family filled with survivors and those claimed by the Nazis, his relatives were constantly sharing stories or hints of their past trauma.
Hall originally studied medicine in college, but took the LSAT on a whim and earned such a high score he was immediately accepted into the University of Florida's law school. He worked as a clerk for a federal judge before joining a firm that would take him into the courtrooms of Watergate.
His true calling came in 1992 when a friend asked for help with contract employee Chad Hall (no relation), who was working in Kuwait when he was kidnapped and tortured by Iraqi guards. Andrew Hall took on the case and won a judgement against the Iraqi government of $1.79 million for Chad Hall and another $1.79 million for his wife. He also took on three other similar cases, winning victims and their families a total of $17 million.
"It was literally that effort that started me on the path of representing victims of terrorism," Hall said.
After the war, Hall's father was arrested by the Polish government and the boys were sent to a home for war orphans. When their father escaped, he and his wife spent a year looking for their children before being reunited in Munich. They traveled to Paris and then then to the United States when Hall was 4. Here, the family name was changed from Horskey (changed from Horowitz while in hiding) when a judge said that the two boys should have American names.
Hall returned to Poland in 1993 with family, where he saw the cellar where he was born and other remnants of the past.
"The most important thing I had to realize was that my mother's and father's lives before the war were exactly like my life is today, and it kind of told me how fragile and how easy it is to lose everything," he said.
While his father died before Hall's major cases, his mother lived long enough to see what her son accomplished in the courtroom. In July, he'll begin a term as chairman of the Miami Beach Holocaust Memorial.
"I think [my mother] was very proud of what I was doing, and it was very important for me to have her see that," he said.
With Thursday marking Yom Ha'Shoah, or Holocaust Remembrance Day, the day is special, but at the same time not unlike any other for Hall.
"It really never leaves my thoughts," he said. "We tend to remember the Holocaust in terms of suffering of the people who were there, but in reality, I think there's a second message of the Holocaust, and that is bearing witness to what occurred there is essential to make sure it doesn't occur again."
PHOTOS: Andrew C. Hall's memories of the Holocaust:
Related
Popular in the Community