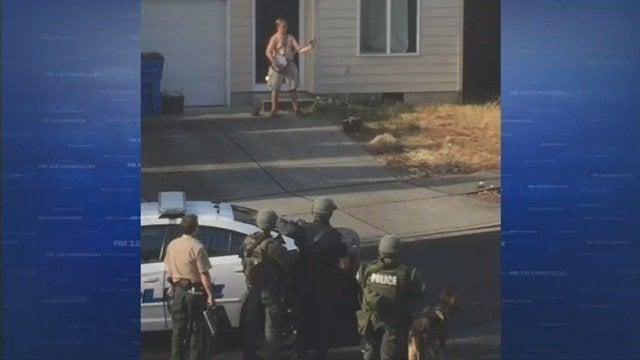 Cops: they're a tough crowd.
A 26-year-old software engineer is behind bars following a bizarre standoff in Vancouver, Washington, on Sunday afternoon that ended with his playing the banjo for local police officers.
Police said Andrew Helmsworth ran naked through the city's Ogden neighborhood while chasing his father with a 4-inch knife, according to The Columbian. He then barricaded himself in his home.
At one point, Helmsworth put on some shorts and emerged from the home with a banjo. He began playing for a captive audience of Vancouver police, SWAT officers, hostage negotiators and a K-9 unit.
There would be no encore. As Helmsworth turned to re-enter the house, witnesses said officers shot him with a nonlethal round.
In the video, Helmsworth can be heard screaming as police take him into custody. He faces charges for allegedly assaulting a family member, according to police, who said no one was injured in the incident.
"I'm glad that nobody got hurt and they were able to get him," neighbor Melissa Munday told KPTV.
The suspect appeared in Clark County Superior Court on Monday, wearing a suicide prevention vest and a grin. When prosecutors asked him if Andrew Helmsworth was his true name, he replied, "That is my given name, but I feel it doesn't apply to me today," according to The Columbian.
He added that he'd "lost his temper" and was pretty sure he was going to lose his job. He said he was mentally ill.
A judge advised him not to talk about the incident. Helmsworth was held on $30,000 bail and ordered not to have contact with his father.
Popular in the Community