 WASHINGTON -- Clark Mills' equestrian statue honoring former President Andrew Jackson across the street from the White House is one of the nation's most recognizable sculptures, albeit one that might be easily overlooked, too.
Sitting in Lafayette Park opposite the executive mansion, the Jackson statue has helped framed countless photographs of the White House over the years. Pigeons are certainly familiar with the statue, but many human visitors to the park might rush straight past Jackson on their way to the White House fence.
Tuesday marks the 160th anniversary of the statue, which commemorates Jackson's military victory over the British at the Battle of New Orleans on Jan. 8, 1815.
Story continues below ...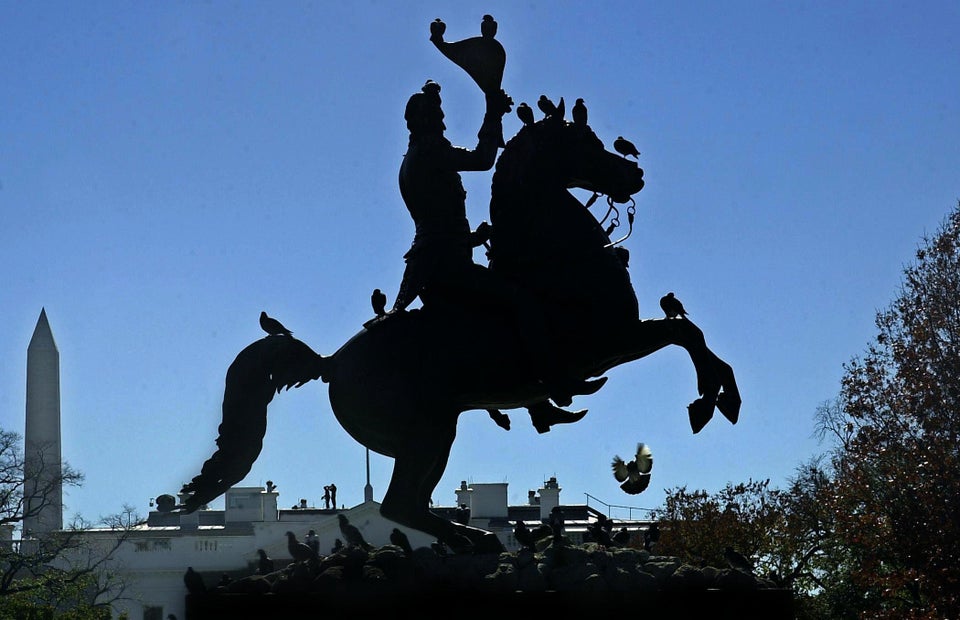 Andrew Jackson Equestrian Statue
The bronze statue faces west, while Jackson and his charger look slightly south toward the White House. Grouped at the base are four of the cannons Jackson captured in Pensacola, Florida. These four are rare pieces cast by Josephus Barnola at the royal foundry in Barcelona, Spain, and are named El Aristeo (1773), El Apolo (1773), El Witiza (1748), and El Egica (1748) for Greek gods and Visigoth kings.

The sculptor erected a studio and furnace near the proposed site in 1849. He had to make six castings of the horse before the final casting was completed in December, 1852. The entire statue was cast in ten pieces, four of the horse and six of Jackson, for a total weight of 15 tons. The statue, the first in the park, was dedicated on January 8, 1853, on the thirty-eighth anniversary of the Battle of New Orleans.
There are similar Jackson equestrian statues in Nashville, New Orleans and Jacksonville, Fla.
Related
Popular in the Community