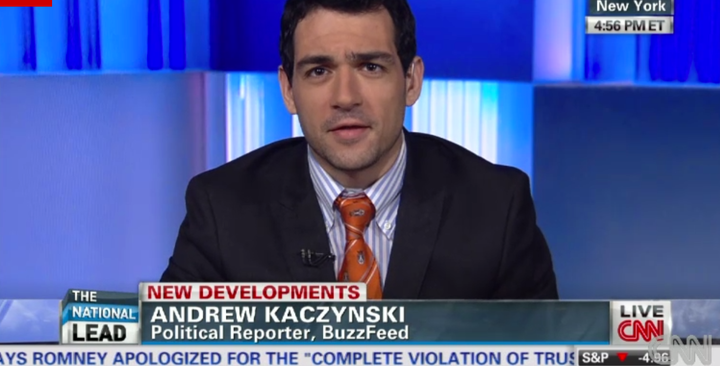 NEW YORK ― BuzzFeed's Andrew Kaczynski and his scoop-driven political research team are joining CNN during the final, frenetic stretch of the 2016 election and beyond.
Kaczynski, 26, has been one of the standout reporters of the campaign season as his K-File team has consistently broken news through deeply mining candidates' past statements and actions. Three other members of the team ― BuzzFeed deputy politics editor Kyle Blaine and reporters Nate McDermott and Christopher Massie ― are making the jump with him.
The hiring of Kaczynski and company is a major coup for CNN and follows a recent spat between network chief Jeff Zucker and BuzzFeed editor Ben Smith. In August, Zucker said BuzzFeed wasn't a "legitimate" news organization, prompting Smith to criticize the network for boosting Trump in the pursuit of ratings. The mini-exodus also comes amid questions about BuzzFeed's commitment to original reporting following a recent reorganization.
In an interview, Kaczynski stressed that the decision to leave ― and the abruptness of his departure ― was motivated by what "CNN brought to the table" rather than a reflection on BuzzFeed. He said the network can offer "unparalleled" resources and promotion for his team's work, providing the opportunity to "influence the political debate in this country in a powerful way."
"To be at the biggest name in news for the last month of what has been the craziest election in modern history is just a great opportunity for me and everybody on our team," he said. "When the opportunity was there, we made sure we took it."
Kaczynski said talks began informally in late summer. Given the urgency of the presidential race, Kaczynski and company won't get a breather between jobs. They gave notice at BuzzFeed on Monday and begin at CNN on Tuesday.
Andrew Morse, executive vice president of editorial of CNN U.S., likened the situation to "a pennant race."
"There are 40 days before one of the most pivotal elections in modern times," Morse said. "CNN, as we have been this entire cycle, is trying to do everything we can to provide our viewers and our users with the very best reporting that we can. When you're in a pennant race, you try to bring on the best talent you can to make sure your team is as strong as it can be."
CNN's late-season poaching of four BuzzFeed reporters may be viewed as the latest round in the two news outlets' public fight. But Morse said hiring the investigative unit was done to strengthen CNN, not swipe at a rival.
"We're worried about ourselves," Morse said. "We're not worried about BuzzFeed."
"I guess this means that CNN has seen the value in doing the kind of tough reporting on Donald Trump that BuzzFeed News has been doing all presidential cycle and we wish Andrew good luck," Smith said in a statement.
Kaczynski was one of Smith's first hires after leaving Politico in late 2011 to beef up original reporting at BuzzFeed. While in college, Kaczynski built a reputation among prominent political reporters, like Smith, for unearthing newsy videos. He was wrapping up his senior year when he joined the site. Kaczynski described Smith in an interview as a "mentor."
The small group Kaczynski put together ahead of the 2016 election ― initially likened to an in-house opposition research team ― has had an outsize influence on the political news cycle and performed serious vetting of the candidates.
For instance, Kaczynski's team found video contradicting Trump's claims of being against the 2011 U.S. intervention in Libya, and, last week, reported how the Republican nominee appeared (clothed) in a Playboy video, even as he's tried smearing a former beauty queen by saying she'd been in a sex tape. He revealed through searching census records that only one of Hillary Clinton's grandparents had immigrated to the United States, contrary to what the Democratic candidate had asserted. Kaczynski also found instances of Rand Paul plagiarizing in speeches, which led the Kentucky senator to muse about dueling those investigating his record.
The team's biggest scoop came in February, and CNN played a role in immediately amplifying it.
Zucker read the BuzzFeed story as CNN was conducting a town hall interview with Trump and spoke with executives about quickly inserting a question on it into the event.
Kaczynski said he "knew that [his] reporting had really made a mark" this election cycle when video or audio of it was later cited or played on CNN.
The ex-BuzzFeed team can be expected to continue delving into candidates' records even once the presidential race is past. Kaczynski pointed out there are governor's races in states such as New Jersey and Virginia, a New York City mayor's election, as well as the appointments of either President Clinton or President Trump. Then it's on to the 2018 midterm elections, and another presidential cycle begins again.
"We think in hiring this team we're hiring a really unique investigative reporting unit that has shown a clear record of breaking news and really smart reporting," Morse said. "We're going to set them up to do what they do best."
Related
Popular in the Community