If New York City in the post-Bloomberg era can still be called gritty, artistic, and weird, the political demonstration in the Metropolitan Avenue subway station on Tuesday afternoon was a quintessential New York gathering. Kid Lucky, the "human beatbox," was there. So was Matthew Silver, better known as the guy who dances on Astor Place in his underwear, swinging hula hoops and giant stuffed bananas while shouting slogans like "Put down your phones" and "Love is forever."
Other protesters included a rapper, a harmonica player in a bowler hat, an assortment of guitar-strumming singer-songwriter types, a mime, and Robert Cornegy, the seven-foot city council member from Bedford-Stuyvesant and an alumnus of the legendary 1984-85 St. John's University basketball team, who said of his days as an itinerant ballplayer in Europe that he learned about each new city by eating the street food and watching its buskers.
It was an unusual gathering sparked by an unusual incident. On Friday, police officers stopped a busker at the same subway station and told him to stop singing and playing guitar. It wasn't this demand that was unusual -- street performers say police harassment is a frequent experience. What made it stand out was was happened next -- all captured on video by a bystander. At the busker's urging, the officer read out loud a section of the Metropolitan Transportation Authority rulebook that explicitly notes that "artistic performances, including the acceptance of donations," are permitted. Then, inexplicably, the cop arrested the performer anyway, banging his guitar into the wall.
The bystander's video has since been viewed more than a half-million times on YouTube. In the clip, the performer, Andrew Kalleen, sings Neil Young's protest hymn "Ohio" as the officer and several backups handcuff him and drag him away. The crowd on the platform can be heard angrily asking the officers why they aren't busy arresting real criminals.
One possible answer was frequently alluded to at the rally on Tuesday, where activists, performers, and a few politicians spoke out against the "broken windows" theory of policing, which holds that targeting minor offenses like panhandling and littering can deter more serious crimes. The police commissioner, Bill Bratton, famously championed the strategy during his first run as head of the NYPD in the 1990s. Since returning to office in January, Bratton has cracked down hard on people who dance and play music on the subway.
Andrew Kalleen, a subway musician, leads a crowd in the Neil Young protest anthem "Ohio" after police arrest him for performing in the train station. The Metropolitan Transit Authority rulebook says performing in the subway is permitted.
But critics point out that no one has ever proved the broken windows theory's validity, and argue that it can compromise public safety by distracting officers from serious investigations and leading to violent encounters between police and they people they target. In July, the strategy came under heightened scrutiny after Eric Garner, a Staten Island grandfather, died at the hands of police. An officer had grabbed him in a banned chokehold while attempting to arrest him for the sale of loose cigarettes.
Unlike Garner, Kalleen didn't appear to be breaking any law when the police stopped him. At the protest, Matthew Christian, a violinist and leader of BUSK-NY, a group that advocates for street performers, said many police officers may be unaware of this rule. "The NYPD does not do training on the rules of conduct," he said.
Kalleen said police have stopped him at least five times for performing in the subway station. On Tuesday evening, he filed his second complaint with the Civilian Complaint Review Board, which investigates allegations of police abuse. He said he also plans to sue the department.
At the rally, Kalleen led the crowd of perhaps 100 protesters in a spirited rendition of "Ohio." The human beatbox stood on one side, accompanying him on mouth and microphone. The mime stood on the other, a small ball balanced on his head.
Someone handed out lyric sheets. "This is part of the integrity of New York City," said Cornegy, taking it all in. "People come here from all over with the expectation that they are going to get an authentic New York experience, and this is part of its authenticity."
Before You Go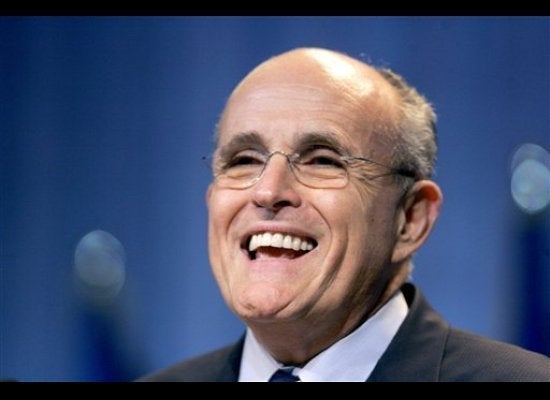 Out-Of-Touch Politicians
Popular in the Community