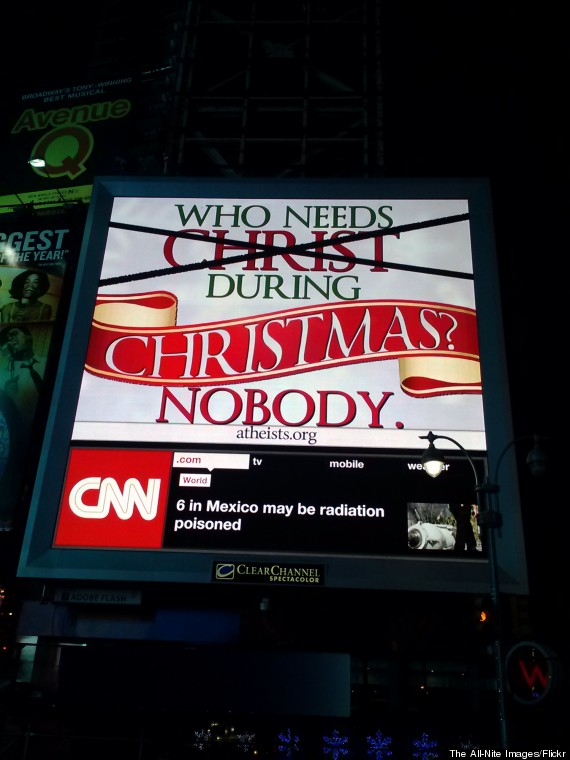 Lanza, a Republican representing Staten Island, shot off an angry statement last Friday in response to the billboard, in which he warned that this type of "religious persecution" was what led to the Holocaust:
"Just as millions of Americans are preparing to celebrate Christmas, this intolerant and hateful group deliberately ridicules the solemn beliefs of millions of New Yorkers.

Not only do the people behind this group not believe in God but they obviously don't believe in decency, civility and kindness to fellow human kind either. This is part of a continued "War on Christmas" and also upon the belief and value system of millions of Christian, Jewish and Muslim people who have faith in God. Religious persecution of the kind that similarly lead to the Holocaust began with small evil baby steps of ridicule and hatred of the religious beliefs of others.

While it's not surprising to me that people who are hateful and malicious of god would endorse such an advertisement, I would have hoped that the people who own this billboard, those who live in Manhattan and around Times Square and the community's political leaders would have decried this hate speech as something not to be tolerated or allowed."
He added that people "should boycott and stay away from Times Square and all those affiliated with hatred of this kind."
The American Atheists responded by announcing Thursday that they'd erected another digital billboard, this time in Lanza's own district in Staten Island:

"Senator Lanza seems to be unaware that there are millions of atheists right here in New York," American Atheists President David Silverman said in a statement announcing the new billboard, which is on the Goethals Bridge. "[Lanza] accuses us of spewing religious hatred while he himself calls all atheists 'malicious' and 'hateful' for not believing in his god. We will not be silenced or smeared by a bigoted elected official, nor will we allow our members and the other tens of millions of American atheists to be slandered by a representative of our own government."
"Lanza had no problem calling for a boycott of Times Square because of our message," he continued. "We stand behind our billboard and we want the people of Staten Island to know that they don't need religion to have a great Christmas, either. We are putting up this billboard as a challenge to Senator Lanza. Now the question is, was the senator posturing, or does he have the guts to call for a boycott in his own district?"
Lanza has yet to respond to the Atheists' provocation.
Happy Holidays, everybody.
Popular in the Community