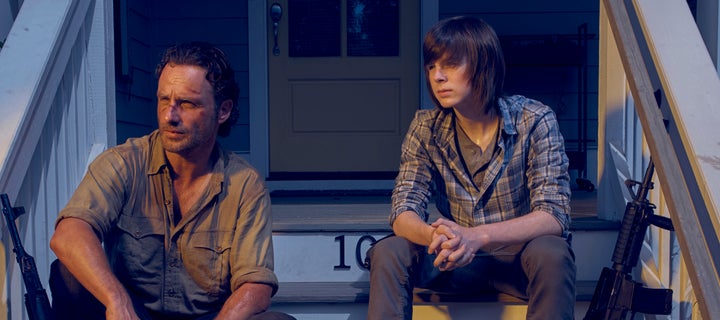 Look at the flowers, "Walking Dead" fans. Season 6 is going to blow your minds.
The Season 6 premiere of "The Walking Dead" aired Sunday, and wow. After discovering an army of walkers trapped not far from Alexandria, Rick convinced everyone to follow his pretty insane idea to lead all the walkers away at once. Then, just when you think they're finally in the clear, a mysterious horn sounded from the direction of Alexandria, leading all the walkers directly there.
Holy crud. And it's about to get even more nuts.
The Huffington Post caught up with star Andrew Lincoln at the "Walking Dead" fan premiere. He said the show eclipses its zombie count from all of last season in the first three episodes of Season 6, and "every single episode is like a season finale."
"The fallout in those last 30 seconds sort of propels the story arc for the next maybe eight episodes, and get ready -- because two and three are like body blows and then four spins out into this indie arthouse movie -- then five, six, seven, eight -- I think nine is the most crazy episode we've had. I dropped my script when I read it. I was just like, 'Nooo! We're doing that?'" said Lincoln. "So yeah, it's crazy. It's amazing storytelling. I think [showrunner] Scott Gimple and the team have just outdone themselves this season."
Yep. Time to get excited. And crazy episodes aren't the only thing coming. Rick Grimes also told us a fallen friend is making a return to the show.
"The beard is definitely coming back. I was campaigning for it," said Lincoln.
Hallelujah! It's back! Rick Grimes' heavenly beard is back! Fear the beard, walkers.