Over the course of "The Walking Dead," we've watched Andrew Lincoln's character bite a guy's throat, start ― and end ― a "Ricktatorship," grow a beard, lose a beard, grow a beard again, quash rebellions, fight an all-out war, lose all his family members except for his adopted daughter, and face just about every other challenge a zombie apocalypse could throw at him.
Dude's been through a lot. And now it's coming to an end.
Lincoln will walk away from the AMC series in the upcoming ninth season, according to Collider and The Hollywood Reporter. No one knows what Rick's exit will look like; THR ambiguously claimed the character will be "phased out," while Collider refrained from giving any departure details.
So we don't know how it'll happen. But we know how it won't.
Lincoln vividly described a potential final "death" scene for Rick during a "Walking Dead" panel at PaleyFest in 2017. You can see the actor animatedly outline his version of a demise scenario in the video below, but here's the gist: Rick's final moment would begin after he jumps from a bus to save his group from a herd of zombies. He'd bellow his meme-able pronunciation of Carl ― "Coralll" ― a few times for good measure. (After all, Lincoln imagined all of this before Carl died on the show.) A zombie would eventually bite Rick, but there's a twist. He wouldn't die.
Lincoln posits that Rick would discover he is the cure to the zombie virus. Cue him walking through the zombie herd unscathed. End scene.
The crowd loved Lincoln's pitch. Video of the moment quickly went viral. Curiously, though, executive producer Greg Nicotero, who sat beside Lincoln on the panel, looked uncomfortable the whole time.
I asked Nicotero and Lincoln about it during a "Walking Dead" press conference at New York Comic-Con last year. 
The answer: Nicotero liked Lincoln's pitch and didn't want it talked about in public, just in case he and his team decided to use the scenario on the show.
"Listen, it was great," Nicotero said. "We had talked about it a couple times. 'I have this great idea. I have this great idea.' But if you put it out there, then..."
At this point, Lincoln interjected. "No, it's a double bluff," he said. 
 "I know it's a double bluff," Nicotero responded. "It was very well-written. We had talked about it a couple times, but you know ― listen ― I guess maybe part of it is you never want to think about the end of a great character like that, but he came up with a really good pitch. ... Sometimes we talk about things like, maybe we shouldn't say it. Just wait for the right time to pitch it, but he was too excited."
"I couldn't help myself," Lincoln said, jokingly adding, "I sometimes get nervous in front of you guys and say things that I really regret, and that was one of them."
Did Nicotero know Rick's exit was inevitable? Was Rick-as-zombie-cure actually a potential plot resolution? Could we have had one last utterance of "Coralll"? 
In any case, we likely won't see any version of that story now. There is, however, another possible death scene on the table.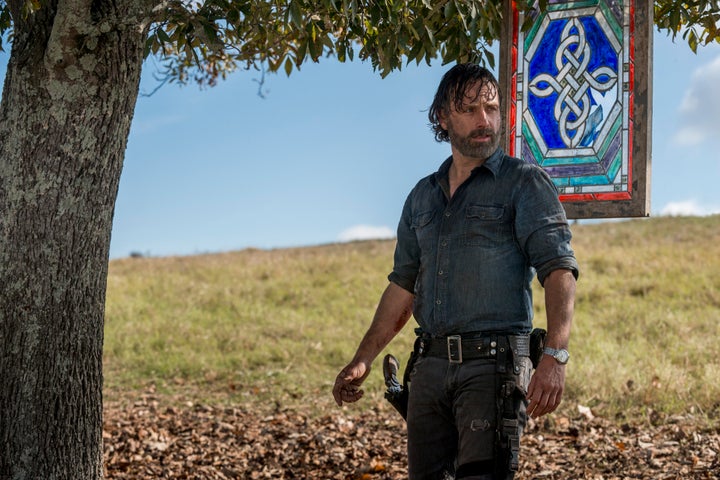 "Walking Dead" creator Robert Kirkman chimed in after Nicotero and Lincoln said their piece at the press conference.
"Is that the one where you go in the room where the chainsaws are hanging from the ceiling?" Kirkman asked, referring to another possible death scene.
"No, I'm saving that one. Why would you spoil that one?" Lincoln said.
"I'm not going to [spoil the death scene] again because we're shooting it in three weeks," he joked, prompting the room full of press to gasp and laugh.
Because that was just a joke, right? ... Right?
Calling all HuffPost superfans!
Sign up for membership to become a founding member and help shape HuffPost's next chapter
BEFORE YOU GO
PHOTO GALLERY
The Walking Dead