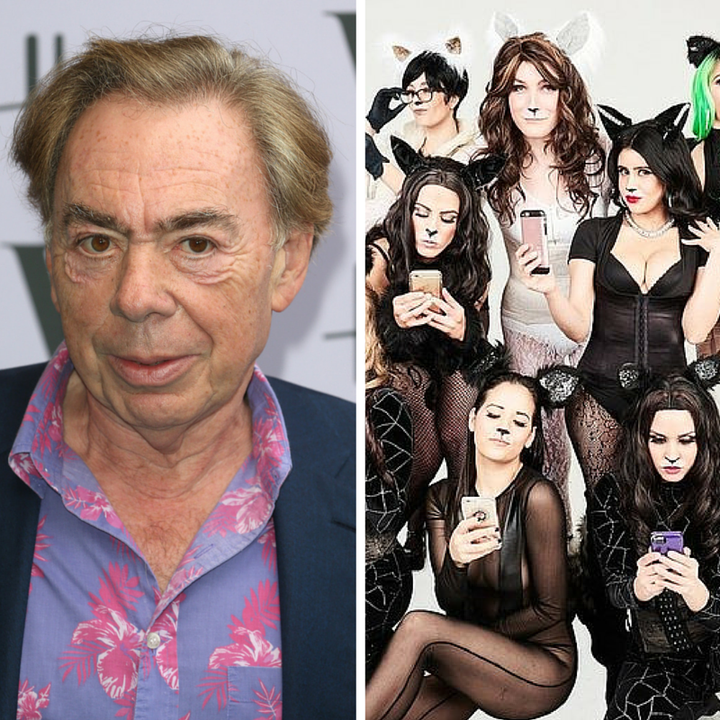 Broadway legend Andrew Lloyd Webber showed his true stripes in a cat fight with "Katdashians! The Musical," an off-Broadway musical that parodies the queens of reality TV and several songs from Webber's "Cats." 
The New York Post was the first to report that Webber threatened legal action against "Katdashians!," claiming the musical written by Bob and Tobly McSmith stole songs from his show. 
"It is clear that the production is not a parody of 'Cats' . . . Our client's property is being extensively misappropriated . . . to parody another subject matter entirely," Webber's lawyers wrote a letter to the McSmiths, according to the Post. 
The McSmiths agreed to cut six songs from the show including "Meowmeries," a parody of "Memory" that is the emotional core of the musical, despite the fact that both they, and their legal counsel, believe the songs are protected under fair use. 
"At a certain point you have to decide how much money you have to go to court and fight," Tobly told The Huffington Post. "And [Webber has] all the money in the world."
The situation "feels a little bit like David and Goliath," he said, "because what are we going to do?"
"I just couldn't believe it. Andrew Lloyd Webber is very much known for his parodying of songs, so we thought that he would get what we were doing by parodying his songs," Tobly explained. 
Like Mr. Lloyd Webber's previous scores, "Cats" shows off the composer's special flair for parody. Stolid English airs coincide with banjo-laced folk tunes, boogie-woogie, and a festive Latin American-style dance music modeled after Leonard Bernstein's "America." The glamorous and sinister master criminal Macavity boasts a stealthy leitmotif borrowed from Henry Mancini's music for the "Pink Panther" movies. The most ambitious and giddiest burlesque, "Growltiger's Last Stand," is an 11-minute spoof of "Turandot," featuring Stephen Hanan's wicked takeoff of an impassioned Italian tenor. Another theme, played on synthesizers, is an eerie descending motif that recalls the mystical elements of John Williams's score for "Close Encounters of the Third Kind."
After cutting the six songs, the McSmiths aren't too worried. They're looking at it as an opportunity to make "Katdashians!" even stronger, especially since the audiences responded more to their original music in the first place.  
"When we really thought about it, we realized that we can write better songs than our parody of 'Cats.' Like, 'Kim Motherf**cking Katdashian' is one of the crowd favorites and it's an original song. Obviously," Tobly said.
UPDATE: Andrew Lloyd Weber told Page Six that he wants "Katdashians!" to cut six of its songs to appease T.S. Eliot's estate. Apparently, Eliot penned poems that were the basis for Weber's musical, "Cats." 
"It was difficult to persuade Eliot's widow . . . to allow us to use Eliot's poems," Weber said, before adding that Eliot's work can't be used "in a parody or in a way that could bring his poems in disrepute . . . So even if I loved ['Katdashians'], I am legally obligated . . . to protect the work." 
Reps for Webber have yet to respond to The Huffington Post's request for comment at this time. 
Calling all HuffPost superfans!
Sign up for membership to become a founding member and help shape HuffPost's next chapter
BEFORE YOU GO
PHOTO GALLERY
The Kardashians