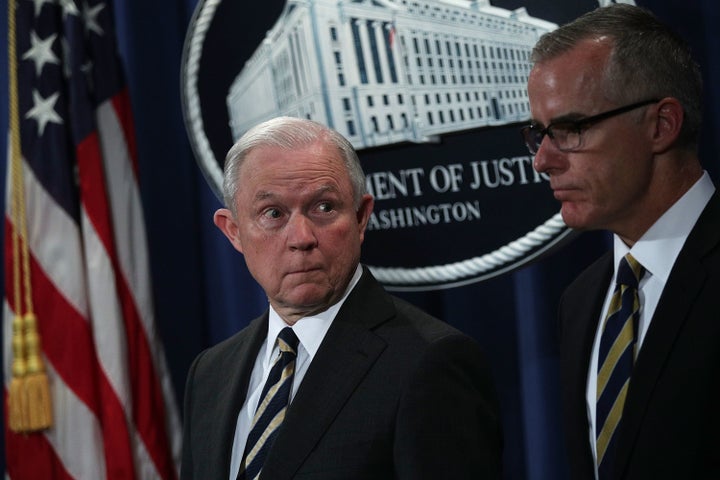 Former FBI Deputy Director Andrew McCabe authorized an investigation into Attorney General Jeff Sessions' alleged lack of candor during congressional testimony over his contacts with Russian operatives last year, a source with knowledge of the matter confirmed to HuffPost.
ABC News first reported that Sessions had been under investigation, and that the attorney general was unaware of the probe when he fired McCabe for the FBI official's own alleged lack of candor during an internal review of how the bureau and Justice Department handled investigations into Hillary Clinton during the 2016 campaign.
Chuck Cooper, a lawyer for Sessions, said in a statement that his client is currently "not under investigation for false statements or perjury in his confirmation hearing testimony and related written submissions to Congress." Cooper did not say whether the attorney general was under investigation for anything else.
Sessions terminated McCabe just two days before his retirement date on the recommendation of the FBI's Office of Professional Responsibility, which had evaluated a DOJ Inspector General probe of how top FBI officials handled the Clinton-related investigations. In a statement after his firing, McCabe suggested he was targeted because of his knowledge of Trump's actions after the firing of former FBI Director James Comey. McCabe turned over hard copies of memos to special counsel Robert Mueller sometime before Friday, a source previously told HuffPost.
"Here is the reality: I am being singled out and treated this way because of the role I played, the actions I took, and the events I witnessed in the aftermath of the firing of James Comey," McCabe, a lifelong Republican, said.
President Donald Trump, who had long attacked McCabe and accused him of being a shill for Clinton because McCabe's wife ran for office as a Democrat and received money from an organization linked to a Clinton supporter, praised the firing, which came just two days before McCabe was set to receive his pension.
Sessions testified before Congress that he had not had contact with the Russians during the campaign. Later, it emerged that Sessions had, in fact, met with the Russian ambassador.
When his previous testimony came under scrutiny, Sessions recused himself from the Russia investigation, which ultimately led to the appointment of a special counsel following Comey's firing. Sessions has denied misleading Congress over his Russian contacts.
Popular in the Community