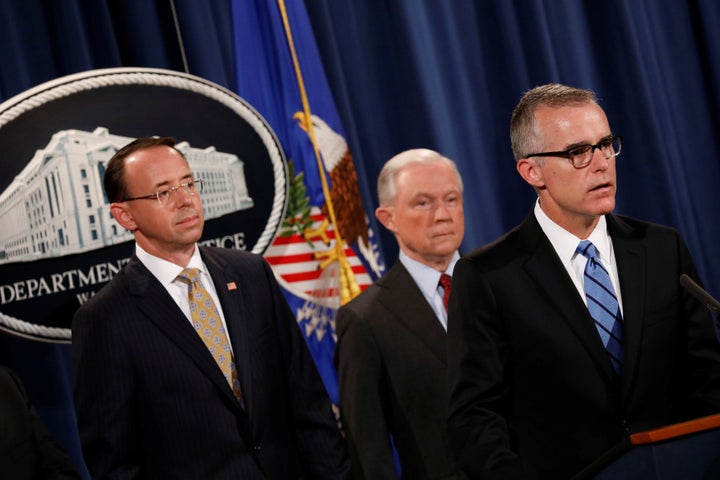 WASHINGTON ― Andrew McCabe, who took over as acting head of the FBI after President Donald Trump fired former Director James Comey last year, may soon be fired by the Trump administration just ahead of his formal retirement date on Sunday, putting his pension in peril after more than two decades at the bureau.
McCabe ― a lifelong Republican ― has a strained relationship with the president. Trump has complained about the Democratic political affiliation of McCabe's wife, and criticized his oversight of FBI investigations into Hillary Clinton.
Trump has pressured Attorney General Jeff Sessions ― another frequent target of Trump's wrath ― to get rid of McCabe. As first reported Wednesday by The New York Times, Sessions is now reviewing a recommendation to fire McCabe for alleged lack of candor in his discussions with the Justice Department's inspector general in the course of an investigation into how the Justice Department and the FBI handled the Clinton investigation.
Trump's statements about McCabe put pressure on Sessions to fire him, and would create an appearance of impropriety even if Sessions' decision to fire McCabe were backed by a formal recommendation. The Justice Department said no formal decision has been made on McCabe's fate.
"The Department follows a prescribed process by which an employee may be terminated," Justice Department spokeswoman Sarah Isgur Flores said in a statement. "That process includes recommendations from career employees and no termination decision is final until the conclusion of that process. We have no personnel announcements at this time."
Reporters had been chasing down leads about McCabe's fate in the past few days as he approached his official retirement date. McCabe formally stepped down from his position at the end of January, but was using accrued leave to carry him past his official retirement date of March 18.
While Trump has suggested that McCabe was a Clinton supporter, the justification for firing him ― ironically ― has to do with a decision he made that was damaging to Clinton and Obama appointees in the Justice Department.
In 2016, McCabe evidently authorized a top aide and the FBI's chief spokesman to speak with a Wall Street Journal reporter for a story indicating that McCabe battled with Obama appointees within the Justice Department to allow an FBI investigation into the Clinton Foundation to continue. The FBI isn't supposed to disclose information about ongoing criminal investigations, but the Oct. 30, 2016, story went into an extraordinary level of detail about turf wars between the FBI and the Justice Department over the handling of the Clinton Foundation probe.
That article came on the heels of a Wall Street Journal story suggesting ― to McCabe's displeasure ― that McCabe had a conflict of interest because his wife's political campaign had received money from groups tied to Clinton ally Terry McAuliffe. The chat with then-Wall Street Journal reporter Devlin Barrett was evidently intended to push back on the suggestion that McCabe was in Clinton's pocket. The chat was referenced in text messages between two FBI employees that Republicans, as well as The Hill's John Solomon and conservative media outlets, attempted to use to imply the FBI was leaking to hurt Trump ahead of the election.
In reality, the FBI's actions ahead of the election indisputably harmed Clinton. DOJ's inspector general is conducting a broader investigation of the FBI's handling of the Clinton probe that is expected to examine Comey's actions.
The IG's findings on McCabe ― issued in a separate report ― started up the internal disciplinary process at the FBI. McCabe declined to comment through a spokesperson. A representative of the inspector general's office declined to comment when reached by HuffPost this week, and the office has generally been tight-lipped about the forthcoming reports.
But their decision to issue a separate report focusing solely on McCabe is somewhat unusual, and has enabled Sessions to take disciplinary action before McCabe's retirement date, if he chooses.
McCabe and his attorney recently signed nondisclosure agreements that allowed them to read the results of the investigation but banned them from discussing its contents.
Ryan Reilly is HuffPost's senior justice reporter, covering the Justice Department, federal law enforcement, criminal justice and legal affairs. Have a tip? Reach him at ryan.reilly@huffpost.com or on Signal at 202-527-9261.

Calling all HuffPost superfans!
Sign up for membership to become a founding member and help shape HuffPost's next chapter