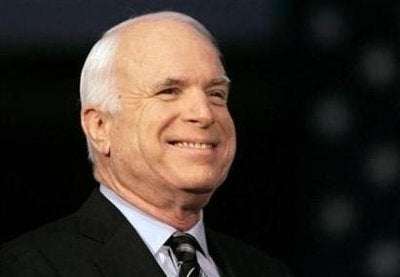 On the eve of President Bush's signing of the housing bill this week, which will regulate, as well as bail out, mortgage behemoth Fannie Mae and Freddie Mac, and create a $300 billion program to expand the Federal Housing Administration's capacity to guarantee mortgages, comes word that Andrew McCain, son of presumptive Republican nominee, John McCain, has resigned today from Silver State Bank's Board of Directors. The bank cites "personal reasons" for Mr. McCain's sudden departure (Las Vegas Review-Journal)

Andrew McCain was appointed to the Board of the Henderson, Nevada bank in February where he served on the Audit Committee. Prior to coming to Silver State, he was the director of the Choice Bank in Scottsdale, Arizona until its merger with Silver State Bancorp which has 13 branches in Southern Las Vegas, and 4 branches in Arizona, and California.

While, according to Yahoo Finance, construction and land loans make up more than 70% of the bank's lending portfolios, Silver State also lists residential mortgage loans as among its specialties.
"When the casinos treat you poorly, let Silver State treat you like a valued customer" is the bank's declared mission state. Given widespread speculation about the prospect of hundreds of bank failings, a motto like this one is enough to cause the hair on the back of your neck stand up, as well as ask a few hugely important questions.
Related
Popular in the Community