Parents of a teen killed by a SWAT team in suburban Atlanta in May spoke out this week for the first time to criticize police for aggressive tactics against their suicidal son.
Andrew Messina was armed with a .357 Magnum when a sniper shot him inside his Towne Lake home in May. But the 16-year-old's parents hoped that police would send someone to calm the high school student who was threatening to kill himself after getting a poor grade that day. Instead, they saw a large deployment of heavily armed police descend on their home.
"They brought an army to take out a 16-year-old boy. To kill a 16-year-old boy," said Nick Messina, the boy's dad, in an exclusive interview with CBS Atlanta.
Lisa Messina, Andrew's mother, called 911 when her son grabbed her husband's gun and said he wanted to end his life. Even as the panicked mom talked to the 911 operator she worried about how the police would react. She asked if they would send "just one" police car.
As police materialized at the family's door, Andrew took swigs of alcohol from a bottle and spoke to his father on a telephone.
'It just happened so fast, and then he went upstairs. He had the gun in his hand, and he had bullets in the other hand," Lisa said in the CBS interview.
Police cut the telephone line and sent negotiators into the house. On a recording made by Andrew, he can be heard telling the negotiators that he's angry and wants to speak to his father, according to an account in the Daily News.
Soon after, a sniper with a large rifle entered the home. Minutes later, a loud blast was heard and Andrew was dead.
The Cherokee County Sheriff has defended his officer's decision to shoot the younger Messina, because he broke a pane of glass with the firearm near the negotiators trying to convince him to lay down the weapon.
"It was no outcome we would ever hope for," Sheriff Roger Garrison said in May to the Cherokee Tribune. "Our negotiators worked feverishly, to the very, very best of their abilities to establish rapport with Andrew and it's just a very tragic situation. There are no winners."
The family's attorney disputes the police account, saying that no one saw Andrew pointing the pistol at any officer. He also contends the angle at which the sniper's bullet punctured the teen's abdomen shows he was not facing the cops.
The sheriff's office and district attorney cleared the sniper of any wrongdoing, but the family has filed suit against Garrison's office.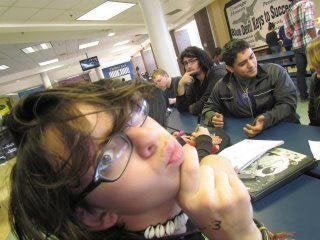 Andrew Messina
Popular in the Community