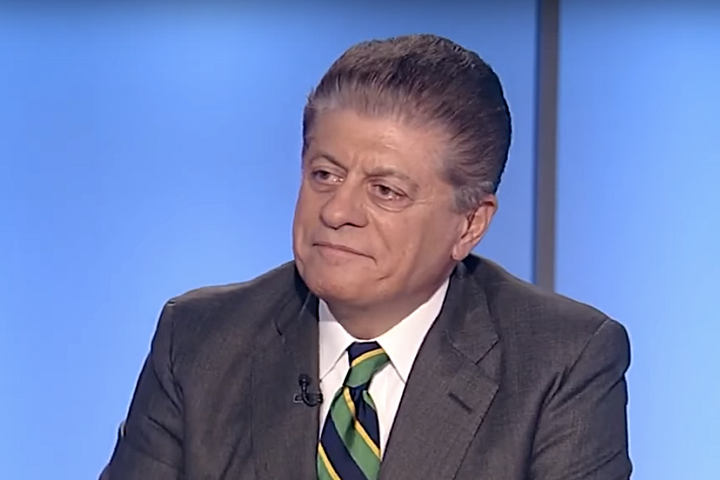 Apparently, a nine-day suspension didn't have much effect on Fox legal analyst Andrew Napolitano.
Both Shepherd Smith and Bret Baier said Fox News couldn't independently verify the former judge's claims, which Donald Trump cited as proof for tweets he sent out about the alleged wiretapping.
The suspension officially ended Wednesday morning when Napolitano appeared on Fox News looking tanned, rested and raring to talk with Bill Hemmer.
Anyone expected a mea culpa from Napolitano were surely disappointed, as he continued to stick to his metaphorical guns:
HEMMER: Before we get to the case facing the former congressman of Illinois, you put out a statement, I think it was 10 days ago ―

NAPOLITANO: Right.

HEMMER: Saying you were confident in the story that you reported here in the past month.

NAPOLITANO: Yes.

HEMMER: You still stand by that or ―

NAPOLITANO: Yes, I do, and the sources stand by it. And the American public needs to know more about this rather than less because a lot of the government surveillance authorities will expire in the fall and there'll be a great debate about how much authority we want the government to have to surveil us. And the more the American public knows about this, the more informed their and Congress' decisions will be.

HEMMER: So no change then?

NAPOLITANO: Correct.

HEMMER: And we'll see how this story plays out, in time.
The exchange did not answer the most pressing question: why Napolitano was allowed back on the air so soon after being suspended, only to make the same debunked claim.
A Fox News Channel spokeswoman said the issue was "handled internally," but didn't specify whether she was referring to Napolitano's original unsubstantiated claim or his repeating of it on Wednesday's show.
Popular in the Community