Pulsipher, who lives in Phoenix, Arizona, was born with HIV. Both of his parents died of AIDS when he was kid, so Pulsipher was raised by his aunt and uncle. When he met his wife Victoria and realized he wanted to start a family, Pulsipher was nervous about passing it on.
So he and Victoria had his daughter, now five, through fertility treatments. But because Pulsipher's HIV is currently "undetectable," he was able to have his second two children naturally.
Pulsipher told The Huffington Post:
HIV is very modernized these days. I just went to the doctor today. They just check your levels and make sure you're still undetectable. That's everyone's goal, to be undetectable. That means your medicine's working to the point where when the doctors take your blood, they can't find a lot of copies of HIV. Of course it's still hidden in the cells somewhere, and that's how it gets worse. It's dormant, and then a cell activates and it becomes active.
Hoping to break down the stigma surrounding HIV, Pulsipher posted this photo on Facebook last week: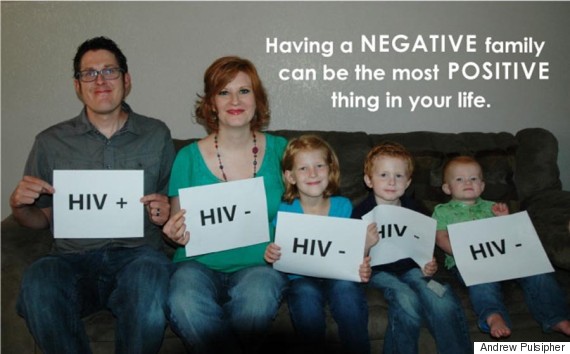 The photo has gotten almost 12,000 shares. Pulsipher is thrilled at how people have reacted and hopes it will help educate people about what it means to live with HIV in 2015.
"I only take three pills, once a day. That's it," he added. "It used to be a lot worse. Back in the day I used to take four pills, three times a day, but it's gotten to the point where doctors can make medicine way more effective. Of course, there are different combinations of drugs -- every HIV-positive person has a different combination of drugs."
We're certainly glad Pulsipher decided to share this photo -- he nailed it.
CLARIFICATION:Updated language reflects the .2 percent discrepancy between Pulsipher's understanding of transmission rates and the latest research.