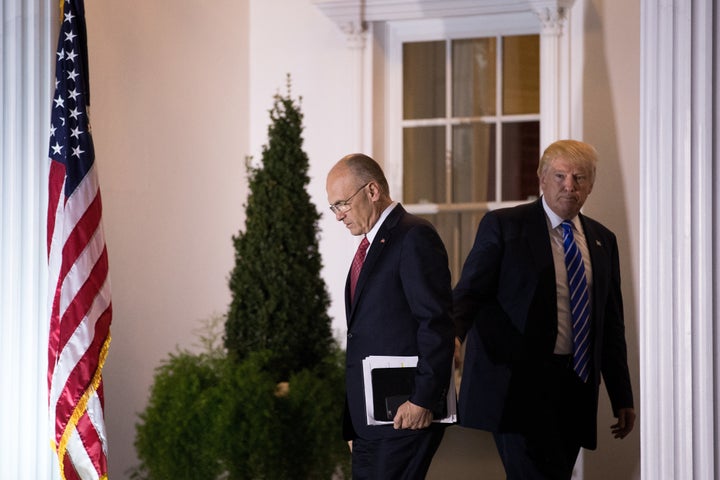 The Campaign for Accountability, which filed the petition, said information about Puzder's personal life may be relevant to the Senate panel tasked with vetting him, and urged senators to examine court records before continuing with a confirmation hearing.
"Mr. Puzder is seeking one of the highest offices in the country, where he would oversee efforts to combat workplace harassment and violence," Executive Director Daniel Stevens said in a statement. "The public has a right to know how he has conducted himself in and out of the workplace ― and any reports of physical domestic abuse are far too serious to be brushed aside."
In the months since his nomination, the fast-food executive has come under fire over decades-old allegations that he abused his ex-wife, Lisa Fierstein. She has since recanted, stating that she was counseled to file a report of abuse during divorce proceedings. Puzder has consistently denied the allegations.
The Riverfront Times, a newspaper in St. Louis, first published claims in 1989 that Puzder was physically abusive and resurfaced the story after he was picked by President Donald Trump in December.
She also filed for a protective order, claiming that Puzder "attacked me, choked me, threw me to the floor, hit me in the head pushed his knee into my chest twisted my arm and dragged me on the floor, threw me against a wall, tried to stop my call to 911 and kicked me in the back."
Court records obtained by Politico found that Fierstein filed at least three legal documents accusing Puzder of assaulting her in 1986.
In one petition, her injuries were described as "bruises and contusions to the chest, back, shoulders and neck" and "two ruptured discs and two bulging discs," and "all of the muscles, bones, ligaments and soft tissue of [Fierstein's] face, chest, back, shoulders, and neck were violently wrenched, strained, swollen, contused and otherwise injured."
After being pushed back for a fourth time, a Senate committee hearing on Puzder has been delayed indefinitely until he provides the required paperwork.
______
Melissa Jeltsen covers domestic violence and other issues related to women's health, safety and security. Tips? Feedback? Send an email or follow her on Twitter.
______
Popular in the Community