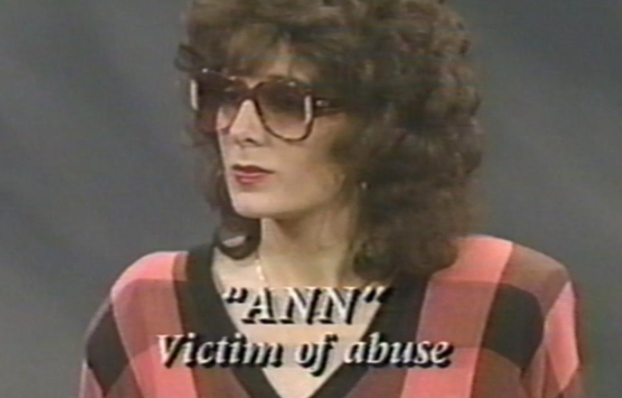 A 27-year-old episode of "The Oprah Winfrey Show" featuring the ex-wife of labor secretary nominee Andrew Puzder discussing domestic violence has been obtained by Politico.
The episode, titled "High Class Battered Women," aired in 1990. Lisa Fierstein, who used a pseudonym and wore a wig and dark glasses, told viewers that her ex-husband threatened revenge after she went public with claims of abuse.
"The most frightening thing was leaving, because once I made that break and once I made it public, and remember my ex-husband was a public figure and everyone knew him and knew what he was doing, and once I made that public, he vowed revenge," she said. "He said, 'I will see you in the gutter. This will never be over. You will pay for this.'"
Allegations that Puzder, now a fast-food executive, was an abusive husband first emerged in 1989 when The Riverfront Times published an article detailing claims made in the couple's divorce filings.
The newspaper resurfaced the story after Puzder was chosen by President Donald Trump to lead the Labor Department in December.
Fierstein has since recanted, stating that she was counseled to file a report of abuse during divorce proceedings. Puzder has always denied the allegations.
The Oprah Winfrey Network provided members of the Senate Health, Education, Labor and Pensions Committee with a copy of the tape for viewing, but didn't release it publicly.
Puzder is scheduled to appear before the committee on Thursday for his long-delayed confirmation hearing.
"I was hesitant," Fierstein wrote, "but encouraged by friends and became caught up in the notion of a free trip to Chicago and being a champion of women and women's issues."
She previously accused him of hitting her and throwing her to the kitchen floor during an altercation in 1986. She also filed for a protective order, claiming that Puzder "attacked me, choked me, threw me to the floor, hit me in the head pushed his knee into my chest twisted my arm and dragged me on the floor, threw me against a wall, tried to stop my call to 911 and kicked me in the back."
In her "Oprah" episode, she said that men in high positions, such as her former husband, often don't leave marks.
"The damage that I sustained, you can't see. It's permanent, permanent damage. But there's no mark, and there never was," she said. "They don't hit you in the face. They're too smart. They don't hit you in front of everyone."
The Campaign for Accountability, a government watchdog, has been fighting to unseal Puzder's divorce records before his confirmation hearing, arguing that any allegations of domestic violence contained within them should be weighed by the senators vetting him.
Rachel Goldsmith, associate vice president for the Domestic Violence Shelter Programs at Safe Horizon, said just because a survivor recants doesn't mean the abuse never happened.
"In most domestic violence relationships, abuse is happening behind closed doors. Therefore, only the parties involved will know exactly what transpired," she said. "Survivors may recant because they have experienced threats from their abusive partner or could continue to experience abuse after disclosing what happened to them. Additionally, the abusive partner could attempt to damage the relationship between the survivor and their children."
She said survivors make decisions based on what is best for themselves and loved ones.
"We should never judge someone if they choose to come forward, recant or not share at all," she said.
This post has been updated with comment from Rachel Goldsmith.
______
Melissa Jeltsen covers domestic violence and other issues related to women's health, safety and security. Tips? Feedback? Send an email or follow her on Twitter.
______
Popular in the Community