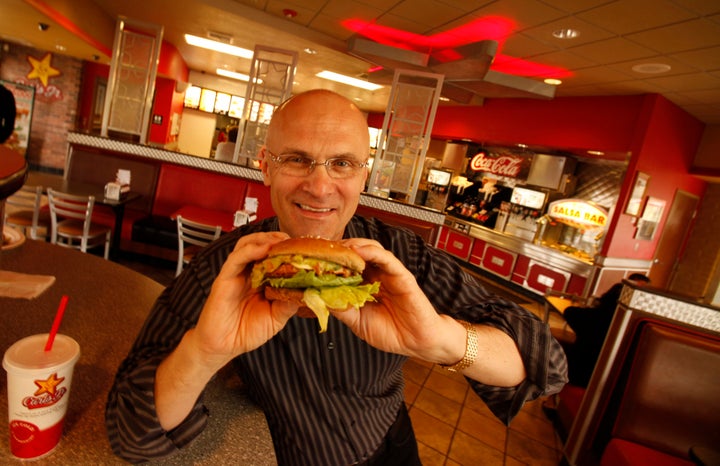 If Andrew Puzder gets confirmed as President Donald Trump's labor secretary, he can use some of the proceeds from the sale of his California mansion to buy a new one near Washington.
The fast-food executive sold his Montecito spread last week for $8.1 million, according to a review of real estate records. Puzder appears to have put the home on the market when his company, CKE Restaurants ― which owns the Hardee's and Carl's Jr. burger chains ― moved its headquarters from Southern California to Tennessee last year. Puzder is now living in Tennessee, according to a spokesman.
A copy of the deed obtained by The Huffington Post listed the Montecito mansion's buyer as William Asher, using the corporate address of Vivid Entertainment. Bill Asher is a co-founder of the Vivid porn empire. An assistant to Asher declined to comment.
Puzder and his wife bought the house in 1997 for $1.8 million, according to records. They listed it last year for $9.75 million.
The posh home, situated in one of the most expensive areas of country, is another reminder of the astounding wealth of Trump's nascent Cabinet, as well as the yawning wealth gap between executives and their workers.
The real estate firm handling the sale of Puzder's home described it as a "European country manor." The 6-bed, 6-bathroom main house comes with a 2-bed, 2-bath guesthouse dubbed "the jewel box," all of it situated in "a canopy of ancient oaks and past romantic gated courtyards." The home and its 11,000 square feet offer "an enviable lifestyle," the brochure assured.
The guest house comes with its own four-car garage, and could "easily function as a chic, full-time residence."
Puzder's disclosure documents filed with the Office of Government Ethics indicated he has somewhere between $35 million and $119 in assets. They also showed that CKE will be paying him between $250,000 and $500,000 for "outstanding relocation benefits" related to his move to Tennessee, including costs stemming from his California home sale.
That sort of money is hard to fathom for a fast-food worker. A Hardee's shift worker receives an average of $7.98 per hour in pay, or about three quarters above the federal minimum wage, according to Glassdoor.com, a site that tracks company pay through employee reviews. That adds up to a full-time annual salary of about $16,000.
A 2014 analysis by Demos, a liberal think tank, estimated that fast-food CEOs earn about 1,200 times what the average fast-food worker did over the course of a year. They attributed the growing gap to "escalating payments to corporate CEOs and stagnant poverty-level wages" for workers at the bottom.
His confirmation hearing before the Senate is scheduled for Feb. 16.
Popular in the Community