 Even before Andrew Sarris passed away on June 20, 2012, he was the recipient of multiple tributes and honors including the National Board of Review's 2008 William K. Everson Award for Film History, which was also given to author/film historian Molly Haskell (Andrew's beloved wife of more than 40 years). More recently, he won the American Academy of Arts and Letters' prestigious Morton Dauwen Zabel Award, "given in rotation to a poet, writer of fiction, or critic of progressive, original, and experimental tendencies."
Sadly, Andrew was not able to attend the Academy's Ceremonial on May 16, 2012, as he was recovering from surgery. I was privileged to be there and when his name was announced by playwright A.R. Gurney, the audience response was heartwarming. As Gurney read the Zabel citation, I applauded with gusto, although not nearly loudly enough for Andrew to hear clear across town:
Andrew Sarris is one of the first American critics to view films, particularly popular films, as possible works of art... he makes the case that certain popular American movies, no matter how collaboratively concocted, may be considered the unified personal constructions of their director or auteur... His articles... along with his lectures at Columbia where he taught for many years, have dignified a relatively new art form and given us ways to respond to it seriously and intelligently.
The Museum of Modern Art will also pay tribute to Andrew Sarris (1928-2012), titan of film criticism, in a memorial screening of an Ophuls' classic. Plus, Warhol's Screen Test and two rarely seen documentaries, featuring the master himself. MoMA's Charles Silver has curated An Auteurist History of Film Special Event: Andrew Sarris Memorial Screening. The four-part program takes place on September 19, 2012 at 7 p.m. in The Roy and Niuta Titus Theaters.
•Andy Warhol Screen Test: Andrew Sarris, 1964. USA. Directed by Andy Warhol,
Silent. 4 min.
•Andrew Sarris: Fragments on Film, 1973. USA. Directed by Richard Kooris. 23 min.
•Andrew Sarris, 2010. USA. Directed by Casimir Nozkowski. 10 min.
•Letter from an Unknown Woman, 1948. USA. Directed by Max Ophuls. Written by
Howard Koch (of Casablanca fame), based on the novel by Stefan
Zweig. With Joan Fontaine, Louis Jourdan, Mady Christians. 87 min.
The American Cinema & Accidental Auteurism?
It is fitting that a Max Ophuls film was chosen to honor Andrew. His profound observations of Ophuls, described in The American Cinema: Directors and Directions 1929-1968, is Andrew at his most poetic.
On Ophuls' masterful, "fluid," spiritual use of the camera, he writes, "Like all great directors, [he] was inimitable, and if all the dollies and the cranes in the world snap to attention when his name is mentioned, it is because he gave camera movement some of its finest hours in the history of the cinema." On Wednesday night, then, we should pay special attention to Joan Fontaine -- in one of her finest performances since The Constant Nymph (1943), Jane Eyre (1943), Obsession (1941), and Rebecca (1940) -- as she climbs the staircase to her lover's apartment for the last time where Ophuls' camera captures "the definitive memory-image of love" and also its end.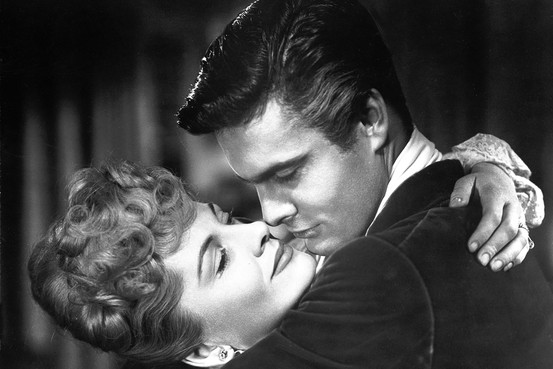 Joan Fontaine and Louis Jourdan embrace in Ophuls' classic
'Letter From An Unknown Woman' (1948). Photo: Courtesy of Universal/Photofest.
He sums up Ophuls: "He was one of the first genuinely international directors....We claim Max as our own only to the extent that he happened to pass in our midst during his long voyage to sublimity."
The Women: Vivien Leigh, Margaret Sullavan & Garbo
Andrew's work was not limited to theories about director/auteurs, especially in later life, when his interest and sentiments took on an even more romantic tenor. Many associate him only with the ideas (or their notions of his ideas) developed in the seminal, 1968 version of The American Cinema. Michael Powell and Emeric Pressburger may not have appeared in this volume (and he was much criticized for this), but Andrew had much to say about them in articles he would publish years later.
Andrew's favorite actresses were Greta Garbo, Margaret Sullavan, and Vivien Leigh. His essays on these three screen sirens are well worth reading and contained in the 1998 volume, You Ain't Heard Nothin' Yet (one of my personal favorites).
And, he doesn't fail to include the other great women and men of the screen he admired: Stanwyck, Loy, Gable & Lombard, Bogart, and Cagney. In one of his most poignant essays, he muses about Bette Davis: "It is impossible to sum up a career of this size, scope, and excellence... but we shall try." Andrew felt her caricatured, flamboyant performances -- even in All About Eve -- should not define her screen legacy. A "much more subtle side on which the hysteria and the histrionics are bottled up beneath a repressive surface of calm and control," in, for example, The Old Maid (1939), Now Voyager (1942), Old Acquaintance (1943), and The Great Lie (1941), should stand side by side with the likes of Jezebel (1938).
Whether she plays the vamp or the victim, a core of gallantry is to be found at the emotional center of her performance. Perhaps we somehow sense how much her own career has cost her... there was never much margin for error in a Bette Davis film... The moment [she] appears on the screen there is an undercurrent of anxiety, her persona is projected not yearningly in the manner of the two Hepburns, but burningly in the manner of a woman who knows she has few options. Something has to Happen, and Quickly, for [she] cannot sustain herself on complacency and self-satisfaction. She cannot play a waiting game; she must act for all she is worth, and she always did.
In 1990, Andrew wrote about The Life and Death of Colonel Blimp (1943) in Film Comment, shortly after the death of Michael Powell. "Little did I know that the archetypal characters incarnated in Livesey and Walbrook had their origination in the dynamic Anglo-European collaboration of Powell and Pressburger themselves. Powell was in love with Deborah Kerr -- as was I, though much more vicariously. And as the film progressed through a man's life and a nation's history, the love of a woman, an angelic constant of romantic illusion, became the ideology of the film... I could sense the power of the feelings expressed."
In 1995, in the journal Film History, Andrew penned "Notes of an Accidental Auteurist." It contains a powerful statement on how much he cared about the portrayals of women on film. "I prefer Michael Powell's The Life and Death of Colonel Blimp to Welles's Citizen Kane. Prefer Welles's The Magnificent Ambersons to Kane. Why? The respective treatments of women."
In this short essay, Andrew also defers credit for the now ubiquitous concepts he explored and embraced in Paris and further developed in New York. "The fact remains that what auteurism did for me was to make me culturally viable and legitimate, and for that I shall be eternally grateful to the accidental or intuitive decision to bring the word 'auteur' bawling and screaming into the English language. The rest is refinement of expression, expansion of relevance, accumulation of associations and the continuing investigation of the means by which the movies continue to project their magic."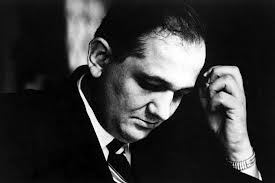 Andrew's Acceptance Statement for the Zabel Award was included in the American Academy of Arts and Letters 2012 Exhibition, curated by Souhad Rafey. Contained within a glass case next to one of his iconic photographs, his books and papers, it focused on the moment, at age 4, when he was forever changed by the magic of the movies.
My mother was walking with me in a stroller on the sidewalks of Brooklyn when we passed a movie theatre... about 1933. A very unruly child, I jumped out and ran into the theatre, and was so captivated by what I saw on the screen that I refused to leave. I made such a fuss that the manager came over. When I continued to cry, he finally said I'll let you stay, but you have to keep quiet.

From that time on, I kept quiet in the theatre but not in print. I took movies seriously, American no less than European... Cahiers du Cinema and its contributors... saw the artistry in American movies to which our reviewers had been blind... the tendency of Anglophones was to "hear" rather than "see" movies, to judge them on the basis of screenplays and content rather than directorial form and visual style. I had to make a deliberate effort... and learn to see movies, analyze the various ways in which editing, camera placement, mise-en-scene led to revelations about conscious and unconscious directorial decisions.

This idiosyncratic critic and "accidental auteurist" is deeply thrilled to receive this award.

--Andrew Sarris
Spring 2012
From Andrew's mother, Themis (a Greek royalist born in Kalamata) to Vivien Leigh (English actress and heroine of Tara) to the love of his life, Molly Haskell (a scholarly belle brought up in Richmond), the women in his life informed his idiosyncratic, but always passionate, search for meaning and artistry in the movies.

For more information on MoMA's An Auteurist History of Film Special Event: Andrew Sarris Memorial Screening, visit "Film Exhibitions" at www.moma.org.
The title of this article was inspired by Kathleen Murphy's essay, 'The Man Who Loved Women,' from 'Citizen Sarris American Film Critic: Essays in Honor of Andrew Sarris.' Edited by Emanuel Levy, 2001.
Popular in the Community