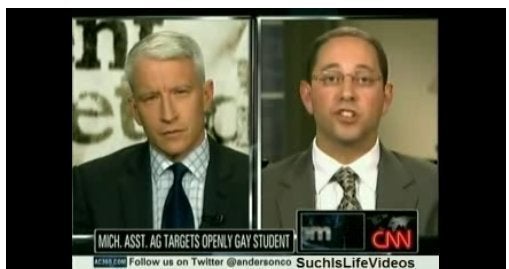 Michigan Assistant Attorney General Andrew Shirvell has taken up an unlikely target: the student assembly president at the University of Michigan.
On a blog he started called "Chris Armstrong Watch," Shirvell attacks what he says is Armstrong's "radical homosexual agenda," posts Photoshopped pictures of Armstrong with rainbow flags and swastikas and picks apart the student's Facebook page. Armstrong is the first openly gay student assembly president at the University of Michigan.
Shirvell says the blog is "nothing personal," though he has gone to Ann Arbor to protest outside of Armstrong's house and attend student assembly meetings, over which Armstrong presides.
In an awkward interview with Anderson Cooper last night, Shirvell said his main issue with Armstrong was his push for gender-neutral housing at the University of Michigan. "What we're talking about is anybody -- any man or woman -- wanting to choose to live together," he said. "That's a radical redefinition of gender norms."
Armstrong responded obliquely to Shirvell's vitriol at a student assembly meeting this week. The Michigan Daily has his statement:
"I will not back down. I will not flinch. I will not falter. I will not succumb to any unwarranted attacks. What I will do is I will carry on with the utmost pride and vindication," Armstrong read aloud to the assembly from a written statement. "I, along with the rest of this assembly, were elected to this body to represent the University. And nothing said about us, or regarding our personal merits, will waive our commitment to serve the student body."
Also according to the Daily, Shirvell called for Armstrong's resignation earlier this semester because of his ties to the Order of Angell, a senior honor society at the school.
In a statement, Michigan Attorney General Mike Cox said Shirvell's opinions do not reflect those of the Michigan Department of Attorney General, and his "immaturity and lack of judgment outside the office are clear."
Armstrong is seeking legal action.
WATCH:
Calling all HuffPost superfans!
Sign up for membership to become a founding member and help shape HuffPost's next chapter