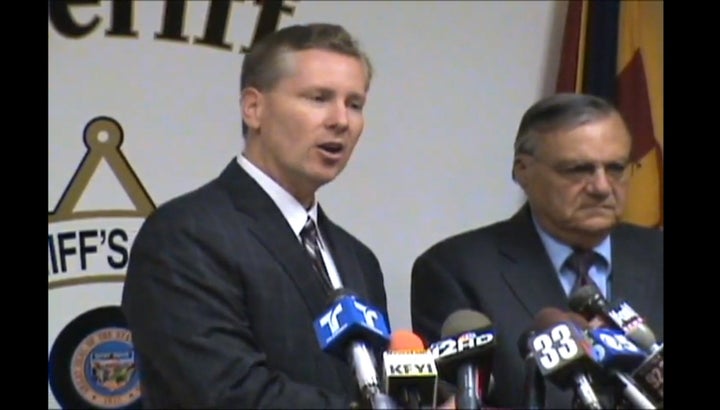 A former top Arizona prosecutor and anti-illegal immigration crusader used his office to destroy political enemies, filed malicious and unfounded criminal charges and committed perjury and other crimes, a state legal ethics panel ruled on Tuesday in Phoenix.
The three-member panel voted unanimously to disbar Andrew Thomas, the former Maricopa County attorney, and his former top deputy, Lisa Aubuchon. Thomas was elected in 2004 and resigned in 2010 during his second term to pursue an unsuccessful run for Arizona attorney general.
"This is the story of the public trust dishonored, desecrated and defiled," the ethics panel said.
As chief prosecutor for Arizona's most populous county, which covers much of the Phoenix area, Thomas, a Republican, gained national prominence after joining forces with Joe Arpaio, Maricopa County's controversial sheriff, in aggressively pursuing, detaining and prosecuting undocumented immigrants.
A series of failed public corruption prosecutions, also closely plotted with Arpaio, proved Thomas's downfall. After the cases collapsed, a far-reaching independent investigation authorized by the Arizona Supreme Court revealed stunning ethical lapses, according to the scathing 247-page report by the review panel.
Thomas suffered from "profound arrogance" that led him into "ethical ruin," said the panel, headed by William O'Neill, the state's presiding disciplinary judge.
Thomas, aided by Aubuchon, "outrageously exploited power, flagrantly fostered fear, and disgracefully misused the law," the panel said.
In a decision read from the bench, O'Neill said the panel found "clear and convincing evidence" that Thomas and his deputy brought unfounded and malicious criminal and civil charges against political opponents, including four state judges and the state attorney general.
The charges were ultimately rejected by state grand juries or thrown out of court as meritless, but not before wrecking havoc on the lives of those targeted.
Thomas used his office to settle political scores and worked closely with Arpaio's office in the discredited prosecutions, said Bennett Gershman, a national expert on prosecutor misconduct who acted as a consultant for the ethics investigation.
"Anybody who disagreed with them, they indicted," Gershman said.
In one instance, Thomas brought criminal charges against a state judge with no evidence and no investigation, in order to stop the judge from filing an adverse ruling the following day in a corruption case. In another case, Thomas indicted a county official on more than 120 misdemeanor and felony counts, despite having clear knowledge that the statute of limitations for almost all of the alleged crimes had passed more than a year earlier.
Thomas and Arpaio are under investigation by a federal grand jury for possible civil rights and other charges, according to court documents obtained by the Arizona Republic in 2010. A spokesman for the U.S. Attorney's office in Phoenix declined to comment on the grand jury proceedings.
Despite the harsh sanctions, Thomas remained defiant on Tuesday, declaring in a statement that his disbarment was the result of a "political witch hunt."
"Today, corruption has won and justice has lost," Thomas said. "I brought corruption cases in good faith involving powerful people, and the political and legal establishment blatantly covered up and retaliated by targeting my law license."
Thomas' claims of persecution rang false to Rick Romley, a fellow Republican who served as Maricopa County attorney for 16 years prior to Thomas's election to the office in 2004.
"There is no credibility in that statement," Romley said in an interview with The Huffington Post. "It really begs the question of whether or not he is delusional."
Romley, who led several major corruption probes during his tenure, applauded the ethics panel's ruling.
"It's absolutely clear that this wasn't a search for justice," he said of Thomas's contested prosecutions. "This is an issue of vindictiveness and a clear abuse of power."
Arpaio issued a statement on the disciplinary panel's decision, but did not leap to his former ally's defense.
"Today's decision no doubt is a disappointment to Andrew Thomas, his family and his colleagues," said Arpaio, dubbed "America's Toughest Sheriff" by conservatives. "He was a hard-working professional who served the people of this county for many years."
"As there are several lawsuits involving some of the same parties and issues involved in today's decision, it would be inappropriate for me to comment further," Arpaio said.
Popular in the Community