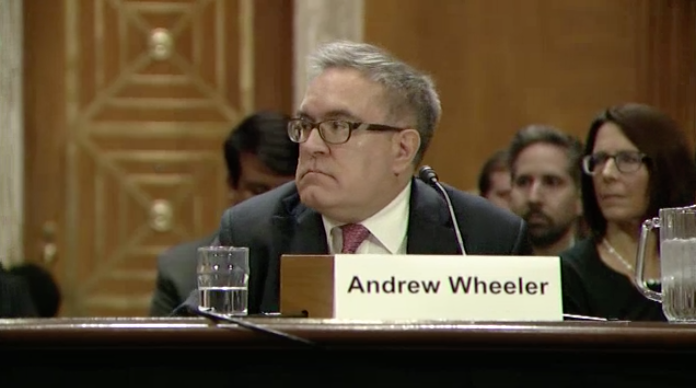 Andrew Wheeler sat comfortably in his chair last November, his hands rarely visible above the wooden table facing the Senate Environment and Public Works Committee. This was his first confirmation hearing as President Donald Trump's nominee to be the second-highest-ranking person at the Environmental Protection Agency.
Familiar faces looked back at him on the Senate panel ― his former boss, two Republicans and one Democrat for whom he held fundraisers in his former career as a coal lobbyist. He responded to questions in calm and fluent legalese, at times closing his eyes as if reciting from memory. His glass of water remained half full for the entire two-hour affair.
At the same time, sitting to his right, Kathleen Hartnett-White, the former Texas regulator and avowed fossil fuel champion nominated to lead the White House's Council on Environmental Quality, flamed out as she blinked, stammered and stuttered through basic science questions. Videos of her cringeworthy performance went viral. Democrats drummed up enough concern over her qualifications that they sent her nomination back to the White House in December. The president defiantly re-nominated her a month later, before finally abandoning her in February.
Wheeler, on the other hand, is poised to be confirmed this week as the EPA's deputy administrator, putting him next in line to lead the agency if embattled Administrator Scott Pruitt is pushed out the door. The tale of two nominations underscores what environmentalists see as the limitations of Democrats' opposition to the Trump administration's radical deregulatory agenda. Wheeler, like Harnett-White, brazenly disputed the science behind climate change at his confirmation hearing, but did so in the sort of ambiguous, couched legal language gleaned from decades as a Beltway insider. The substantially similar nominees diverged in style at a time when liberals are increasingly worried about preserving Washington norms.
Democrats have expended political capital to upend nominees like Hartnett-White ― repeatedly highlighting her past statements crediting coal with abolishing slavery and suggesting increased carbon dioxide emissions were good for the planet ― and Michael Dourson, Pruitt's pick for the chemical safety division, whose consultancy InsideClimate News described in 2014 as the "one-stop science shop" favored by the chemical and tobacco industries seeking affirmative research.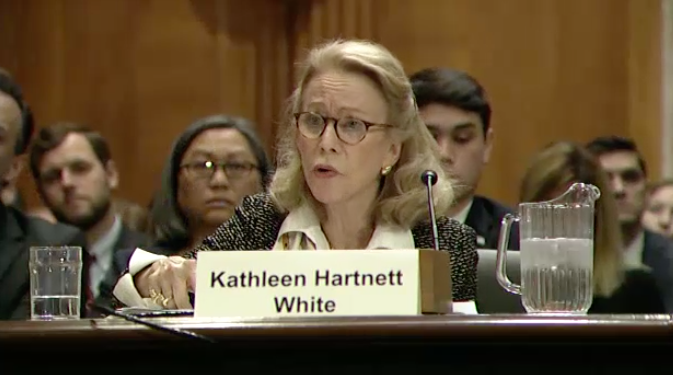 But Wheeler faced much less scrutiny from Democrats. As a result, the man who could become the nation's next EPA administrator at a time of historic environmental turmoil and the increasing politicization of science sailed through his nomination process.
"There is the appearance that Democrats have only given lip service to opposing Wheeler," Frank O'Donnell, president of the environmental group Clean Air Watch, told HuffPost. "Where is the outrage? Isn't Democratic reticence something of a scandal itself?"
Wheeler is even expected to get some Democratic support. On Friday, Sen. Heidi Heitkamp (D-S.D.), who did not take stances on Dourson or Hartnett-White but voted to approve Pruitt last year, told HuffPost she planned to confirm Wheeler. Sen. Joe Manchin (D-W.Va.) ― who opposed Dourson despite being the only other Democrat to confirm to Pruitt ― said Monday he, too, would vote for Wheeler. He did not indicate his support for Hartnett-White.
Sen. Susan Collins (R-Maine) ― who, besides being the only Republican to vote against Pruitt, opposed Dourson and criticized Hartnett-White ― did not respond to requests for comment.
Wheeler's confirmation vote comes nearly two weeks after pressure began growing for Pruitt to resign or be fired over accusations of corruption and taxpayer waste. Trump has defended Pruitt's extravagant travel spending and a sweetheart deal to rent a room well below market rate in a luxury condo owned by the wife of an energy lobbyist. But four Republican members of Congress and dozens of Democrats and environmental groups are calling for his departure as conservative groups circle the wagons with a campaign to save the administrator.
While Wheeler might be less combative than Pruitt, he could prove more effective. Pruitt arrived in Washington last year after spending six years as Oklahoma's attorney general, making his reputation on the national stage by suing the EPA to block climate regulations. Before that, he was a state senator for eight years.
Wheeler, by contrast, is a consummate Washington insider who knows the agency he's joining. He spent four years as a staffer in the EPA's Office of Pollution Prevention and Toxics under Presidents George H.W. Bush and Bill Clinton. He later served as a general counsel to the Senate Environment and Public Works Committee and as an aide to Sen. Jim Inhofe (R-Okla.). After that, Wheeler remained a fixture on Capitol Hill as a lobbyist, though from 2009 to 2017, his contributions went exclusively to Republicans. Until mid-2017, Wheeler lobbied for Murray Energy, the mining giant owned by coal magnate and Trump whisperer Bob Murray. In March 2017, when Murray met with Energy Secretary Rick Perry to request a bailout for the coal industry at a secret summit, Wheeler was pictured sitting one seat away from him.
Environmental groups have seized on Wheeler's history as a lobbyist to drum up opposition ahead of this week's vote. The Sierra Club and the League of Conservation Voters urged their members this month to call their senators to demand they reject Wheeler's nomination. The groups highlighted a February report in The Intercept that revealed Wheeler had hosted fundraisers for Senate Environment and Public Works Committee Chairman John Barrasso (R-Wyo.) and Sen. Jim Inhofe (R-Okla.) five months before his formal nomination and two months before his first White House interview for the job. The EPA said he also hosted a fundraiser for Sen. Tom Carper (D-Del.), the top Democrat on the Environment and Public Works Committee, in December 2016. The groups hoped to draw parallels between the fundraisers and Pruitt's housing arrangement, which precipitated his ongoing ethics storm.
"Where is the outrage? Isn't Democratic reticence something of a scandal itself?"
"The last thing the Senate should do is enable the dangerously corrupt Scott Pruitt any further by rushing through his hand-picked successor," John Coequyt, Sierra Club's senior director of federal policy, said in a statement. "Pruitt is 'under siege' for taking favors from fossil fuel lobbyists ― with Andrew Wheeler, he's simply trying to bring those lobbyists directly into the EPA."
Wheeler could face significant challenges if he became administrator, as Pruitt's departure would embolden Democrats, said RL Miller, president of Climate Hawks Vote, a super PAC.
"If Wheeler takes over, then he's taking over a badly wounded agency where every Dem will be demanding oversight," she told HuffPost. "I don't see him as able to get a lot done in the next seven months before midterms. And at that point, he will have real oversight."
But Wheeler has also faced accusations of abusing his power to target political opponents. In 2005, Wheeler worked with Inhofe to demand tax records from the Association of Local Air Pollution Control Officials and its sister group, State and Territorial Air Pollution Program Administrators, after the nonpartisan groups came out against a controversial greenhouse gas emission bill Inhofe supported. In February, Citizens for Responsibility and Ethics in Washington, a government accountability and transparency watchdog, told HuffPost the 13-year-old tax probe "raises serious concerns as to Wheeler's judgment."
While Democrats largely let Wheeler's nomination proceed unimpeded, the nominee also received comparatively less media scrutiny, according to Lisa Hymas, director of the climate and energy program at the liberal watchdog Media Matters for America.
"Journalists, as well as other people in Washington, should be paying a lot more attention to sub-top level cabinet positions ― they wield a lot of power and they're in a position to take over if Trump summarily fires someone he's displeased with," she told HuffPost. "The media has definitely been undercovering the story of Andrew Wheeler, his industry connections and the damage he could do."
This article has been updated with comments from Miller.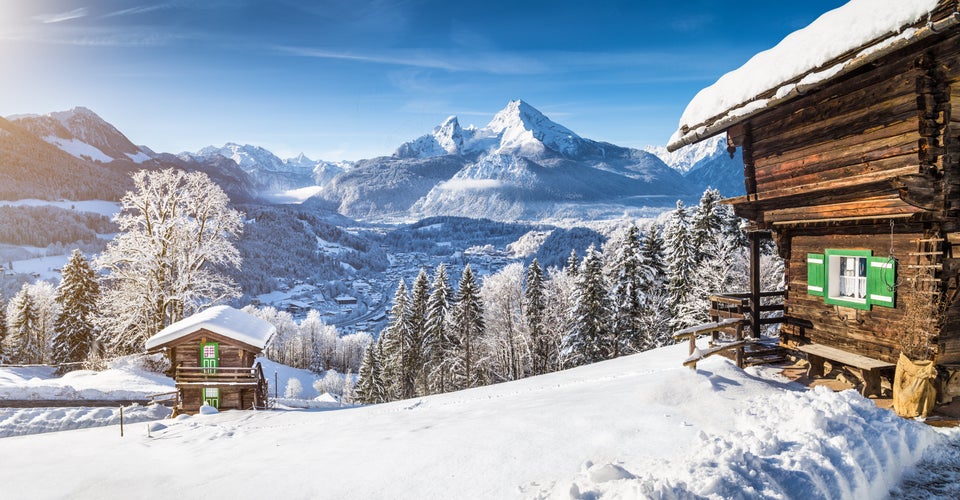 4 Surprising Places At Risk From Climate Change
Popular in the Community