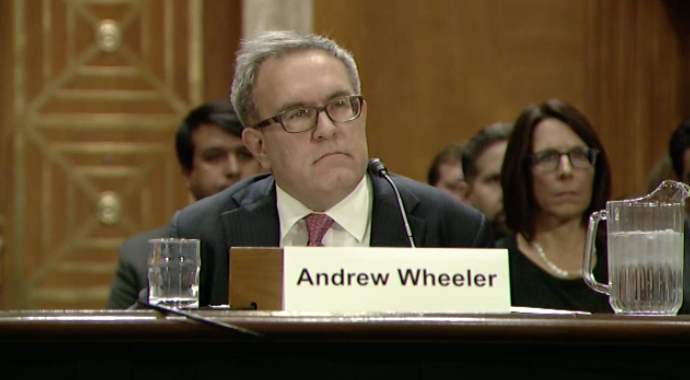 Sen. Heidi Heitkamp (D-N.D.), one of just two Democrats who voted for the nomination of now-embattled EPA Administrator Scott Pruitt last year, told HuffPost she plans to approve the former coal lobbyist, who rejects the science behind climate change. If confirmed, Wheeler would be next in line to take over the agency if Pruitt caves to mounting pressure to resign.
"After meeting with Mr. Wheeler and reviewing his record, I've decided to support his nomination," Heitkamp told HuffPost by email Friday evening. "I believe he'll be open to working on issues important to North Dakota in a pragmatic and fair way, and I'll hold him accountable to make sure he implements the mission of the EPA in a way that works for my state."
On Monday, a spokesman for Sen. Joe Manchin (D-W.Va.), the other Democrat who had voted for Pruitt's nomination, said he would also vote to confirm Wheeler. Sen. Susan Collins (R-Maine), the only GOP senator to vote against Pruitt last year, did not respond to requests for comment.
"Andrew Wheeler will bring extraordinary credentials to EPA that will greatly assist the agency as we work to implement the president's agenda," Liz Bowman, an EPA spokeswoman, told HuffPost. "We appreciate Senator Manchin and Senator Heitkamp's support."
The Senate Environment and Public Works Committee voted 11-10 along party lines in February to advance Wheeler's nomination. But the Senate has yet to schedule a vote. Senate Majority Leader Mitch McConnell (R-Ky.) filed cloture on March 23, and a vote is expected by Monday night.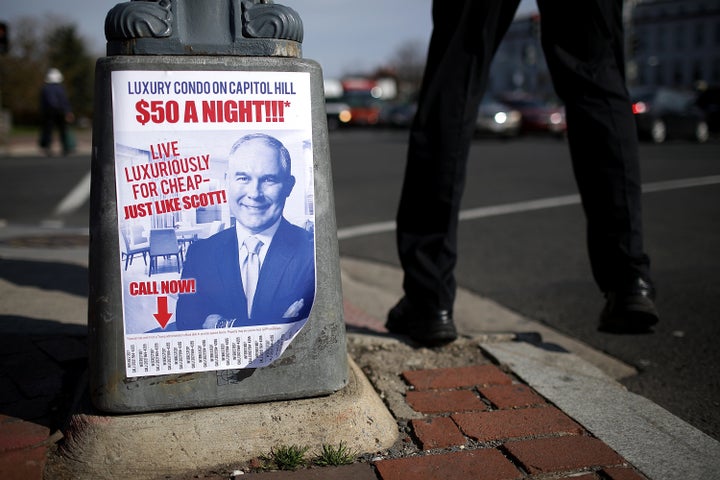 The vote comes as Pruitt faces more calls to step aside over accusations of corruption and wasting taxpayer money. A flurry of scandals broke last week involving his spending, housing arrangement and imperious management of his agency. Environmental groups, hoping for Pruitt's resignation, seized an opportunity to tank Wheeler's nomination, effectively crippling leadership at an agency that has been the speartip of the Trump administration's deregulatory agenda.
The Sierra Club and the League of Conservation Voters called on their members last week to pressure senators to reject Wheeler's nomination. They highlighted a February report from The Intercept that revealed Wheeler had hosted fundraisers for Senate Environment and Public Works Committee Chairman John Barrasso (R-Wyo.) and Sen. Jim Inhofe (R-Okla.) five months before his formal nomination and two months before his first White House interview for the job. The groups hoped to draw parallels between the fundraisers and the firestorm over Pruitt's sweetheart deal to rent a $50-a-night room in a luxury condo owned by the wife of a fossil fuel lobbyist with business before the EPA.
Until mid-2017, Wheeler worked as a lobbyist for Murray Energy, the mining giant owned by coal magnate Bob Murray. Murray, a top Trump donor and bombastic political commentator, has wielded staggering influence at the White House. He provided the Trump administration with an "action plan" that called for a federal bailout of coal-fired plants, repeal of the Obama-era Clean Power Plan and a challenge to the 2009 EPA "endangerment finding" that determined carbon dioxide pollution poses a risk to public health.
"I believe that man has an impact on the climate, but what's not completely understood is what the impact is."
Democrats hammered Wheeler over his record of working for Murray at a confirmation hearing in November. But they largely glazed over Wheeler's refusal to accept the overwhelming consensus among scientists that burning fossil fuels are the chief cause of climate change.
"I believe that man has an impact on the climate, but what's not completely understood is what the impact is," Wheeler said at his confirmation hearing when confronted with the findings of the federal government's latest climate report.
Wheeler, who served as an Inhofe aide and counsel to the Senate Environment and Public Works Committee in the mid-2000s, has also faced accusations of abusing his power to target political opponents. In 2005, Wheeler worked with Inhofe to demand tax documents from the Association of Local Air Pollution Control Officials and its sister group, State and Territorial Air Pollution Program Administrators, after the nonpartisan groups opposed a controversial greenhouse gas emission bill Inhofe supported. In February, Citizens for Responsibility and Ethics in Washington, a government accountability and transparency watchdog, told HuffPost the 13-year-old tax probe "raises serious concerns as to Wheeler's judgment."
Pruitt's future at the agency remains uncertain. Trump has bucked White House Chief of Staff John Kelly's pleas to fire Pruitt, tweeting praise for the administrator and saying he was "under siege" from reporters on Friday. But even if Pruitt remains, he reportedly has ambitions to run for governor or U.S. Senate in his home state of Oklahoma, or take over the Department of Justice if Trump fires Attorney General Jeff Sessions. (Trump denied reports that he was considering Pruitt for the top cop position.) That raises the chances that, at some point, Wheeler could take over the EPA.
"Wheeler has his own record of corruption that must be investigated," John Coequyt, Sierra Club's senior director of federal policy, said in a statement. "Anyone who cares about protecting our communities, protecting taxpayers, and trying to maintain a transparent, accountable government will demand new hearings on Andrew Wheeler and demand the EPA start doing its job to protect the public once again."
This story has been updated with Sen. Joe Manchin's decision to vote for Wheeler.
Before You Go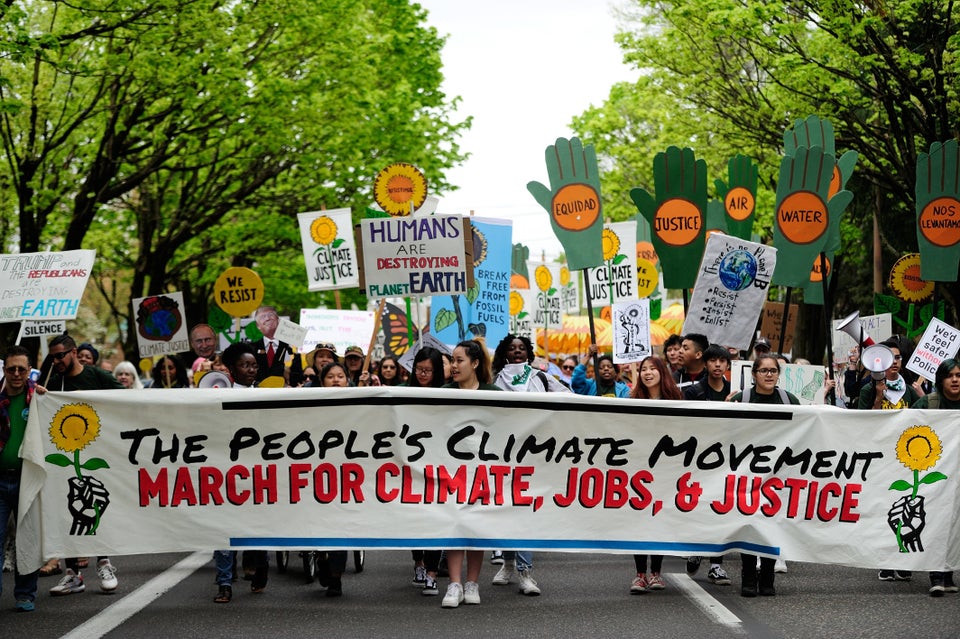 Climate Marches Across The U.S.
Popular in the Community