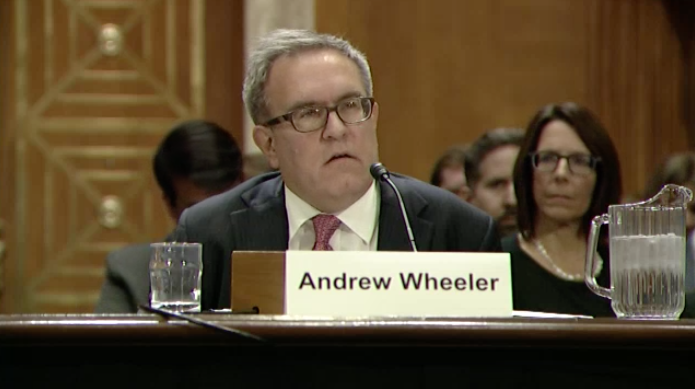 The Senate on Thursday confirmed Andrew Wheeler, President Donald Trump's nominee to be the Environmental Protection Agency's deputy administrator.
Every Republican and three Democrats ― Sens. Heidi Heitkamp (N.D.), Joe Manchin (W.Va.) and Joe Donnelly (Ind.) ― voted to approve the nominee, a former coal lobbyist and Washington insider who sailed through his confirmation process despite his industry ties, contrarian views on widely accepted science and controversies in his past Senate dealings.
The 53-to-45 vote comes nearly two weeks after EPA Administrator Scott Pruitt began facing intense pressure to resign over accusations of corruption and wasted tax dollars, and just over an hour after a former staffer's new allegations emerged. If Pruitt exits, Wheeler is next in line to lead the agency. The White House is already considering replacing Pruitt with Wheeler, The Daily Caller, the conservative tabloid that has lately served as a clearinghouse for the administration's EPA news, reported Wednesday.
Technically, Wheeler would need to be confirmed in another Senate vote to become the permanent administrator, according to Bob Perciasepe, the former deputy EPA administrator who served for five months as acting administrator in 2013. But the acting rules are complicated and riddled with loopholes that give the White House leeway over who commands a federal agency in the absence of its Senate-approved chief.
"It's like a shadow confirmation vote for the next administrator of the EPA," Sen. Ed Markey (D-Mass.) said ahead of the vote. "It's an attempt to slip by at the end of the week ... the nomination and confirmation of a man who stands for just the opposite of the credentials of a candidate to run the EPA."
Wheeler won confirmation with more support than Pruitt did when the Senate narrowly approved his nomination in February 2017. At the time, just two Democrats, Heitkamp and Manchin, voted for Pruitt. Sen. Susan Collins (R-Maine) voted against him.
Until mid-2017, Wheeler worked as a lobbyist for Murray Energy, the mining giant owned by coal magnate Bob Murray. Murray has been a top Trump donor and bombastic political commentator who wields staggering influence in the White House. He provided the Trump administration with an "action plan" that called for a federal bailout of coal-fired plants, repeal of the Obama-era Clean Power Plan and a challenge to the 2009 EPA "endangerment finding" that determined carbon dioxide pollution poses a risk to public health.
At a confirmation hearing in November, Democrats hammered Wheeler on his record of working for Murray. But they largely skimmed over Wheeler's refusal to accept the overwhelming consensus among scientists that burning fossil fuels is the chief cause of climate change.
"I believe that man has an impact on the climate, but what's not completely understood is what the impact is," Wheeler said at his confirmation hearing when confronted with the findings of the federal government's latest climate report.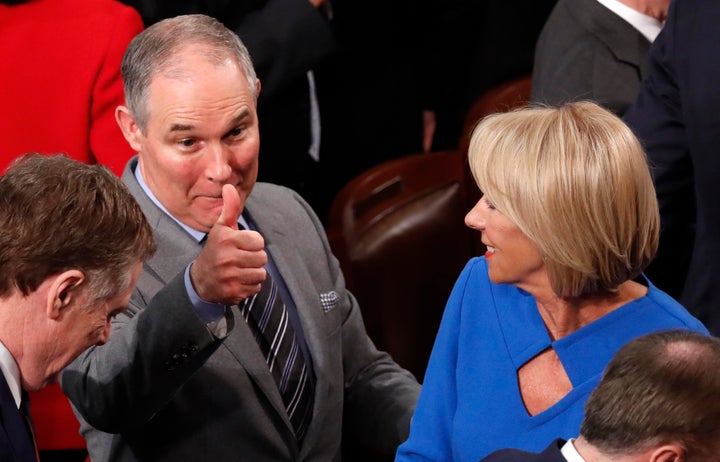 In March 2010, Wheeler accused the U.N. Intergovernmental Panel on Climate Change of blurring "the lines between science and advocacy" and functioning "more as a political body than a scientific body," suggesting the EPA could "reconsider its endangerment finding without almost exclusively relying upon the IPCC," according to remarks posted to his website. At Wheeler's confirmation hearing, Sen. Tom Carper (D-Del.), the ranking Democrat on the Senate Environment and Public Works Committee, said the former lobbyist assured him privately that he "views EPA's legal authority to regulate greenhouse gas emissions, which is based on the 'endangerment finding,' as settled law."
Wheeler made attempts to woo critics at his confirmation hearing, calling EPA staffers "the most dedicated and hard-working employees in the federal government."
Compared with the president's other environmental nominees, Wheeler came off polished and a safer bet. He spent four years at the EPA's Office of Pollution Prevention and Toxics under Presidents George H.W. Bush and Bill Clinton. He later served as counsel to the Republicans on the Senate Environment and Public Works Committee and as an aide to Sen. James Inhofe (R-Okla.).
His record in Congress, and the way he later used the relationships he built there, raised concerns before his confirmation. In 2005, state air pollution regulators accused Wheeler of abusing his power to bully and intimidate them after their nonpartisan association came out against an anti-climate bill that his then-boss, Inhofe, had sponsored. Citizens for Responsibility and Ethics in Washington, a government accountability and transparency watchdog, told HuffPost in February that the 13-year-old case "raises serious concerns as to Wheeler's judgment."
In a speech on Thursday, Inhofe said "nothing in the article is true."
In early February, the Sierra Club asked the Senate Environment and Public Works Committee to postpone a vote to advance Wheeler's nomination to the Senate for final confirmation after The Intercept published a report detailing fundraisers that Wheeler had held for Sens. John Barrasso (R-Wyo.) and Inhofe in May, five months before his formal nomination and two months before his first White House interview for the job. But Republicans, who hold a one-seat majority on the committee, ignored the request and voted along party lines to approve the nomination.
Democrats lobbied hard to upend other nominations, including those of Kathleen Hartnett-White, Trump's pick to lead the White House Council on Environmental Quality, and Michael Dourson, the president's choice to run the EPA's chemical safety division. Hartnett-White, a former Texas regulator, credited coal with helping to end slavery and admonished her own party for not campaigning on the idea that environmental problems don't exist. Dourson's consultancy was described in 2014 by InsideClimate News as the "one-stop science shop" for affirmative research for the chemical and tobacco industries. Both nominees withdrew amid waning support.
"Andrew Wheeler is ready and waiting, and waiting, and waiting to clock in as deputy administrator of EPA," Senate Majority Leader Mitch McConnell (R-Ky.) said Thursday. "His qualifications are beyond question."
"I believe that man has an impact on the climate, but what's not completely understood is what the impact is."
None of the 10 Democrats on the Senate Environment and Public Works Committee voted to advance Wheeler's nomination in February. But no Democrats on the committee raised Wheeler's nomination as a concern in January during Pruitt's first appearance before the panel since taking office.
On Wednesday, Sen. Tom Udall (D-N.M.) demanded that Republicans delay the confirmation vote "to ensure [Wheeler] receives the same thorough vetting process a EPA Administrator would receive." But the GOP once again disregarded the request.
On Thursday morning, the Senate voted 53 to 45 to invoke cloture on Wheeler's nomination, ending debate on his qualifications. Donnelly, who is running for re-election in a red state, joined Heitkamp and Manchin to approve the motion. Democrats took turns pleading with Senate colleagues to reject Wheeler's nomination, arguing that he hadn't been properly vetted for the expanded role he was likely to take on as Pruitt faces new allegations that could lead to his departure. Carper alone spoke at least three times.
"We should hear from Andrew Wheeler what his plans are to rein in the abuses at EPA before he takes off," Carper said after the first vote.
The softened scrutiny could come back to haunt Democrats. Trump has signaled his support for Pruitt, who could end up riding out the wave of criticism over his ballooning scandals. But even if he survives his latest controversies, EPA administrators under Republican administrations have tended to leave office early over the past three decades, including Christine Todd Whitman under President George W. Bush and President Ronald Reagan's first EPA chief, Anne Gorsuch, to whom Pruitt is frequently compared.
Before his scandals broke, Pruitt was said to be considering a run for the U.S. Senate or governor in Oklahoma, his home state. He also had ambitions to become U.S. attorney general if Jeff Sessions steps down, according to January reports in Politico and Reuters. In March, Vanity Fair reported that Trump was considering the move, though the president disputed a CNN report last week that said he'd considered replacing Sessions with Pruitt as recently as this month. Pruitt is nothing if not ambitious. A New York Times profile last month quoted sources saying that he plotted to make a bid for president as early as 2024.
"I am astonished there hasn't been louder objection to his nomination from more progressive voices on Capitol Hill," Frank O'Donnell, president of the environmental group Clean Air Watch, told HuffPost in February of Wheeler.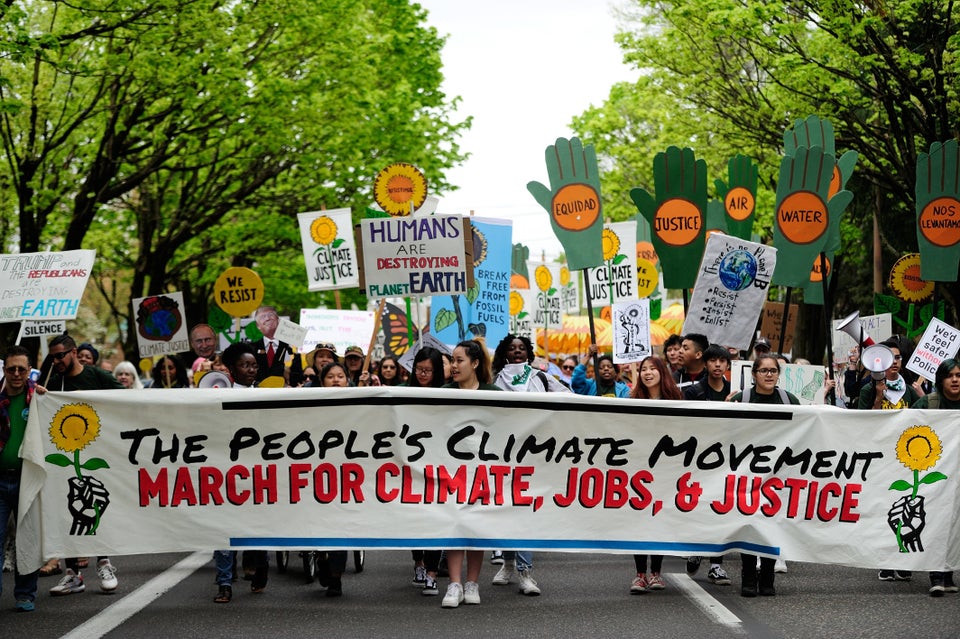 Climate Marches Across The U.S.
Popular in the Community