NEW YORK ― A former employee of Manhattan Prep says that Democratic presidential candidate and former Manhattan Prep CEO Andrew Yang fired her in 2007 because he did not believe she would want to "continue working as hard" after she was married.
In an essay published by Gotham Gazette on Thursday evening, Kimberly Watkins writes that on her third day back to work from her honeymoon, "Andrew Yang fired me. Our private discussion, in his office with the door closed, began with Andrew's remarks that because I was married, I wouldn't want to continue working as hard as I had been. That as a wife, I'd be focused on my new life."
Responding to Watkins' allegation on Thursday, Yang told HuffPost: "As a CEO I made decisions about hiring and firing singularly based on performance. Kimberly Watkins' facts about her break from Manhattan Prep are inaccurate. During my more than a decade as CEO, I have worked with many women, married and otherwise, and value their work and dedication as important to the success of any institution. If I were the kind of leader who would do the sort of thing described by Ms. Watkins I would never enjoy a whiff of success. Women leaders are vital to any company or organization and I have been very fortunate and grateful to have worked with many of them in my career."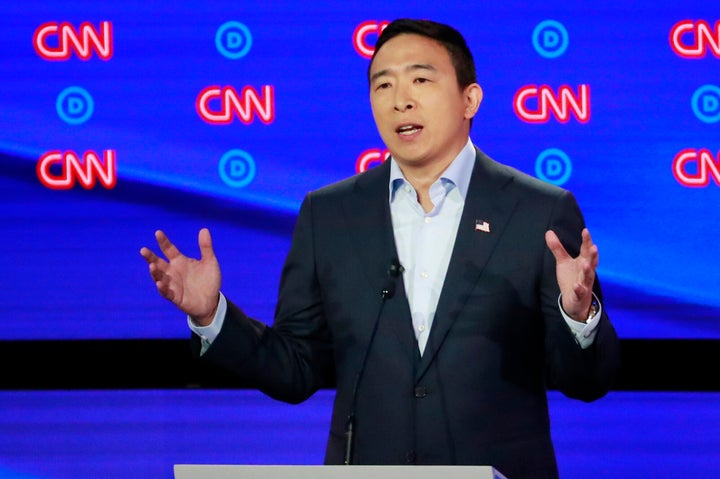 Watkins appeared at a public hearing on pay equity in New York City on Thursday night, hosted by the NYC Commission on Gender Equity, the Commission on Human Rights and the Department of Consumer and Worker Protection. The co-chair of the Commission on Gender Equity is Chirlane McCray, the wife of New York City Mayor Bill de Blasio, who is also running for president.
Watkins told the audience: "Andrew Yang didn't harass me… He treated me unjustly and he violated me economically."
According to Watkins, Yang had promoted her to senior director shortly after he started at Manhattan Prep and she had "hit all of [her] growth targets." As an at-will employee, she could be terminated at any time, and Watkins says that she received a monthly payment for two years after she was fired. Manhattan Prep was acquired by test-prep giant Kaplan in 2009, and Yang walked away with what he described as "some number in the millions."
"We conjured a lie when I left to save me from the embarrassment," Watkins said Thursday. "As you can imagine, recent events have reopened wounds that I have never quite recovered from."
"Andrew Yang didn't harass me… He treated me unjustly and he violated me economically."
"Kaplan acquired Manhattan Prep in December 2009 and has no comment," a spokesman for Kaplan told HuffPost. HuffPost has not independently verified Watkin's account at this time.
"Since the termination was couched for me, as a 'freedom to move on' narrative, the deal Andrew Yang offered me was commensurate with what he believed I deserved, a monthly payment for no longer working," Watkins wrote in Gotham Gazette. "Sounds a lot like Yang's 'freedom dividend' platform doesn't it?... Rather than governing our way into a sustainable economy, Yang's plan absolves the government from overseeing companies that could render countless workers obsolete."
When HuffPost asked if she had a response to Yang's comment on her claims, Watkins called his statement "just patently false. And I think it underscores the burden that is placed on a woman behind closed doors to prove what happened."
She continued: "On the day that I came back from my honeymoon, up until the point that I was brought into the office behind closed doors that fateful night, there was no discussion about lowered performance. I had nothing in my file about lowered performance. I met every single revenue mark that was ever set for me at the company. So it is simply false to call me a liar. l am telling the truth. Believe women. I am telling the truth."
During his presidential campaign, Yang has been outspoken about pay inequity, specifically about the role that gender plays in that inequity.
"We have to give women the economic freedom to be able to improve their own situations and start businesses," he said during the July 31 Democratic presidential debate. "We know that women do more of the unrecognized and uncompensated work in our society. It will not change unless we change it."
This story has been updated with a statement from Andrew Yang and additional comment from Kimberly Watkins.
Popular in the Community