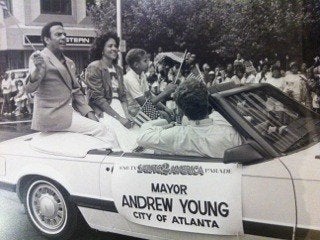 When Andrew "Bo" Young III was a teenager, strangers would come up to him and tell him that he should be more like his father. The community needed him, they said. Before he was even old enough to grow peach fuzz, famous family friends would beg the same questions over and over: Don't you want to go into politics? Don't you want to be a minister or an activist like your old man?
His father, Andrew Young II, is a civil rights luminary who once served as the Rev. Martin Luther King Jr.'s trusted lieutenant. He's a former congressman and former ambassador to the United Nations; and he was the mayor of Atlanta during much of his son's adolescence. As his father's namesake, Young III sometimes felt as if the weight of a million black souls rested squarely on his shoulders. He is his father's only son, and the family's youngest behind three older sisters.
"I had a lot of outsiders wanting to put expectations on me at a very early age, so I resented it," said Young III, 38, during a recent interview with HuffPost via telephone from Atlanta. "The great thing was I had a mother and father who just loved me and just wanted me to be a good, humble and moral human being, and anything else really didn't matter."
Like so many of the progeny of civil rights leaders and high-profile public figures, there are burdens of expectation, resentments and a struggle to define one's self in the shadows of giants.
Often these children are heir to their family's name and social entree but little else. Many of these leaders were clergy or grassroots organizers, career tracks that don't typically lead to much wealth; and when they have, the children usually haven't reaped the benefits until long after the matriarch's or patriarch's death. And sometimes even then not without difficulty and public scrutiny. A few highly publicized families have feuded over estates and copyright issues, as in the cases of the children of Malcolm X and those of Dr. King.
"He said that, because he was my child, he got the fame but no fortune. That's the problem the King children have," his father, Young II, said. "The Kennedy children had fame and fortune. They didn't need to escape or have some additional support. All the kids in the civil rights movement grew up famous with very high expectations, but no one ever gave them a dime personally."
Sans the family infighting (his father remains one of his trusted advisers), Andrew Young III's story isn't much different, save one important point -- he's struck out to carry on the family legacy in a unique way: as a compassionate businessman.
"He would never be in my shadow. He used to get put out of [class] when they called him Andrew. His name was Bo," his father said. Trips to the principal's office were common for the stubborn and rambunctious young man. "The boy wanted his own identity. The truth of it is that I wasn't much better when I was that age."
During his early years, young Bo struggled in school. He never was much of a bookworm back then, he recalled. Later, he bounced around to various colleges: Howard University, Landmark College in Vermont and Florida A&M University. In 1991 his mother, Jean, was diagnosed with cancer. He dropped out of school to be by her side and never went back to school. She died in 1994. After her death, he continued to search for his rhythm and a career path that made sense.
"I didn't want to be a preacher or a politician. I honestly didn't want to be in the public eye at all," Young III said. "But business always fascinated me."
For years he dabbled in various ventures, including stints as a mortgage broker and a direct-response marketer. Young became such a keen businessman that he bought his first house when he was 23 with the commissions he made in marketing. (The bank that gave him the mortgage for the house eventually hired him.)
Then in 2010, Young finally found his niche. He became the chief executive officer of givelocally.net, a website that helps people donate to charity with the click of a button. With Give Locally, donors scroll through a list of those having trouble making ends meet. Young III said some recipients might struggle to pay their rent, college tuition or car repairs. Funds go directly to whomever is owed the money -- the landlord, the school or the repair shop, for example. Give Locally screens potential recipients and then uploads their photos with a list of their needs. The organization, which is a for-profit business that receives 18 percent of all donations, currently has about 20 employees. But Young III said he hopes to one day expand to Europe, Asia and Africa.
"This is where my heart is," he said. "I think this model is setting the tone for working class Americans to help each other. Most of my dad's life, he has always given back and found creative and innovative ways to create positive change. This is my way of trying to do the same thing."
"I feel very, very proud of him, not only because he is carrying the torch, but he's not imitating," Young II, 79, said of his son. "I keep trying to tell people that you don't need to march to make a change. He has used the advance of technology to serve the poor. It's the way our grandparents did it, only they did it for people that they knew."
While the elder Young grew up humbly in New Orleans and attended a tough, segregated school that he said some called "a bucket of blood," his son grew up riding his tricycle around the halls of Congress and later, when his father served as ambassador to the U.N., on the 42nd floor of the Waldorf Astoria hotel in New York City.
"I recognized very early on the difference between being financially abundant and not being financially abundant," Young III said. "I was 4 years old and this was very different than life in Atlanta."
But the trappings of an American dignitary were short lived. After three years the Youngs headed back to Atlanta, to the home the family purchased in 1966 for $32,500.
"My father has always been financially humble, almost to a fault, and it's because he never wanted to seem bought. He never wanted people to think his opinions or his feelings could be purchased. The way he combated that was by staying broke," Young III said. "I thought someone so smart and someone who had given so much deserved to reap some of the benefits from it."
His father enrolled his only son in tough Atlanta public schools to keep him grounded.
"I always felt the knocks and bruises he got in public school would toughen him up for the world," Young II. The father said so many other socially privileged young people have the brains but no "testosterone." "I tell him, when he complains about me being what kind of father I was, I say I was the best damn father that I could be."
The family was far from poor, Young III said, allowing that he never missed a meal and had as many blue jeans and sneakers as the next middle-class kid. But he sometimes watched his parents struggle financially as they put his three older sisters through expensive universities.
Thus, long before he took his first job in business, he decided he would take a path that lead to "a certain level of financial security," but one that made a meaningful difference in the lives of other people. He said he wanted to find a way to marry his capitalistic impulses and a desire to help others -- his legacy dictated as much.
"I think it's important that people understand where they came from and understand the history of how they got to where they are," Young III said. "It was the men around me that made me who I am. And it's those that came before me, that fought in their own way and style to make or gain respect in society."
His great-grandfather, Frank Smith Young, was an accountant who held the $4 million endowment of an order of black Freemasons. He used it to integrate the local bank and threatened to withdraw every penny of it if blacks in the town were mistreated.
His grandfather, Andrew Young, was a dentist in 1930s New Orleans, who earned respect by tending to patients at all hours of the night when his white counterparts wouldn't. Then there's his father, who became the first African American elected to Congress from the South in seven decades and the first from Georgia since Reconstruction, as well as only the second black mayor of Atlanta.
Part of pulling out of his father's shadow has meant not achieving the level of notoriety or fame as his father. He hasn't yet shaken up the world or marched through history as his father did, but, he says, that's okay.
"More than anything, I was taught not to feel any sense of entitlement," Young III said. "Being Andrew Young III might get me in the door, but I have to work hard to stay there."
Popular in the Community