Travel Channel host and celebrity chef Andrew Zimmern has apologized for recent comments in which he called Chinese food in America "horseshit" and insulted the founder of P.F. Chang's.
The "Bizarre Foods" host posted his apology on Facebook on Monday after an outcry. The post came roughly week after Fast Company published a video interview that showed the restaurateur talking about Lucky Cricket, the Chinese-food restaurant he's opening in a Minnesota mall ― the first of what he hopes to be 200 locatio
"Well, No. 1, I think I'm saving the souls of all the people from having to dine at these horseshit restaurants masquerading as Chinese food that are in the Midwest," he told the outlet.
"I've been going to China every year for the last 20-some-odd years. I was doing it before I was doing TV. And I'm obsessed with Chinese food and culture. I have been since I was a little kid," he said.
To top it all off, he finished his remarks by disparaging the restaurant chain P.F. Chang's and its co-founder Philip Chiang. 
"I mean, was P.F. Chang's not a rip-off because Cecilia Chiang's kid owned it?" Zimmern said, referring to Philip Chiang's mother, an influential restaurateur in her own right. "Because, despite how he looks on the outside, he's a rich American kid on the inside, right?"
The host neglected to mention ― or perhaps didn't know ― that Philip Chiang was born in Shanghai and raised in Tokyo before moving to San Francisco.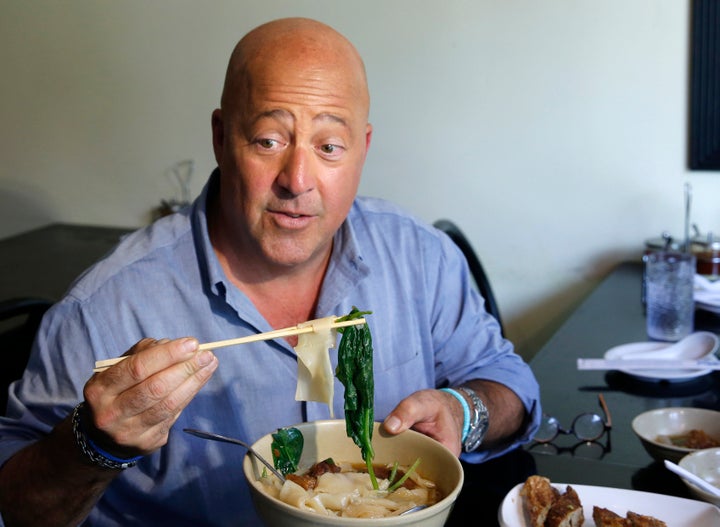 After an outpouring of criticism from Asian-Americans and food writers, Zimmern responded Monday.
"Let me start by saying most importantly how awful I feel and how sorry I am for my recent remarks," the chef's Facebook post said. 
"I am completely responsible for what I said and I want to apologize to anyone who was offended or hurt by those sound bite," he wrote. "Food should be for everyone, and yet culturally there is a terrible and centuries old history of white people profiting off of other cultures, in food, music, and elsewhere."
"When Chinese chefs Americanize their cuisine, it's 'horseshit,' but when Andrew Zimmern does it, it's 'a unique take on the bold flavors of honest Chinese cuisine,'" Tam wrote.
Others chided Zimmern for his comments on Chiang's heritage.
"With one glib comment, Zimmern basically erases [Philip] Chiang's experience of race in America because he was from a rich family," Hillary Dixler Canavan wrote for Eater. "Calling Chiang's cultural purity into question in order to give his own work on Lucky Cricket a pass is deeply misguided, if not outrageously offensive."
Twitter users called him "tone deaf" and noted that many of the restaurants he called "horseshit" are run by immigrants and their families:
In his apology, Zimmern said he came across as "arrogant and patronizing" in his remarks, though claimed that was not a true reflection of his character or his intention. He blamed Fast Company for some of the framing. 
"It was never my intention to set myself up as the arbiter of quality Chinese or Chinese American food or culture," he wrote. "Some of my words and point of view were taken out of context in a video segment, and a few subsequent editorial commentaries about that interview, but I don't blame those media entities."
P.F. Chang's did not immediately respond to a request for comment.
Watch the Fast Company interview below:
Calling all HuffPost superfans!
Sign up for membership to become a founding member and help shape HuffPost's next chapter