When you talk to Andrew Zimmern, it quickly becomes clear that beyond his humor and wacky ways, he's a sage and serious person who cares deeply about people, their struggles and their cultures, and that his Bizarre Foods is about more than making you cringe and laugh, it's about "trying to make a difference in the world."
Through his wildly popular show Bizarre Foods, Zimmern wants to "bridge cultures through food," food being "a very powerful thing" and "the greatest expression of culture." Andrew doesn't have much good to say about the fact that today "we define ourselves by our differences." He's an avid proponent of the expression Don't judge a book by its cover. He's outspoken, and unafraid to say in an interview, "We are constantly condemning even our brothers and sisters, our own neighbors, for having different beliefs, sexuality, religious practices..."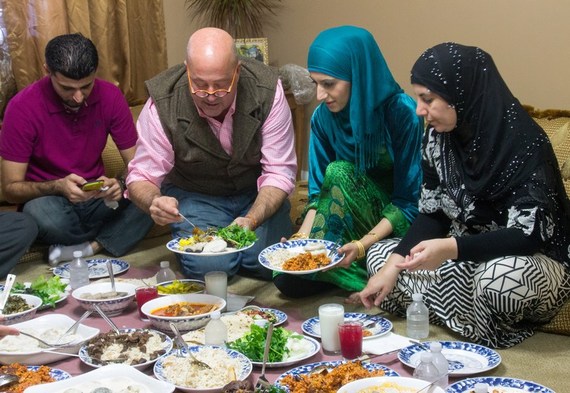 Andrew and a local Kurdish family dig in to the multitude of dishes served at a traditional meal, as seen on the special episode of Travel Channel's "Bizarre Foods with Andrew Zimmern: Ethnic Enclaves." (Photo courtesy Travel Channel)
The well-respected chef and TV personality has his own expression, it could almost be his tag line: "Human beings shouldn't practice contempt prior to investigation."
For those of you who don't know his background, Zimmern has had more than his share of challenges and hardships, landing himself in a position that would have invited a lot of negative judgement. A drug addict who found himself unemployed, broke and homeless by age thirty, his family and friends had all given up on him.
Then one day he woke up in a motel room feeling completely alone. He told me, "I just wanted to kill myself. I thought I was the biggest loser of all time. I couldn't get my shit together and I really felt hopeless. I'd lost all my family and my friends." Not one friend though. Andrew made one call to the only person he thought might answer, and the friend came through, but only on the condition that he pick Zimmern up and drive him straight to rehab.
To Andrew, "The biggest difference-maker in the world is just sharing what's going on with another human being. There's a lot of shame and stigma attached to turning to another human being and telling them what's really happening, whether you're a victim of domestic violence, an addict, or going to bed hungry. If we can share the truth with the people who love us, the better off we are."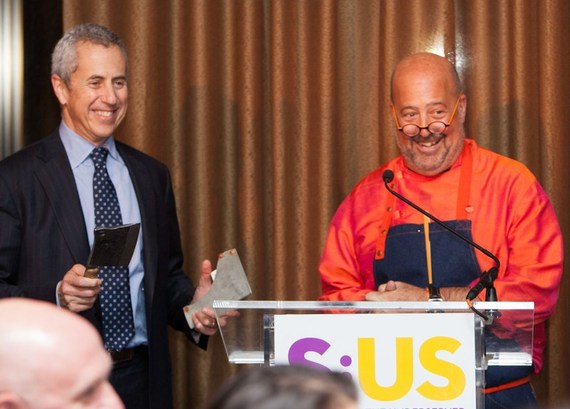 Andrew Zimmern honors Danny Meyer, CEO, Union Square Hospitality Group with a cleaver at 3rd Annual Services for the Underserved Dinner for a Better New York (Courtesy Andrew Zimmern, Photo by Scott Wintrow/Gamut Photos)
Zimmern's past gives him a compassion that is rare in this world, and a deep understanding of human struggle. As he said in our interview, "The greatest danger for a human being is when they come face to face with themselves," just as he did in that motel room more than twenty years ago.
Now, while I got Andrew to admit that he spends "a mammoth amount of time" working with disadvantaged populations and the charities that serve them, when I breached the subject of his non-profit work, he was hesitant... "I don't like talking about it because there's no way to talk about doing work for other people without sounding like a real douchebag."
Not entirely true, I argued as I laughed. After all, with such a huge following as Zimmern has, if we can talk about the causes he works for, it can only help these organizations gain the kind of exposure he'd like to give them, and that in turn will help them to get the support they need to fulfill their missions. That opened him up, and he admitted, "I get very upset when I see other people to whom a lot was given and they don't give back. Other people carried a message of hope to me and I feel an incredible obligation to give back."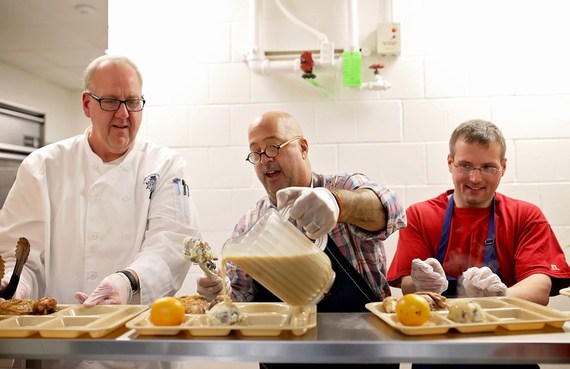 Andrew Zimmern volunteers at the Payne Ave. Salvation Army in St. Paul, Minnesota (Courtesy Andrew Zimmern, Photo by Craig Dirkes/Salvation Army Northern Division)
Andrew Zimmern shared his causes with me so that I may share them with you, they are close to his heart, and help people facing addiction, poverty, and food security issues. "Food security is something we really need to take a long, hard look at in this country." Andrew finds it a tragedy that in a nation as wealthy as the U.S., literally millions of people go to bed hungry every night.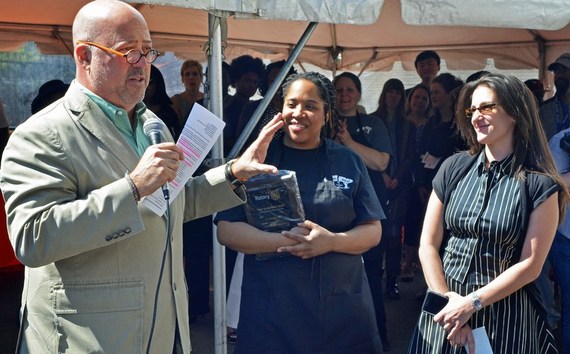 Andrew Zimmern speaking at an Appetite for Change event alongside Lashelle Cunningham, Director of Social Enterprise & Executive Chef, and Michelle Horovitz, Co-Founder and Executive Director. (Courtesy Andrew Zimmern, Photo by Madeleine Hill)
In preparing for this interview, I asked quite a few chefs and restaurant peeps at high-end establishments like Le Bernardin, restaurant Daniel and Jean-Georges what they thought of Zimmern, as a chef, and as a TV host. Unanimously everyone said they really respect the guy, that he knows food, really knows how to cook, and that he's not just a fantastic entertainer, he's a highly knowledgeable chef with the kind of talent and drive that commands respect from his colleagues.
Telling Zimmern this, he was flattered and humbled, he replied, "I am so proud of our show, the level of expertise and the depth of knowledge, we really do our research." Apparently the level of respect I discovered was not new to him. He admitted, "One of the things that makes me smile is when I walk into a restaurant halfway around the world, owned by some chef I've been in awe of for decades, and they tell me they can't get enough of the show." He told me "even Pierre Gagnaire watches the show!" and that "Grant and Nick have become friends." Speaking of course of Grant Achatz and his business partner Nick Kokonas of Alinea.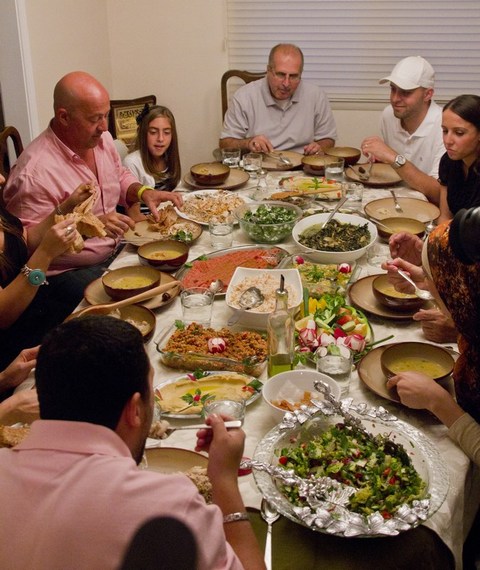 In Dearborn, Michigan, Andrew shares a traditional meal with a local Lebanese family for Ramadan, as seen on the special episode of Travel Channel's "Bizarre Foods with Andrew Zimmern: Ethnic Enclaves." (Photo courtesy Travel Channel)
Zimmern is immensely proud of Bizarre Foods, and what it has accomplished, "Food is a very powerful thing, and telling stories of a culture through its food is a very rich playground to spend time in." If he has his way, "Bizarre Foods will live as long as I keep making shows because the stories are limitless."
As we looked back together over his life, being an addict in his twenties and losing everything, getting sober and reclaiming his life and his passion in his thirties, and creating a huge--and meaningful--career in television in his forties, it was clear Andrew Zimmern "approaches people with open hands instead of a closed mind," and he wishes everyone else would do the same.