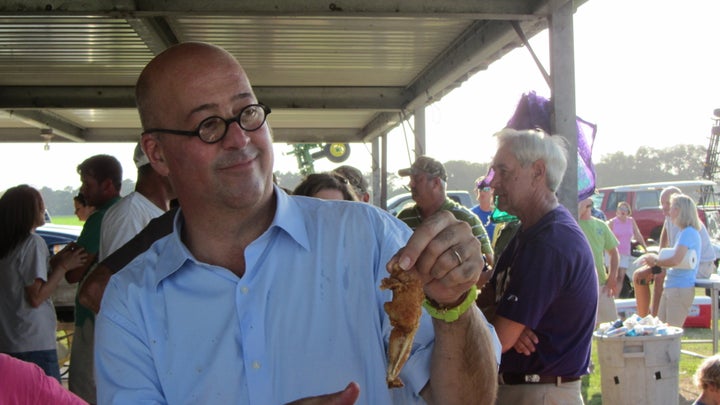 Stinky tofu, snake bile, lamb kidneys ... you name it, Andrew Zimmern's tried it all. With enthusiasm. Chef and host of "Bizarre Foods," Zimmern is also a dad to his own adventurous eater -- 7-year-old son Noah. He told The Huffington Post that kids aren't born picky eaters. "It's not genetic," he said. "And it's up to parents to cultivate a high tolerance for unusual dishes." Read on for his insight on making things like 'whole roasted goat' not just palatable, but appetizing.
The best parenting advice I ever got was....
My wife taught me that Noah's opinion matters as much as ours. It doesn't spoil him to be heard. We don't let him run the house, but he appreciates having his views out on the table
What's the most bizarre thing you've ever seen your family eat?
My wife, son and I eat all foods, everywhere. The term 'crazy' doesn't apply. If my family and I eat tacos de cabeza in Mexico or whole roasted goat, or blood sausage empanadas it isn't crazy to the people who live in the country we are eating in.

What's the one thing you'd never want a child of yours to eat?
Fast food
How do we all get kids to eat adventurously?
Include them in meal shopping, cooking and allow them to choose between preselected options several times a week. That way they have ownership of the meals and are already bought in to the concept of eating.
Favorite kid song...
Anything by Laurie Berkner. We love Blast Off. But Noah has everything from Green Day to Ramones to Johnny Cash on his iPod.

Favorite kid movie...
"Ratatouille"

I get my son to go the f&@ to sleep by...
Reading to him out of tech journals and historical magazines with lots of pictures.

The thing I swore I'd never say to my kid, but do is...
"If you don't do _______, your ________ will fall off and you will have to go to the hospital" It's working less and less effectively as he ages.

The last lie I told my child was...
"They were all out of cookies at the market."

The word that best describes me as a dad...
Creative

The one word I wish described me as a dad...
Consistent

Biggest splurge on a kid item...
Weekends in Disney World. We love it and do it several times a year.

The title of my parenting memoir will be...
"Grateful: How I Learned To Enjoy Being Hit, Kicked, Light-Sabered, Fallen On, Drooled On, Barfed On, And Tickled To Death"

What is a perfect day with children?
On the beach

The first thing I do when kids aren't around is....
Make a pass at my wife.
Travel Channel's Bizarre Foods America with Andrew Zimmern airs on Monday's at 9pm ET/PT
Related