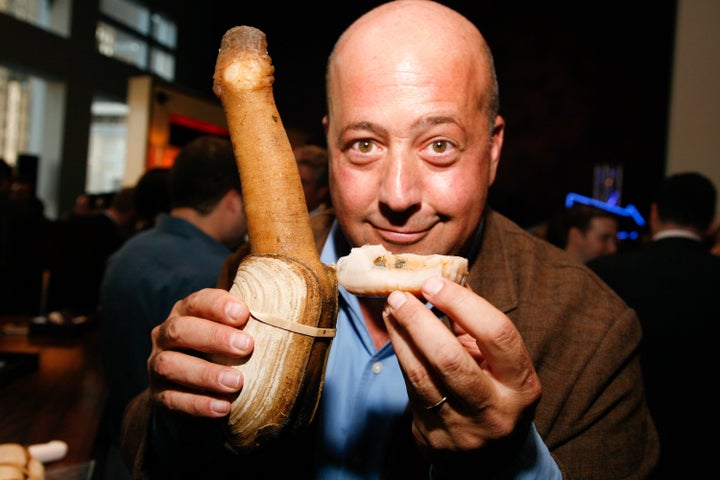 "Bizarre Foods" star Andrew Zimmern is hosting a pop-up dinner themed "California Dreaming" at Royal/T this Friday, and while diners won't be served courses of medicinal dirt or moth larva, they'll still be getting an off-beat taste of the best that Southern California has to offer. On the menu: crispy goat chuchules, tongue two ways and sea urchin -- nothing an Angeleno foodie couldn't handle on a tame day.
Zimmern, a New York native, lives in St. Paul, Minn. full-time (his Midwestern politeness and unwillingness to offend is so outsized it could be its own character on "Bizarre Foods") but he's traveled to Los Angeles at least six times a year for about 40 years. He's got a lot of opinions about what's happening here in the Golden State, and in a phone interview with The Huffington Post, Zimmern didn't hold back when it came to some of the more controversial topics in the food world today.
Shark fin ban? "An absolute must." Foie gras ban? "I feel the exact opposite way." Medical marijuana? "I'm very pro-marijuana." Sounds like he fits right in with the likes of Los Angeles food critic Jonathan Gold and some of our city's chef-stars like Ludo Lefebvre, Jon Shook and Vinny Dotolo.
Of course, the last time Zimmern visited Los Angeles in an official capacity was 2008, when he filmed an episode of "Bizarre Foods" featuring chefs Wolfgang Puck, Ben Ford of Ford's Filling Station and Nobu Matsuhisa of Nobu. Seems like conventional fare, except he also paid a little visit to Oki-Dog in West Hollywood (home of the hot dog burrito) and Typhoon in Santa Monica (where he ate sea worms, scorpions and ants).
Zimmern has a lot of love for Los Angeles, so he's glad that critics have finally recognized our fair metro as a national food destination. He pegs the birth of our status as a top food city to one person: Suzanne Goin. "When rustic Italian/French-influenced farmhouse cooking started being done at the level it was being done at Lucques," Zimmern explained, "I think something magical happened in LA."
Not to rankle any feathers (Zimmern is good friends with a certain Wolfgang), he clarified, "It wasn't that Puck wasn't cooking good food or that Michael McCarthy's restaurants in the 80s weren't doing wonders for Southern California cooking."
Still, Zimmern gives props to the Puck where props are due, citing one of his early Southern California restaurants as a harbinger of the adventurous cooking that dominates Los Angeles today. "When he first opened Chinois on Main, he had Szechuan-style rooster testicles on the menu," Zimmern laughed. "Little-known fact!"
Check out the rest of our interview with Andrew Zimmern, and details below on how to snag tickets for the Friday pop-up.
California Dreaming Pop-Up Menu for Friday, January 13.
Sea Urchin and Yellow Tomato-Vegetable Aspic
Pasta a la Vongole, Linguine and 'Clams' with Oregano, Olive Oil, and Garlic
Tongue Tied: Veal Tongue Tartare and Chile braised Lambs Tongue Quesadilla
Grilled Broken Arrow Ranch Venison Chop, Crispy Goat Chuchules, Posole, and Avocado Salsa
Cioccolato Orrare da Gustare
WHO: Foodie fans who love both "Bizarre Foods" and California cuisine.
WHAT: Andrew Zimmern hosts "California Dreaming," a one-night pop-up that benefits the Los Angeles Regional Food Bank
WHEN: Friday, Jan. 13, 2012. Reservations start at 6 p.m., with the last seating at 9:30 p.m.
WHERE: Royal/T, 8910 Washington Blvd., Culver City, CA 90232. (310) 559-6300
WHY: Because Valentine's day just came early for you and your adventure-seeking date. Besides, don't you want to know what crispy goat chuchules tastes like? We're pretty sure it's some kind of aphrodisiac.
HOW: Tickets cost $150 per person, which gets you five courses and gives the Los Angeles Regional Food bank a portion of the proceeds. Make reservations online. Anyone who dines at the restaurant for this pop-up event also agrees to be filmed for Andrew Zimmern's show.
As for those who want to enjoy Andrew Zimmern on the tube, the next season of "Bizarre Foods America" with Andrew Zimmern premieres Monday, Jan. 23 at 10pm EST on the Travel Channel.
Click through for Huffington Post's interview with the weirdest eater on television.
PHOTO GALLERY
Andrew Zimmern interview.
Calling all HuffPost superfans!
Sign up for membership to become a founding member and help shape HuffPost's next chapter